printer friendly version
New RTD transmitter
September 2020
Temperature Measurement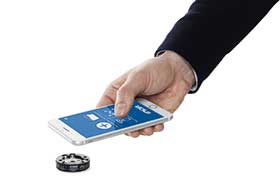 Inor's new Apaq 130 is a modern transmitter with high reliability and great performance. External influences such as ambient temperature, vibration, moisture and EMC interference have minimal influence on the measurement result, thanks to the robust design.
What characterises the APAQ 130 is simplicity. Users can easily configure the transmitters wirelessly with a smartphone or tablet. There is no need for expensive configuration tools or fixed workstations for transmitter configuration.
Great performance at an attractive price makes this transmitter an excellent choice. What stands out is its compact design. The head-mounted variant is only 10,5 mm high and can easily be installed in all DIN B connection heads. The rail mounted variant is only 6,3 mm wide, allowing users to save valuable space in the cabinet.
Quality and control
The APAQ 130 is built on Inor's latest transmitter platform to leverage efficiencies and to meet the customer's need for digitalisation. By building on an already established and well-proven platform, ensures that the transmitters meet all relevant quality standards.
In the Inor Connect app, users can easily save and share configurations with colleagues. They can also generate configuration protocols in PDF format for easy documentation. Configuring a transmitter has never been easier.
Credit(s)
Further reading:
Non-contact temperature measurement in the cement industry
R&C Instrumentation Temperature Measurement
Industrial IR sensors and systems for non-contact temperature measurement are vital to the cement industry and can be employed throughout the plant for process monitoring and predictive maintenance.
Read more...
---
Compact IR camera
Instrotech Temperature Measurement
Instrotech now offers the Optris PI 05M compact IR thermal imaging camera for high temperature applications.
Read more...
---
Webinar on radiometric level measurement
Mecosa News
Experts from Berthold discuss the advantages of a rod source/point detector arrangement.
Read more...
---
PRO series thermal cameras
Comtest Temperature Measurement
Fluke Ti401 and TiX501 PRO thermal cameras capture and display smaller temperature differences to easily visualise and diagnose issues, making it easy to get to the root cause of problems faster.
Read more...
---
Tracking systems for furnace applications
R&C Instrumentation Temperature Measurement
Fluke Process Instruments has released the latest Datapaq Furnace Tracker System complete with the TP6 data logger, thermal barriers and intuitive software.
Read more...
---
Compact ultrasonic flow controller
Mecosa Flow Measurement & Control
Bronkhorst's new, compact ES-Flow ultrasonic flowmeter/controller series ES-113C was designed for the OEM market to measure or dose low volume flows with high precision, high linearity and low pressure drop.
Read more...
---
Pyrometers for fast processes
Instrotech Temperature Measurement
With very fast processes, the requirements of the pyrometers used for temperature measurement are especially onerous.
Read more...
---
Raytek extends Thermalert 4 range
R&C Instrumentation Temperature Measurement
Fluke Process Instruments and Raytek extended the Thermalert 4.0 spot pyrometer series by adding new shortwave versions and various additional interface options.
Read more...
---
Temperature profiling in hydro processing units
Endress+Hauser South Africa Temperature Measurement
Precise and reliable temperature mapping of densely packed reactor catalyst beds makes an essential contribution to stable and profitable unit operations.
Read more...
---
Pyrometer cooling up to 315°C
R&C Instrumentation Temperature Measurement
The ThermoJacket from Raytek and Fluke Process Instruments gives users the ability to use selected sensing heads in ambient temperatures up to 315°C.
Read more...
---