printer friendly version
New RTD transmitter
September 2020
Temperature Measurement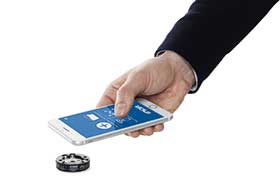 Inor's new Apaq 130 is a modern transmitter with high reliability and great performance. External influences such as ambient temperature, vibration, moisture and EMC interference have minimal influence on the measurement result, thanks to the robust design.
What characterises the APAQ 130 is simplicity. Users can easily configure the transmitters wirelessly with a smartphone or tablet. There is no need for expensive configuration tools or fixed workstations for transmitter configuration.
Great performance at an attractive price makes this transmitter an excellent choice. What stands out is its compact design. The head-mounted variant is only 10,5 mm high and can easily be installed in all DIN B connection heads. The rail mounted variant is only 6,3 mm wide, allowing users to save valuable space in the cabinet.
Quality and control
The APAQ 130 is built on Inor's latest transmitter platform to leverage efficiencies and to meet the customer's need for digitalisation. By building on an already established and well-proven platform, ensures that the transmitters meet all relevant quality standards.
In the Inor Connect app, users can easily save and share configurations with colleagues. They can also generate configuration protocols in PDF format for easy documentation. Configuring a transmitter has never been easier.
Credit(s)
Further reading:
Temperature and humidity monitoring for vaccine rollouts
May 2021, Omniflex Remote Monitoring Specialists , Temperature Measurement
How remotely monitoring facilities maintains the vaccine cold chain.
Read more...
---
High-temperature pyrometer with Bluetooth
May 2021, R&C Instrumentation , Temperature Measurement
Raytek has added Bluetooth capability to the Raynger 3i Plus handheld pyrometer.
Read more...
---
Automated cold chain monitoring
March 2021 , Temperature Measurement
Smart, connected and automated temperature monitoring at every point helps logistics companies proactively ensure their cold chain is never broken and goods arrive in prime condition for use and sale.
Read more...
---
Accuracy of infrared temperature measurement
March 2021, R&C Instrumentation , Temperature Measurement
Infrared (IR) thermometers have the ability to measure temperature without coming into physical contact with a particular product.
Read more...
---
Battery powered digital temperature gauges
March 2021, Instrotech , Temperature Measurement
hese gauges offer a wide range of industrial and analytical possibilities for applications where high accuracy and clear indication are required.
Read more...
---
Controllers with real-time Ethernet solution
April 2021, Mecosa , PLCs, DCSs & Controllers
Bronkhorst is pleased to present Powerlink as its tenth on-board fieldbus interface option.
Read more...
---
Automotive paint cure – a formidable task
April 2021, R&C Instrumentation , Temperature Measurement
To provide protection to the car body, a series of coatings is applied to the raw substrate and in turn thermally cured. Accurate control of the thermal process is critical to the performance of the coating both cosmetically and physically.
Read more...
---
Pulse frequency conditioner
May 2021, Mecosa , Sensors & Transducers
The new ProLine P16000 from Knick is a pulse frequency conditioner that converts frequency signals from speed sensors into standard signals.
Read more...
---
Compact thermal profiling system for monoblock packaging
February 2021, R&C Instrumentation , Temperature Measurement
Manufacturers can now optimise their oven settings and ensure that every product experiences the specified time at temperature.
Read more...
---
Measurement solutions for mining applications
February 2021, Mecosa , Sensors & Transducers
As a technology leader in radiometric measurements, Berthold provides a wide range of analysers and measurement solutions that have been specifically designed for the mining and mineral processing industry.
Read more...
---