printer friendly version
Validation goes digital
September 2020
IT in Manufacturing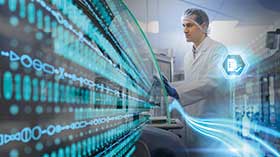 Siemens and J&K; Technology have announced the development of the new CVal software solution for Comos. CVal is a digital process and plant validation software for use in the pharmaceutical industry, based on the Siemens Comos Plant Engineering software solution. This involves a wide range of different modules based on the Comos platform and the Comos Data Document Management System (DDMS).
Companies in the pharmaceutical industry have to ensure that their activities comply with regulatory requirements such as the Good Manufacturing Practice (GMP) – Annex 15: Qualification and Validation, constantly. Quality assurance guidelines had already been adapted in this field in 2015. The Siemens Comos software has been successfully used for engineering and life cycle processes in regulated industries for decades.
The new CVal software extension links data from the documentation system to the Comos engineering system. This creates a digital object-based life cycle management, which ensures both data integrity and traceability. CVal can easily be extended by other Comos software solution modules, to produce efficient life cycle management processes within an application.
The solution provides efficient data handling across a range of disciplines due to its central database and object-oriented approach. This offers the possibility to build digital twins. CVal is based on the digital twin of the plant available in Comos. The data for the various CVal modules can be generated directly on the relevant equipment or in existing libraries based on each object.
The Comos object orientation allows data to be linked within itself and with other plant equipment to provide the correct information where it is actually required. Errors, such as those produced by manual data entry or matching interfaces, can thus be prevented to the benefit of all the disciplines involved in a plant, such as engineering, operations and compliance.
Credit(s)
Further reading:
The most common cyber threats in the industrial environment
Rockwell Automation IT in Manufacturing
Rockwell Automation's cybersecurity portfolio strategic growth leader delves into this topic in a recent blog post.
Read more...
---
Deploying IT into the factory floor environment
Omniflex Remote Monitoring Specialists IT in Manufacturing
The ongoing debate on whether OT and IT should be integrated has never been more intense. Closing the gap between the two has many benefits, not least of which are efficiency and profitability managed in near real time.
Read more...
---
PACTware further refines user interface
VEGA Controls SA IT in Manufacturing
Optimising a user interface for multiple sensor equipment manufacturers is possible in such a way that industrial users can use it similarly to everyday smart devices.
Read more...
---
EPLAN Marketplace networks users and service providers
EPLAN Software & Services IT in Manufacturing
The free online platform is divided into engineering services, module manufacturing services and general consulting sectors.
Read more...
---
Condition monitoring software gets asset health boost
Emerson Automation Solutions IT in Manufacturing
The newest version of Emerson's AMS Machine Works adds support for embedded, automatic analytics at the edge using patented PeakVue technology.
Read more...
---
A robust cybersecurity strategy is critical
ABB South Africa IT in Manufacturing
Understanding and managing the risks associated with a cyberattack can seem a daunting prospect in the face of keeping a plant up and running.
Read more...
---
Is your manufacturing plant ready for IoT?
Editor's Choice Fieldbus & Industrial Networking IT in Manufacturing
Pockets of IoT exist in manufacturing plants today; the challenge is to fully digitalise the entire plant.
Read more...
---
Revolutionising space exploration
Siemens South Africa IT in Manufacturing
Sierra Space, a commercial space company at the forefront of creating and building the future of space transportation for low earth orbit commercialisation, has implemented the Siemens Xcelerator portfolio of software and services as the foundation of its next-generation digital engineering program.
Read more...
---
Impact of innovative technologies on the mining industry
Parker Hannifin - Sales Company South Africa Editor's Choice IT in Manufacturing
Mining operations must identify creative ways to handle the increased demand for minerals and resources as global economies become even more reliant on mineral sales. As a result, mine operators must 
...
Read more...
---
SIM management essential in changing IoT market
IT in Manufacturing
Trinity IoT provides a myriad of tools to manage SIMs, whether as part of a mobile device strategy or a rapidly evolving IoT ecosystem.
Read more...
---