printer friendly version
RS Components announces Fluke 710 valve tester
August 2020
Valves, Actuators & Pump Control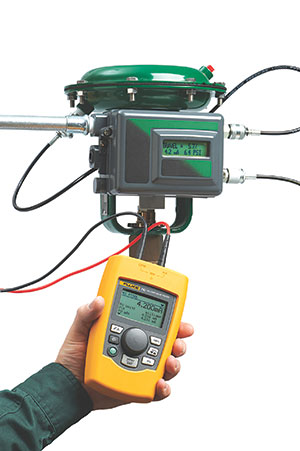 RS Components has announced availability of the Fluke 710 mA Loop Valve Tester, which is an easy-to-use tool that greatly simplifies the testing of control valves, enabling the quick measurement of critical valve readings using a simple two-wire connection.
Traditionally, complex equipment has been used for control valve testing, but use of these complicated devices has meant extensive training for users, as well as removal of the control valve under test, and potentially one or two hours of bench testing. However, the Fluke 710 offers built-in test procedures and a highly intuitive interface including valve status indicators.
Importantly, the device provides quick checks of control valves while they are in place in a system. It sources the 4-20 mA current loop signal and causes the smart control valve to move, while simultaneously interrogating the HART communication protocol data to collect critical diagnostic information about the valve's position and status. Therefore, the tester enables technicians to make fast and confident decisions on whether maintenance, and potentially system downtime, is required or not.
The built-in pre-configured valve-test routines offered by the Fluke 710 include: manually changing the mA signal and viewing the HART position and pressure variable information; full range ramping of the signal while recording the position or applied pressures, in terms of percentage,
from 0 to 100%; evaluating the valve's response to changes in the mA input; speed tests to determine how fast the valve can open or close; and bump and partial stroke tests to test valves over a portion of their range.
Measurements and other test results are recorded and stored in the Fluke 710's memory, where they can be uploaded to the Fluke ValveTrack analysis software, which is included with the tester. This enables technicians to plot logged valve tests taken in the field, as well as the ability to compare previous uploaded tests to recent tests.
Credit(s)
Further reading:
New flange monoblock with shut-off valve
March 2021, WIKA Instruments , Valves, Actuators & Pump Control
WIKA's new monoblock with flange design integrates a shut-off valve to separate the process from the instrument side.
Read more...
---
Intrinsically safe robot for tank inspection
March 2021, RS Components SA , IS & Ex
Electrocomponents collaborates with industry specialists to develop revolutionary new method of inspecting petrochemical storage tanks.
Read more...
---
Extensive range of test instruments from RS Components
March 2021, RS Components SA , Maintenance, Test & Measurement, Calibration
The RS range includes digital multimeters, voltage/current calibrators, insulation testers, temperature calibrators, and voltage indicators.
Read more...
---
RS Components supplies Siemens intelligent IIoT gateways
March 2021, RS Components SA , Fieldbus & Industrial Networking
Maximising operational efficiency, these UL-approved units have been designed to deal with the capture and pre-processing of data, before subsequently forwarding it on.
Read more...
---
The Stafsjö HX story – greater demand calls for action
February 2021, Valve & Automation , Valves, Actuators & Pump Control
As a knife gate valve supplier, Stafsjö supplies product solutions to realise efficiency and production goals in pulp and paper applications.
Read more...
---
Drives for solar-powered pump systems
February 2021, Bearing Man Group t/a BMG , Valves, Actuators & Pump Control
BMG advises on how to optimise efficiency and extend the service life of solar-powered pumping systems by selecting the correct drives.
Read more...
---
Optimise fermentation in alcoholic beverage manufacturing through proper valve selection
February 2021, ASCO , Valves, Actuators & Pump Control
Emerson can help select the right fluid automation products to meet all unique requirements.
Read more...
---
Smart positioners of the future
January 2021, SMC Corporation South Africa , Valves, Actuators & Pump Control
SMC's new range of Smart Positioners was designed to pair perfectly with a variety of process control valves and actuators.
Read more...
---
Robust control valve proves itself in the construction materials industry
November 2020, Macsteel Fluid Control , Valves, Actuators & Pump Control
Ball sector valves from Schubert & Salzer excel in abrasive slurry applications.
Read more...
---
RS Components introduces Linx Technologies
November 2020, RS Components SA , Industrial Wireless
RS Components now stocks a comprehensive range of antennas from wireless technology specialist Linx Technologies.
Read more...
---