printer friendly version
RS Components announces Fluke 710 valve tester
August 2020
Valves, Actuators & Pump Control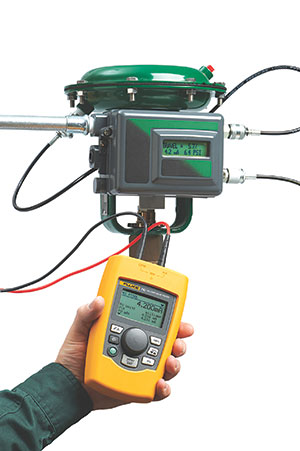 RS Components has announced availability of the Fluke 710 mA Loop Valve Tester, which is an easy-to-use tool that greatly simplifies the testing of control valves, enabling the quick measurement of critical valve readings using a simple two-wire connection.
Traditionally, complex equipment has been used for control valve testing, but use of these complicated devices has meant extensive training for users, as well as removal of the control valve under test, and potentially one or two hours of bench testing. However, the Fluke 710 offers built-in test procedures and a highly intuitive interface including valve status indicators.
Importantly, the device provides quick checks of control valves while they are in place in a system. It sources the 4-20 mA current loop signal and causes the smart control valve to move, while simultaneously interrogating the HART communication protocol data to collect critical diagnostic information about the valve's position and status. Therefore, the tester enables technicians to make fast and confident decisions on whether maintenance, and potentially system downtime, is required or not.
The built-in pre-configured valve-test routines offered by the Fluke 710 include: manually changing the mA signal and viewing the HART position and pressure variable information; full range ramping of the signal while recording the position or applied pressures, in terms of percentage,
from 0 to 100%; evaluating the valve's response to changes in the mA input; speed tests to determine how fast the valve can open or close; and bump and partial stroke tests to test valves over a portion of their range.
Measurements and other test results are recorded and stored in the Fluke 710's memory, where they can be uploaded to the Fluke ValveTrack analysis software, which is included with the tester. This enables technicians to plot logged valve tests taken in the field, as well as the ability to compare previous uploaded tests to recent tests.
Credit(s)
Further reading:
Check valve with redundant sealing
September 2020, WIKA Instruments , Valves, Actuators & Pump Control
The new model CV check valve from WIKA is designed for a wide range of applications in the process industry. Its sealing system reliably prevents backflow of liquid and gaseous media.
Read more...
---
Sustainability through packaging efficiency
August 2020, Valve & Automation , Valves, Actuators & Pump Control
There is probably no other term that has been used and interpreted in recent years in so many ways as the term 'sustainability'. Originating from forestry, today the principle of sustainability is comprehensively 
...
Read more...
---
Flow switches from Honsberg
August 2020, GHM Messtechnik SA , Valves, Actuators & Pump Control
Honsberg has introduced the FF series flow switch that offers a large switching value selection as well as a wide housing spectrum with a valve seat design. Additionally, the FF series is low maintenance, 
...
Read more...
---
Queue management system maintains safe distance
August 2020, RS Components SA , Analytical Instrumentation & Environmental Monitoring
RS Components has introduced the RS Pro Smart-Q queue management system, a high-quality and robust configurable beacon tower that manages the flow of customers and staff, by helping them to move around 
...
Read more...
---
RS Components stocks Eaton contactors
August 2020, RS Components SA , Electrical Power & Protection
RS Components now stocks Eaton's complete Moeller series of compact DILMT contactors. Easy to integrate in a variety of industrial machines and systems, the contactors enable space savings of up to 40%, 
...
Read more...
---
Bottling with Schubert & Salzer control valves
August 2020, Macsteel Fluid Control , Valves, Actuators & Pump Control
For the production and filling of beer and other beverages and dairy products, angle seat, sliding gate, sanitary right angle and even ball sector valves from Schubert & Salzer Control Systems are being 
...
Read more...
---
Ceramic vs solenoid valves
August 2020 , Valves, Actuators & Pump Control
The high-performance nature of ceramic valves means they often have a greater tolerance for wear, corrosion, and high temperatures than many other types of valves.
Read more...
---
Valves for pump protection
July 2020, Valve & Automation , Valves, Actuators & Pump Control
Thyssenkrupp Steel Europe has opted for Schroeder pump protection valves during the recent overhaul of Unit 4 of its power station in Duisburg. The valves that were installed previously from another supplier 
...
Read more...
---
RS Components extends distribution partnership with Rockwell Automation
July 2020, RS Components SA , News
RS Components has announced a partnership with Rockwell Automation, a global leader in industrial automation and digital transformation. With immediate effect, RS is also authorised to supply Rockwell 
...
Read more...
---
Stafsjö MV standard knife gate valve
July 2020, Valve & Automation , Valves, Actuators & Pump Control
Do you want to try the MV performance? The MV is an all-round valve with a proven global track record both on dry solids and wet fluids. The valve's ideal internal clearances lower friction and make it 
...
Read more...
---