printer friendly version
Ceramic vs solenoid valves
August 2020
Valves, Actuators & Pump Control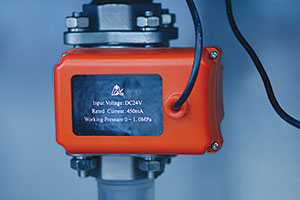 Selecting the right valve goes beyond just understanding the application it needs to serve. It is also important to factor in cost efficiency, durability and maintenance considerations. In some cases, according to Lionel Maasdorp, MD at Allmech, switching from a solenoid valve to a ceramic ball valve can help to cut down on costs, while improving performance.
"Various industries, including water treatment and agriculture, make use of ceramic ball valves for a multitude of applications, usually where the demands on the valve exceed the capacity of conventional valve materials," says Maasdorp. "The high-performance nature of ceramic valves means they often have a greater tolerance for wear, corrosion, and high temperatures than many other types of valves. However, even within the category of ball valves, there are different types available for specific purposes."
For this reason, many Allmech clients are choosing to switch to ceramic ball valves from solenoid valves where possible. While the diaphragm in a solenoid valve may collect dirt as liquid moves through it, ceramic ball valves do not have a diaphragm, meaning they are less prone to dirt build-up inside the valve.
Furthermore, in sensitive environments or where minimal wastage is an important operational requirement, ceramic ball valves can provide a better option as the design of the valve means the ball core and seat are precisely ground in a pair to ensure there is no leakage. In contrast, solenoid valves are prone to seepage and blockages and need to be closely managed for leaks.
Maasdorp says that ceramic ball valves are ideal for many water-related applications, including water saving systems, industrial automatic control systems, automatic small application sewage systems, environmental protection projects, water supply and drainage, food and water treatment, and irrigation systems.
The ceramic ball valve also has the advantage of small flow resistance, good corrosion resistance, good wear resistance and long lifetime, making it an excellent option for inclusion in an industrial system.
"Ceramic ball valves have many important factors that make them an excellent choice for robust applications," concludes Maasdorp. "They are cost effective, low maintenance, durable and their self-balancing design lowers torque and makes for smoother operation."
For more information contact Lionel Maasdorp, Allmech, +27 11 849 2731, lionelm@allmech.co.za, www.allmech.co.za
Further reading:
Check valve with redundant sealing
September 2020, WIKA Instruments , Valves, Actuators & Pump Control
The new model CV check valve from WIKA is designed for a wide range of applications in the process industry. Its sealing system reliably prevents backflow of liquid and gaseous media.
Read more...
---
Sustainability through packaging efficiency
August 2020, Valve & Automation , Valves, Actuators & Pump Control
There is probably no other term that has been used and interpreted in recent years in so many ways as the term 'sustainability'. Originating from forestry, today the principle of sustainability is comprehensively 
...
Read more...
---
Flow switches from Honsberg
August 2020, GHM Messtechnik SA , Valves, Actuators & Pump Control
Honsberg has introduced the FF series flow switch that offers a large switching value selection as well as a wide housing spectrum with a valve seat design. Additionally, the FF series is low maintenance, 
...
Read more...
---
Bottling with Schubert & Salzer control valves
August 2020, Macsteel Fluid Control , Valves, Actuators & Pump Control
For the production and filling of beer and other beverages and dairy products, angle seat, sliding gate, sanitary right angle and even ball sector valves from Schubert & Salzer Control Systems are being 
...
Read more...
---
RS Components announces Fluke 710 valve tester
August 2020, RS Components SA , Valves, Actuators & Pump Control
RS Components has announced availability of the Fluke 710 mA Loop Valve Tester, which is an easy-to-use tool that greatly simplifies the testing of control valves, enabling the quick measurement of critical 
...
Read more...
---
Valves for pump protection
July 2020, Valve & Automation , Valves, Actuators & Pump Control
Thyssenkrupp Steel Europe has opted for Schroeder pump protection valves during the recent overhaul of Unit 4 of its power station in Duisburg. The valves that were installed previously from another supplier 
...
Read more...
---
Stafsjö MV standard knife gate valve
July 2020, Valve & Automation , Valves, Actuators & Pump Control
Do you want to try the MV performance? The MV is an all-round valve with a proven global track record both on dry solids and wet fluids. The valve's ideal internal clearances lower friction and make it 
...
Read more...
---
Advanced pump control
July 2020, Instrotech , Valves, Actuators & Pump Control
Factory automation continues to develop year on year and pumps are increasingly required to supply real-time operating data to control networks so that their performance can be monitored and adjusted 
...
Read more...
---
Festo online configurator tool simplifies sizing of process valves
April 2020, Festo South Africa , Valves, Actuators & Pump Control
From manually operated to automated process valves, the new configurator tool for process valves from Festo makes selecting the right solution easy and less time-consuming.
Read more...
---
Early detection of faults in BMW's light metal die casting
April 2020, Macsteel Fluid Control , Valves, Actuators & Pump Control
Sliding gate valves from Schubert & Salzer optimise process reliability.
Read more...
---