printer friendly version
Ceramic vs solenoid valves
August 2020
Valves, Actuators & Pump Control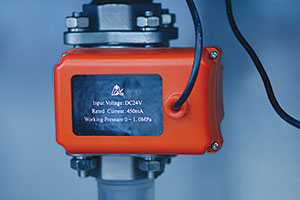 Selecting the right valve goes beyond just understanding the application it needs to serve. It is also important to factor in cost efficiency, durability and maintenance considerations. In some cases, according to Lionel Maasdorp, MD at Allmech, switching from a solenoid valve to a ceramic ball valve can help to cut down on costs, while improving performance.
"Various industries, including water treatment and agriculture, make use of ceramic ball valves for a multitude of applications, usually where the demands on the valve exceed the capacity of conventional valve materials," says Maasdorp. "The high-performance nature of ceramic valves means they often have a greater tolerance for wear, corrosion, and high temperatures than many other types of valves. However, even within the category of ball valves, there are different types available for specific purposes."
For this reason, many Allmech clients are choosing to switch to ceramic ball valves from solenoid valves where possible. While the diaphragm in a solenoid valve may collect dirt as liquid moves through it, ceramic ball valves do not have a diaphragm, meaning they are less prone to dirt build-up inside the valve.
Furthermore, in sensitive environments or where minimal wastage is an important operational requirement, ceramic ball valves can provide a better option as the design of the valve means the ball core and seat are precisely ground in a pair to ensure there is no leakage. In contrast, solenoid valves are prone to seepage and blockages and need to be closely managed for leaks.
Maasdorp says that ceramic ball valves are ideal for many water-related applications, including water saving systems, industrial automatic control systems, automatic small application sewage systems, environmental protection projects, water supply and drainage, food and water treatment, and irrigation systems.
The ceramic ball valve also has the advantage of small flow resistance, good corrosion resistance, good wear resistance and long lifetime, making it an excellent option for inclusion in an industrial system.
"Ceramic ball valves have many important factors that make them an excellent choice for robust applications," concludes Maasdorp. "They are cost effective, low maintenance, durable and their self-balancing design lowers torque and makes for smoother operation."
Further reading:
The ultimate control valve
Valve & Automation Valves, Actuators & Pump Control Editor's Choice
Zwick has designed its TRI-SHARK range of Triple Eccentric Valves to be used in control or throttling applications as well as for pure on/off functionality.
Read more...
---
Smart pumping – a new era in water management and supply
Schneider Electric South Africa Valves, Actuators & Pump Control
Smart pumping can address the high cost and energy usage challenges faced by private and municipality-managed facilities.
Read more...
---
Schubert & Salzer and Macsteel
Macsteel Service Centres Valves, Actuators & Pump Control
The demand on valves, particularly in tyre production plants, is extreme with tyre curing presses working constantly at high temperatures and pressures.
Read more...
---
Chinese LNG tanker fitted with ARCA anti-surge valves
Valve & Automation Valves, Actuators & Pump Control
ARCA anti-surge valves avoid surging by accurately adjusting the gas circulation or blow-off flow, effectively protecting the safety of the compressor unit.
Read more...
---
Electrified subsea actuator for offshore production
Valves, Actuators & Pump Control
Bosch Rexroth has engineered the SVA R2 Subsea Valve Actuator as a disruptive innovation for electrically actuating valves in the subsea process industry. It can replace conventional hydraulic cylinders 
...
Read more...
---
Eliminate bearing failures in TOVs
Valve & Automation Valves, Actuators & Pump Control
Bearing failures are among the highest root causes of failure in triple offset valves (TOV) for tight shutoff applications. This issue is directly attributed to the need to have metal bearings with very 
...
Read more...
---
Locally manufactured knife gate valves
Bearing Man Group t/a BMG Valves, Actuators & Pump Control
BMG and Abrasive Flow Solutions (AFS) play a major role in the local valves sector, through the design, distribution, supply and support of a broad range of slurry related valves.
Read more...
---
Protect your pump and keep it longer
Elemental Analytics Valves, Actuators & Pump Control
Unexpectedly losing a pump is often an expensive or even a dangerous problem in a chemical plant.
Read more...
---
Locally valves manufactured for tailings pipeline
Valves, Actuators & Pump Control
The AFS manufacturing plant in Benoni is equipped with advanced equipment and is supported by specialists who offer dependable technical support to ensure the optimum safety, efficiency and extended service life of every system.
Read more...
---
New flange monoblock with shut-off valve
WIKA Instruments Valves, Actuators & Pump Control
WIKA's new monoblock with flange design integrates a shut-off valve to separate the process from the instrument side.
Read more...
---