printer friendly version
Dry bulk level sensor
August 2020
Level Measurement & Control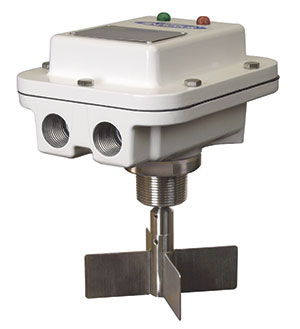 The Roto-Bin-Dicator Pro is a paddlewheel type level device that outperforms others in its class. The fail-safe model is unique in that it comes standard with functional diagnostics that detect a unit fault even when the paddle is buried in material. The instrument provides added reliability by employing redundant methods of detection, which monitor shaft rotation as well as motor behaviour, making it more reliable with regards to not missing a reading or creating a false positive.
As a genuine fail-safe sensor, Roto-Bin-Dicator Pro can perform complete self-diagnostics in and out of material, which provides confidence that the unit is functioning. Diagnostics alone are not uncommon, but the ability to differentiate between faults is: the Pro is one of the only paddlewheel level devices in the dry bulk industry that can differentiate faults such as low supply voltage, motor not connected, temperature out of range, motor failure, gear train/bearing failure and PCB integrity failure.
The device provides a means for self-test using the magnetic fob provided with the unit, or by pressing the Test button. To check the functionality of the unit while the paddle is in or out of material, place and hold the fob over the Test label on the cover. If the unit is functioning properly, the alarm LED and main relay will change the state. When the test is completed and results verified, simply move the fob away from the unit.
Other features include multiple sensitivity settings, universal input power 24-48 VDC or 110-230 VAC, relay time delay 0-25 seconds and motor pause, allowing the same unit to be used in different locations and with a variety of dry bulk materials.
Custom length pipe extensions and lags are available to extend Roto-Bin-Dicator Pro into a vessel or move its electronics away from high process temperatures. Extensive process fitting options allow the unit to be placed into new or existing fittings and seven paddle options cater to materials of varying densities.
No scheduled preventative maintenance is required for units when they are properly applied and installed correctly. No cleaning is required before or during installation.
Credit(s)
Further reading:
Radar instruments in mining
VEGA Controls SA Level Measurement & Control
VEGA radar measuring instruments hold their own in the difficult environments of gold and platinum mining.
Read more...
---
Level switch for storage bins
GHM Messtechnik SA Level Measurement & Control
Val.Co has introduced a new LPM level switch specifically designed to control the storage of dusts, granules and solid products.
Read more...
---
Specialist instrumentation for specialised applications
GHM Messtechnik SA Level Measurement & Control
Over 30 years of experience puts Val.co at the forefront to supply specialist liquid level, flow, pressure and temperature instrumentation.
Read more...
---
Radar transmitter ensures efficiency at Australian mine
VEGA Controls SA Level Measurement & Control
To eliminate supply bottlenecks at an Australian iron ore mine, the processes were better coordinated with VEGAPULS 69 playing an important role.
Read more...
---
High-reliability float switch
ASSTech Process Electronics + Instrumentation Level Measurement & Control
ASSTech has added a new simple-to-mount horizontal design of float switch to its Jumo range.
Read more...
---
Multi-application radar level transmitters
Instrotech Level Measurement & Control
Instrotech now offers Kobold's NGR, a robust, maintenance-free level sensor that uses TDR (time domain reflectometry) technology.
Read more...
---
Level transmitter for hygienic applications
Emerson Automation Solutions Level Measurement & Control
The Rosemount 1408H Level Transmitter with IO-Link provides accurate, non-contacting measurement to help optimise operations and ensure food safety.
Read more...
---
Ready for use anywhere
Endress+Hauser South Africa Level Measurement & Control
The first 2-wire loop-powered compact transmitter enters the market.
Read more...
---
Make level sensor checks redundant
DRH Components Level Measurement & Control
The Roto-Bin-Dicator PRO is a simple paddlewheel device that monitors the level of dry bulk material.
Read more...
---
Level switches master viscous substances
VEGA Controls SA Level Measurement & Control
VEGA has developed the new front-flush level switch, Vegapoint 24, especially for use with sticky, viscous or abrasive products.
Read more...
---