printer friendly version
Flow switches from Honsberg
August 2020
Valves, Actuators & Pump Control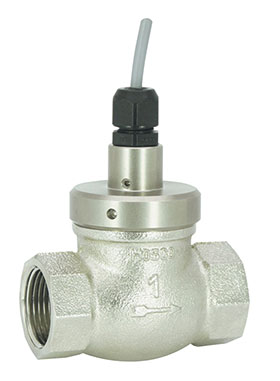 Honsberg has introduced the FF series flow switch that offers a large switching value selection as well as a wide housing spectrum with a valve seat design. Additionally, the FF series is low maintenance, long lasting and a low-cost system that gives improved system safety.
With housing sizes for nominal pipe widths from DN8 to DN50 and freely selectable switching values, the swift reaction times of less than 100 ms deliver rapid actuation time for applications. An additional highlight is the high switching value repeat accuracy with a minimal pressure loss of less than 0,1 bar.
"The FF series of flow switches come in various housing sizes for high-pressure cleaning technology, industrial washing machines and car washes, as well as refrigeration technology and hydraulic applications, in fact suitable for applications within any sector where water is processed," said Jan Grobler, managing director of GHM Messtechnik South Africa. "The simplistic design of the piston valve seat makes it practically maintenance free in all applications. In addition to its fast and precise measurement, the FF series flow switch is a long lasting and low-cost switch, making it a preferred choice for applications where flow measurement is required."
Piston valve seat design for low investment costs
With a simple mechanical operating principle enhancing their durability, the flow switches are versatile instruments. The volume flow raises a piston (fitted with a magnet) from a valve seat, against a spring force. The stroke causes a magnetic field change that actuates a hermetically isolated reed switch and generates an electrical signal. The vertical positioning of the reed switch, adjusted at the factory, enables recognition of flow rates from approximately 2% to 60% of the recommended maximum.
With the spring-supported stabilisation of the piston and the short installation length of the housing, use is possible in all installation positions in a space saving solution for high unit counts and high efficiency. Other benefits include:
• An average frequency of 30 switches per hour.
• Usage duration of 30 000 operating hours.
• Flexibly adjustable on the pressure side in the system.
• Dirt resistance and low maintenance.
"Many industrial applications will benefit from the FF series," concluded Grobler. "It is uniquely flexible, with high accuracy and low cost, making it a win-win choice for flow monitoring applications."
Credit(s)
Further reading:
Check valve with redundant sealing
September 2020, WIKA Instruments , Valves, Actuators & Pump Control
The new model CV check valve from WIKA is designed for a wide range of applications in the process industry. Its sealing system reliably prevents backflow of liquid and gaseous media.
Read more...
---
Sustainability through packaging efficiency
August 2020, Valve & Automation , Valves, Actuators & Pump Control
There is probably no other term that has been used and interpreted in recent years in so many ways as the term 'sustainability'. Originating from forestry, today the principle of sustainability is comprehensively 
...
Read more...
---
Bottling with Schubert & Salzer control valves
August 2020, Macsteel Fluid Control , Valves, Actuators & Pump Control
For the production and filling of beer and other beverages and dairy products, angle seat, sliding gate, sanitary right angle and even ball sector valves from Schubert & Salzer Control Systems are being 
...
Read more...
---
Ceramic vs solenoid valves
August 2020 , Valves, Actuators & Pump Control
The high-performance nature of ceramic valves means they often have a greater tolerance for wear, corrosion, and high temperatures than many other types of valves.
Read more...
---
RS Components announces Fluke 710 valve tester
August 2020, RS Components SA , Valves, Actuators & Pump Control
RS Components has announced availability of the Fluke 710 mA Loop Valve Tester, which is an easy-to-use tool that greatly simplifies the testing of control valves, enabling the quick measurement of critical 
...
Read more...
---
Valves for pump protection
July 2020, Valve & Automation , Valves, Actuators & Pump Control
Thyssenkrupp Steel Europe has opted for Schroeder pump protection valves during the recent overhaul of Unit 4 of its power station in Duisburg. The valves that were installed previously from another supplier 
...
Read more...
---
Stafsjö MV standard knife gate valve
July 2020, Valve & Automation , Valves, Actuators & Pump Control
Do you want to try the MV performance? The MV is an all-round valve with a proven global track record both on dry solids and wet fluids. The valve's ideal internal clearances lower friction and make it 
...
Read more...
---
Advanced pump control
July 2020, Instrotech , Valves, Actuators & Pump Control
Factory automation continues to develop year on year and pumps are increasingly required to supply real-time operating data to control networks so that their performance can be monitored and adjusted 
...
Read more...
---
Is your building comfortable?
June 2020, GHM Messtechnik SA , Analytical Instrumentation & Environmental Monitoring
When was the last time you did a health check on your work environment? Monitoring the quality and temperature of the air, air-conditioning, heating, ventilation, outside weather, and even the amount 
...
Read more...
---
Capacitive level switch for fluid, pasty and powdery media
May 2020, GHM Messtechnik SA , Level Measurement & Control
Martens, part of the GHM group of companies, has introduced its MLC 437 capacitive level switches for use principally for the registration of limit levels, full/empty signals in pipes and tanks in fluid, 
...
Read more...
---