printer friendly version
Flow switches from Honsberg
August 2020
Valves, Actuators & Pump Control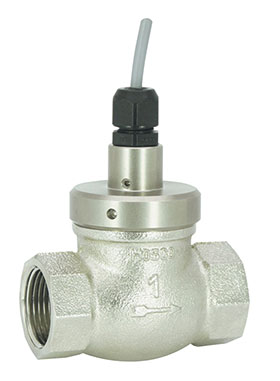 Honsberg has introduced the FF series flow switch that offers a large switching value selection as well as a wide housing spectrum with a valve seat design. Additionally, the FF series is low maintenance, long lasting and a low-cost system that gives improved system safety.
With housing sizes for nominal pipe widths from DN8 to DN50 and freely selectable switching values, the swift reaction times of less than 100 ms deliver rapid actuation time for applications. An additional highlight is the high switching value repeat accuracy with a minimal pressure loss of less than 0,1 bar.
"The FF series of flow switches come in various housing sizes for high-pressure cleaning technology, industrial washing machines and car washes, as well as refrigeration technology and hydraulic applications, in fact suitable for applications within any sector where water is processed," said Jan Grobler, managing director of GHM Messtechnik South Africa. "The simplistic design of the piston valve seat makes it practically maintenance free in all applications. In addition to its fast and precise measurement, the FF series flow switch is a long lasting and low-cost switch, making it a preferred choice for applications where flow measurement is required."
Piston valve seat design for low investment costs
With a simple mechanical operating principle enhancing their durability, the flow switches are versatile instruments. The volume flow raises a piston (fitted with a magnet) from a valve seat, against a spring force. The stroke causes a magnetic field change that actuates a hermetically isolated reed switch and generates an electrical signal. The vertical positioning of the reed switch, adjusted at the factory, enables recognition of flow rates from approximately 2% to 60% of the recommended maximum.
With the spring-supported stabilisation of the piston and the short installation length of the housing, use is possible in all installation positions in a space saving solution for high unit counts and high efficiency. Other benefits include:
• An average frequency of 30 switches per hour.
• Usage duration of 30 000 operating hours.
• Flexibly adjustable on the pressure side in the system.
• Dirt resistance and low maintenance.
"Many industrial applications will benefit from the FF series," concluded Grobler. "It is uniquely flexible, with high accuracy and low cost, making it a win-win choice for flow monitoring applications."
Credit(s)
Further reading:
New flange monoblock with shut-off valve
March 2021, WIKA Instruments , Valves, Actuators & Pump Control
WIKA's new monoblock with flange design integrates a shut-off valve to separate the process from the instrument side.
Read more...
---
Handheld manometers with precision
March 2021, GHM Messtechnik SA , Pressure Measurement & Control
Greisinger recently launched its new handheld and fine handheld manometers, namely the G 1107 (fine) and G 1113 series, both of which offer fast performance and high accuracy.
Read more...
---
The Stafsjö HX story – greater demand calls for action
February 2021, Valve & Automation , Valves, Actuators & Pump Control
As a knife gate valve supplier, Stafsjö supplies product solutions to realise efficiency and production goals in pulp and paper applications.
Read more...
---
Drives for solar-powered pump systems
February 2021, Bearing Man Group t/a BMG , Valves, Actuators & Pump Control
BMG advises on how to optimise efficiency and extend the service life of solar-powered pumping systems by selecting the correct drives.
Read more...
---
Optimise fermentation in alcoholic beverage manufacturing through proper valve selection
February 2021, ASCO , Valves, Actuators & Pump Control
Emerson can help select the right fluid automation products to meet all unique requirements.
Read more...
---
Keeping the clean room more than clean
January 2021, GHM Messtechnik SA , Maintenance, Test & Measurement, Calibration
The Delta OHM HD50CR multi-functional clean room logger/transmitter device offers the user highly accurate clean room monitoring and documentation for quality purposes.
Read more...
---
Smart positioners of the future
January 2021, SMC Corporation South Africa , Valves, Actuators & Pump Control
SMC's new range of Smart Positioners was designed to pair perfectly with a variety of process control valves and actuators.
Read more...
---
Robust control valve proves itself in the construction materials industry
November 2020, Macsteel Fluid Control , Valves, Actuators & Pump Control
Ball sector valves from Schubert & Salzer excel in abrasive slurry applications.
Read more...
---
Simple to use HVAC transmitters and hygrostats
October 2020, GHM Messtechnik SA , Analytical Instrumentation & Environmental Monitoring
The HVAC40 Thermo-Hygro transmitter from Delta OHM ensures an environmentally friendly workplace, cleanroom operation or storage space for specialised products.
Read more...
---
Check valve with redundant sealing
September 2020, WIKA Instruments , Valves, Actuators & Pump Control
The new model CV check valve from WIKA is designed for a wide range of applications in the process industry. Its sealing system reliably prevents backflow of liquid and gaseous media.
Read more...
---