printer friendly version
Thermometer guns on coronavirus front lines: accurate or not?
July 2020
News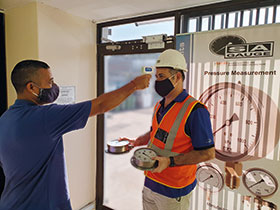 If you have not already had your temperature taken before entering a public building, there is a good chance you soon will. It has become an iconic image of the coronavirus outbreak worldwide: a masked person aiming a non-contact infrared thermometer gun at the forehead of another masked person to screen for signs of elevated body temperature associated with fever.
The expectation is that early detection will enable preventive action to be taken to stop the virus from infecting staff and customers, and damaging businesses. Healthy core body temperature is considered to be between 36°C and 37,3°C and people with a temperature of 38°C and higher are generally considered a risk and should be referred for further testing. This small margin of error requires accurate measurement to be effective, according to Chris du Plessis of SA Gauge, a local manufacturer of pressure and temperature instrumentation.
As demand for these thermometers has increased, it has resulted in a flooding of the South African market with many different brands, imported by companies or individuals often with limited or no experience regarding the quality and accuracy requirements, or the know-how to service and calibrate these instruments.
Calibrate to reduce the uncertainty of the measurement
Many of these forehead thermometers used on the front lines of the fight against the coronavirus are found to be inaccurate. "To avoid a false sense of security and to maximise the value that these thermometers could add to the fight against the virus, a calibration certificate issued by a reputable local company would minimise the risks associated with the use of an inaccurate thermometer," explains du Plessis.
Operator training essential
Although widely used in varying environmental conditions for temperature screening of people, these non-contact thermometers were typically designed for indoor use by trained personnel for quick temperature screening of subjects in a controlled environment.
To cope with the sudden demand, operator training is often rushed or wholly inadequate, increasing the risk of false measurements. Sudden changes in environmental temperature could further influence the measurement validity. Operators should receive adequate training in the use of the thermometers, as the instruments should be allowed to acclimatise to the working environment before use, indoors or outdoors.
Practical considerations when taking a temperature
Infrared arterial temperature is measured by aiming the infrared thermometer near the centre of the forehead, holding it straight and steady, normally between 3 cm to 5 cm away from the person, and pressing the measurement button to display the forehead temperature. If in doubt, allow 5 seconds between measurements.
Forehead temperature is lower than core temperature, and clinical forehead infrared thermometers use a mathematical algorithm to convert the temperature taken from the forehead to display an equivalent core temperature.
Normal forehead temperature can vary significantly depending on your environment (indoors or outdoors), exercise, hair or make-up on the forehead, perspiration, direct heat or air conditioning, spicy food, as well as using fever reducing medication, etc.
Maintenance and calibration
Moisture, a dirty lens, battery condition, and careless handling or dropping of the instrument could influence measurements. To remain confident that the steps taken and monies spent by companies to fight the coronavirus adds value to their efforts, du Plessis recommends periodic servicing and calibration of these instruments by reputable companies.
SA Gauge offers a two-hour turnaround time for such a service. Thermometers dropped off by 10:00 am can be collected by lunchtime, ready for the afternoon rush. After-hours calibration can also be arranged.
Why measure at all if you are not going to be sure of the results? SA Gauges' calibration laboratory ensures internationally traceable accuracies through its ISO/IEC 17025:2017 accreditation by the South African National Accreditation System.
Credit(s)
Further reading:
Emerson publishes 2019 Social Responsibility Report
July 2020, Emerson Automation Solutions , News
Emerson combines industry-leading technology and innovation to make a positive impact on employees, customers and communities around the world.
Read more...
---
FIRST Lego League goes from strength to strength
July 2020 , News
FIRST (for inspiration and recognition of science and technology) is an international organisation that aims to generate an interest in mathematics, science and technology through the use of robotics 
...
Read more...
---
Aguru announces successful Safe-Trace Contact Tracing trial at Adcock Ingram Critical Care
July 2020 , News
Aguru Business Solutions (Aguru), a company specialising in automation and digital transformation advisory and project management services, has successfully completed a Proof of Concept (PoC) trial of 
...
Read more...
---
From the editor's desk: Coronavirus pulls the trigger on digital transformation
July 2020, Technews Publishing (SA Instrumentation & Control) , News
The general consensus among economists is that the disruption to global markets caused by the coronavirus pandemic is going to result in economic upheaval of proportions not seen since the disastrous 
...
Read more...
---
Siemens South Africa joins forces with the National Ventilator project community in response to the COVID-19 pandemic
June 2020, Siemens Digital Industries , News
Siemens has been a long-standing partner of the Council for Scientific and Industrial Research (CSIR) in South Africa and have cooperated in various field of research, including manufacturing and mining. 
...
Read more...
---
Endress+Hauser Switzerland turns 60
June 2020, Endress+Hauser South Africa , News
The Swiss sales centre of Endress+Hauser is celebrating its 60th anniversary. Active in Switzerland since 1960, today the global leader in measurement instrumentation, services and solutions for industrial 
...
Read more...
---
How investing in a niche market placed Yokogawa aboard the International Space Station
June 2020, Yokogawa South Africa , News
While the world was abuzz with excitement over the revival of U.S. manned spaceflight, another equally promising space endeavour flew under the radar. On 20 May, the H-II Transfer Vehicle (HTV-9), affectionately 
...
Read more...
---
Siemens and Bentley Systems build digital twin for Indonesian petrochemical complex
June 2020, Siemens Digital Industries , News
Siemens and Bentley Systems will develop the first petrochemical digital twin in Indonesia for Chandra Asri, the country's largest integrated petrochemical complex. With over 27 year footprint, the latter 
...
Read more...
---
Hitachi ABB Power Grids commences operations
June 2020, ABB South Africa , News
In accordance with the agreement signed on 17 December 2018, Hitachi and ABB have announced the completion of all required procedures as planned and the formation of Hitachi ABB Power Grids Ltd. on 1 
...
Read more...
---
Zest grows Africa base with local partners
June 2020, Zest WEG Group , News
"The key to sustainable growth in Africa is partnering with locally owned companies which have proven track records, are technically sound, have strong market knowledge and a business culture aligned 
...
Read more...
---