printer friendly version
Rockwell Automation upgrade for Ghana Water
June 2020
Motion Control & Drives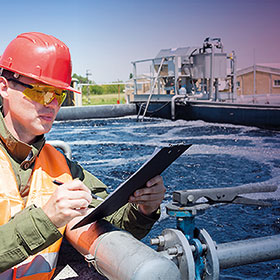 Over the last five years, Rockwell Automation has been working with Intermerc Ghana in supplying medium-voltage motor control and automation technologies to some of its recent pump upgrade and rehabilitation projects for Ghana Water Company.
By upgrading and adopting modern pump and control systems, Intermerc has been able to improve the performance, efficiency and reliability of water treatment works across the country. In so doing, it has helped Ghana Water Company increase access to water for many Ghanaians.
At the Daboase, Inchaban and Kpong water treatment works, new high lift pumps have been installed and are being controlled with the IoT-ready Rockwell Automation Bulletin 1503E SMC Flex medium-voltage soft starters.
At the Daboase High Lift Works and Apparatus, Intermerc identified the possibility of expanding pump capacity by 15% without any civil or other mechanical requirements. This would allow Ghana Water Company to increase the penetration of its bulk water supply to the greater Takoradi region. The solution required the supply of two new higher rated high lift pumps, paired with the Rockwell Automation soft starter.
The extra volume of water this added to the bulk water supply of the region also necessitated a pump upgrade at Inchaban pumping facility, and Intermerc specified, supplied and installed three new high lift pumps to achieve the additional volume requirements.
At Kpong, Intermerc was tasked with rehabilitating the feeder pumps that elevate the treated water from the Volta River to feed the high lift pump that then transports the treated water to Tema and some other parts of Accra.
Optimum soft starter technology
"The Rockwell Automation Bulletin 1503E SMC Flex was the optimum soft starter technology for these pump applications," explains Michael Klugey, technical manager, Intermerc Ghana. "Together with its intelligent autotransformer starter capabilities, it also delivers significant energy savings with an efficient motor control framework, and also helps optimise pump performance for an extended product life."
The 1503E SMC Flex provides microprocessor-controlled starting for standard three-phase squirrel-cage induction motors. This feature-rich technology delivers electronic motor overload protection and built-in DPI communications, includes four programmable auxiliary contacts and self-powered current loop gate driver boards.
The motor control panels were assembled by Rockwell Automation sub-Saharan Africa with a local panel manufacturer.
IoT-ready control framework
Employing the advanced analytics and diagnostics capabilities that come standard with the new-generation Rockwell Automation equipment, Intermerc and Rockwell Automation are currently piloting a remote monitoring and live data system that will provide Ghana Water Company with a full real-time representation of the Daboase, Nchabang and Kpong pump works. This will enable operators and technical teams to respond almost instantaneously to plant and equipment events, with an in-depth analytical understanding of plant performance.
Rockwell Automation and Intermerc Ghana have an established relationship that also includes low-voltage solutions for the water treatment industry.
For more information contact Patrizio Colarossi, Rockwell Automation, +27 11 654 9700, pcolarossi@rockwellautomation.com, www.rockwellautomation.co.za
Credit(s)
Further reading:
BMG's new generation of IE5+ motors
July 2020, Bearing Man Group t/a BMG , Motion Control & Drives
In 1916, BMG and German precision engineers, Getriebebau Nord, entered into a partnership agreement to assemble, distribute and support Nord Drivesystems throughout southern Africa. BMG has made 
...
Read more...
---
Danfoss addresses the challenges in water and wastewater applications
July 2020, Danfoss , Motion Control & Drives
As the world population rises and people pursue higher standards of living, more water is needed in homes and for the production of food and other products. By 2050, the United Nations projects global 
...
Read more...
---
Incledon launches latest Tekflo couplings
June 2020 , Motion Control & Drives
Incledon, a leading provider of quality fluid conveyance products and solutions, recently launched a new range of universal couplings, adding to its current range of Tekflo-branded products based on quality, 
...
Read more...
---
BMG's specialist solutions for industrial water infrastructure
July 2020, Bearing Man Group t/a BMG , Motion Control & Drives
BMG's solutions for the water, wastewater and sewage sectors encompass the supply of quality branded drive systems, enhanced by the BMG team's technical expertise and installation, condition monitoring, 
...
Read more...
---
BI champions Berntel pneumatic and hydraulic solutions
June 2020 , Motion Control & Drives
Hudaco Group company Berntel is expanding its footprint by offering its extensive range of pneumatic products through the Bearings International (BI) branch network. This, in turn, expands BI's value 
...
Read more...
---
New managing director of Rockwell Automation for Sub-Saharan Africa
July 2020, Rockwell Automation , News
Effective from 1 June, Canninah Mapena is now heading up Rockwell Automation's activity in sub-Saharan Africa. Operating from the company's offices in Randburg, Mapena will lead the business in the region 
...
Read more...
---
Remote commissioning helps African sugar mills
June 2020 , Motion Control & Drives
Three 1,2 MW ACS880 mill drives and one 355 kW regenerative batch centrifugal drive have been remotely hot commissioned at Illovo Sugar Africa's biggest southern African mills at Nakambala in Zambia and 
...
Read more...
---
Transmission solutions for sugar mills
June 2020, SEW-Eurodrive , Motion Control & Drives
SEW-Eurodrive offers a range of transmission solutions to assist sugar mills cut their costs. The main opportunity in this market segment is not only upgrading old and outdated systems, but the value 
...
Read more...
---
Limestone calciner takes command of operations with new control room
June 2020, Rockwell Automation , News
There are few qualities so desirable for a business to have than an ability to adapt to change. Industries evolve, circumstances shift, but what remains over time are those businesses with the foresight 
...
Read more...
---
AGVs for automated production
June 2020, SICK Automation Southern Africa , Motion Control & Drives
Automated and flexible production processes are the answer to increasing quantities, smaller batch sizes, and high production speeds. Automated guided vehicle (AGVs) systems and their smaller relatives, 
...
Read more...
---