printer friendly version
Edge device provides fanless control
June 2020
Industrial Computer Hardware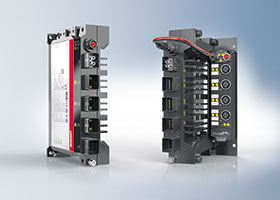 With its new C7015 ultra-compact industrial PC, Beckhoff has combined its extensive expertise with PC-based machine control and IP 65/67 components. The result is an industrial PC (IPC) designed with IP 65/67 protection for direct installation on the machine or other equipment. This edge device is ideal for decentralised installation and provides powerful multi-core computing performance. When used as a full-fledged control computer, the device also reduces the required control cabinet space, which simplifies machine design as well as subsequent system expansions.
The C7015, which measures 85 x 167 x 43 mm, is an economical yet high-performance IP 65/67 device designed for installation within machine environments. The space-saving, fanless device is universally suited to high-performance automation, visualisation and communication purposes. Its applications range from classic machine control to the decentralised edge computing utilised in advanced Industry 4.0 concepts.
High-performance edge device
The C7015 is equipped with a powerful Intel Atom multi-core CPU with up to four processor cores. Compared to conventional ARM-based edge devices, it is able to support far more demanding applications as well as decentralised data pre-processing and the acquisition of large data volumes. The device housing with IP 65/67 protection rating is another feature that makes the C7015 ideal for use in modern edge applications, even in harsh production environments.
Decentralised machine control with EtherCAT P
The new IPC serves as a highly functional machine controller. Installing it directly in the field can save valuable electrical cabinet space, which reduces machine footprints significantly, especially when combined with other Beckhoff components with a high protection rating, such as the AMP8000 distributed servo drive system and the EPP series of EtherCAT P I/O modules. These solutions can vastly simplify machine design while also minimising the effort of subsequent system expansions, such as the addition of an energy data acquisition system.
The integrated EtherCAT P connection of the C7015 creates a range of new options for efficient sensor/actuator connection via the IP 67-protected EPP modules. In this way, even complex diagnostic or condition monitoring tasks can be decentralised and supported with minimal installation effort, for example. For that purpose, a special mounting plate enables direct attachment of an EPP module to the C7015. If required, additional EPP modules can be flexibly connected via EtherCAT P for specific applications.
For more information contact Dane Potter, Beckhoff Automation, +27 79 493 2288, danep@beckhoff.com, www.beckhoff.co.za
Credit(s)
Further reading:
Machine learning optimizes real-time inspection of instant noodle packaging
April 2021, Beckhoff Automation , IT in Manufacturing
The basis for an inspection of products is classifiers, the use of which enables flawless products to be distinguished from faulty ones.
Read more...
---
UPS series with One Cable Technology
April 2021, Beckhoff Automation , Electrical Power & Protection
Beckhoff's new CU81xx UPS series is designed for universal use. Due above all to the flexible connection options extending up to One Cable Technology for uninterruptible power supply (UPS-OCT), the series 
...
Read more...
---
Complete Beckhoff system for power supply, protection and energy monitoring
April 2021, Beckhoff Automation , Electrical Power & Protection
Transparent energy data solutions increase machine efficiency and open up optimisation potential.
Read more...
---
Automation with PC-based control at UOW Malaysia KDU University
March 2021, Beckhoff Automation , PLCs, DCSs & Controllers
Eight embedded PCs and 3000 EtherCAT I/Os ensure maximum building efficiency across university campus.
Read more...
---
40 years of innovation
January 2021, Beckhoff Automation , News
Founded 40 years ago, Beckhoff Automation's anaging director and founder, Hans Beckhoff, talks about the company's many achievements.
Read more...
---
All-in-one operating solutions for use in the field
April 2021, Phoenix Contact , Industrial Computer Hardware
The operating solutions in the AIO product family from Phoenix Contact are used for programming, operating and monitoring machines and systems
Read more...
---
Compressed air savings in egg carton production
February 2021, Beckhoff Automation , System Integration & Control Systems Design
Using open PC and EtherCAT-based automation technology, iZ Systems developed a compact standard controller that enables remote monitoring and optimisation of compressed air systems.
Read more...
---
Rockwell Automation expands visualisation offering
February 2021, Rockwell Automation , Industrial Computer Hardware
New VersaView 6300 industrial PCs and thin clients allow users to create a single, secure and dependable visualisation system.
Read more...
---
Compact universal DC power supplies
January 2021, Beckhoff Automation , Electrical Power & Protection
The three new PS power supply series from Beckhoff comprises 18 single-and three-phase DIN-rail mountable power supply units that are compact and supply output currents from 2,5 to 40 A.
Read more...
---
Portion cutter for fish and poultry
November 2020, Beckhoff Automation , System Integration & Control Systems Design
Extremely fast and highly precise meat portion cutter leverages PC control.
Read more...
---