printer friendly version
Cummins South Africa remains a key supplier to critical sectors
June 2020
News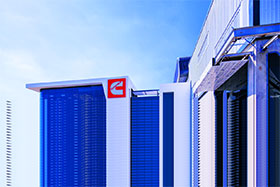 Cummins South Africa has been issued with the necessary permits to operate as a key supplier to critical sectors during the national lockdown. In addition, some employees have been exempted from the lockdown conditions. However, this is only to respond to emergencies in the critical industries as identified by the government.
Cummins offers a service by playing a vital role in producing, distributing and servicing products essential to maintain the flow of essential goods, and providing important backup to critical infrastructure and businesses. As such, Cummins remains open – where approved by local governments – providing service, support and products needed to keep the country's economy going.
As the Covid-19 pandemic continues to spread, Cummins is committed to keeping its clients updated on the steps it is taking to help power business needs during this uncertain time.
Supporting customers
• Cummins offers critical services that help power the world.
• It provides standby and commercial generators, keeping healthcare and other critical companies running during times of increased capacity.
• Service locations around the world ensure that these products continue to work when they are needed most.
• Providing access to the parts and tools necessary for completing critical work is vital.
Business continuity
• The supply chain teams continue to host regular meetings and are actively working to mitigate any current and potential impact to the company's global supply chain, including dual-sourcing for critical materials, working with logistics providers to ensure delivery, and more.
• During this time, it is important to maintain work continuity to support customers. As a result, protective efforts are being stepped up to maintain operations.
• Cummins has a robust business continuity process whereby all sites have written plans that are focused on maintaining support to its customers during times of crisis or unforeseen events.
Safety
• Many of Cummins' employees have been tasked to work from home to protect the health and safety of its people and customers.
• Rigorous hygiene and cleaning procedures have been implemented at all plants, technical centres, service locations, logistics centres and offices.
• Safety guidelines have been issued for customers and suppliers who may visit company facilities.
For more information contact Deepa Rungasamy, Cummins Africa Middle East, +27 11 589 8512, deepa.rungasamy@cummins.com, www.cummins.com
Further reading:
Emerson receives 2021 breakthrough award for Analytics Platform of the Year
January 2021, Emerson Automation Solutions , News
Real-time data and analytics are key drivers for optimising operational performance, asset health and plant safety
Read more...
---
Breathers and spin-on elements form part of BMG's filtrations solutions
November 2020, Bearing Man Group t/a BMG , News
BMG's fluid technology filtration solutions comprise a wide range of fluid power components and systems, which are supported by the team's broad technical capabilities to ensure fluids operate within the required cleanliness standards.
Read more...
---
Emerson appoints Akberet Boykin Farr as vice president of Diversity and Social Responsibility
November 2020, Emerson Automation Solutions , News
Emerson has announced the appointment of Akberet Boykin Farr as vice president of Diversity and Social Responsibility, effective December 1, 2020.
Read more...
---
Endress+Hauser invites you to its virtual trade fair booth
January 2021, Endress+Hauser South Africa , News
Endress+Hauser is breaking new ground by bringing customers closer to its products, solutions and services in a flexible and informative way through a virtual exhibition booth.
Read more...
---
ABB and BI extend partnership to include high-efficiency IE3 motors
January 2021 , News
As an extension of the partnership between the two companies, low-voltage IE3 motors from ABB Africa will now be distributed by Bearings International.
Read more...
---
From the editor's desk: Hardwired to survive, can we beat coronavirus in 2021?
January 2021, Technews Publishing (SA Instrumentation & Control) , News
According to the Smithsonian, it was around four million years ago that our earliest ancestors broke the evolutionary mould and walked upright for the very first time. Over the course of the next few 
...
Read more...
---
AM Systems Integrations
January 2021 , News
AMSI is a specialist systems integrations company whose core offering is in plant optimisation and automation.
Read more...
---
From the editor's desk: Isolation economy could quicken the pace of 4IR adoption
November 2020, Technews Publishing (SA Instrumentation & Control) , News
The coronavirus pandemic has highlighted a problem that the manufacturing industry was already uncomfortably aware of – its traditional ecosystems are too cumbersome to cope with the variety of choice 
...
Read more...
---
Pepperl+Fuchs continues Its Digital Event Series and invites you to its second Online Summit
October 2020, Pepperl+Fuchs , News
Pepperl+Fuchs invites you to its second Online Summit: register now, free of charge, to gain access to this fully digital event, which will be held from 17-19 November.
Read more...
---
Cummins ships 800 QSK60 engines to China for use in data centres
November 2020 , News
Cummins has shipped 800 QSK60 series engines to China, where they will be installed in data centres to help communities stay connected through the reopening of the economy.
Read more...
---