printer friendly version
HMA Geotechnical solution for greenfield ammonia plant in Indonesia
June 2020
News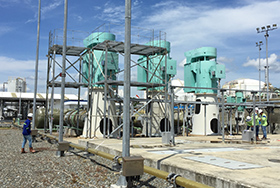 HMA Geotechnical has supplied its Wisenmeshnet wireless infrastructure monitoring system for one of the largest industrial projects in Indonesia. This is the first time that this system, intended mainly for mining and civil engineering, has been adapted successfully for such an application.
PT Panca Amara Utama (PAU) is a 700 000 million ton per annum (MTPA), US$830 million greenfield ammonia plant in the Batui District, Banggai Regency, Central Sulawesi in Indonesia. The project represents a commitment to prioritise local manufacturing to convert the country's natural resources into industrial products.
As such it supports the development of the manufacturing sector in Eastern Indonesia. PAU is the first ammonia plant in Sulawesi, and the second privately-owned plant in Indonesia. Ammonia is a chemical compound used in the manufacture of fertiliser, explosives, acids and other petrochemical products. PAU is a subsidiary of Surya Esa Perkasa (SEP), Indonesia's only listed LPG refiner.
The ammonia plant itself is based on a reforming exchanger system and purifier technology developed specifically for ammonia production. This places Indonesia at the forefront of this industry.
The project commenced construction in 2015 and was commissioned in December 2018. HMA Geotechnical supplied the wireless infrastructure monitoring system in 2019, with commissioning and installation completed last year.
Wireless mesh networks such as Wisenmeshnet connect entire data logging systems easily, effectively and wirelessly using inexpensive technology currently available. Traditional networks rely on a small number of wired access points or wireless hotspots to connect users.
In a wireless mesh network, on the other hand, the network connection is spread out among dozens or even hundreds of wireless mesh nodes that communicate with each other, thereby sharing the network connection across a large area.
The design of the system lends itself to the rapid development of new interfaces, as the designed wireless module is common across the product range. Over 100 nodes can communicate with a single gateway, meaning that a large number of sensors can be placed in a relatively small area.
In addition, HMA Geotechnical supplied the 4500 Series vibrating wire piezometers and pressure transducers from Geokon to measure soil pore pressure. Features include a high-tech sensor component for reliability and rapid response, high accuracy and resolution, a construction that is hermetically sealed and features easy automation for long-term monitoring.
For this specific project and application the Geokon products had to be manufactured from Inconel, a family of austenitic nickel-chromium-based super alloys. "Inconel alloys are oxidation-corrosion-resistant materials ideal for extreme environments in terms of pressure and heat," explains HMA Geotechnical operations manager, Craig Bruce.
The HMA Jakarta office is overseen by Muhammad Iqbal and Jhon Halim, who were instrumental in coordinating this challenging project. The Geokon products were sourced from the US, while the Wisenmeshnet system was supplied from Australia. The use of Inconel, combined with the application of low-pressure seawater-level monitoring, was unique.
For more information contact Craig Bruce, HMA Geotechnical, +61 3 8720 6700, cbruce@hmagroup.com.au, www.hmagrp.com
Further reading:
FIRST Lego League goes from strength to strength
July 2020 , News
FIRST (for inspiration and recognition of science and technology) is an international organisation that aims to generate an interest in mathematics, science and technology through the use of robotics 
...
Read more...
---
Aguru announces successful Safe-Trace Contact Tracing trial at Adcock Ingram Critical Care
July 2020 , News
Aguru Business Solutions (Aguru), a company specialising in automation and digital transformation advisory and project management services, has successfully completed a Proof of Concept (PoC) trial of 
...
Read more...
---
From the editor's desk: Coronavirus pulls the trigger on digital transformation
July 2020, Technews Publishing (SA Instrumentation & Control) , News
The general consensus among economists is that the disruption to global markets caused by the coronavirus pandemic is going to result in economic upheaval of proportions not seen since the disastrous 
...
Read more...
---
Siemens South Africa joins forces with the National Ventilator project community in response to the COVID-19 pandemic
June 2020, Siemens Digital Industries , News
Siemens has been a long-standing partner of the Council for Scientific and Industrial Research (CSIR) in South Africa and have cooperated in various field of research, including manufacturing and mining. 
...
Read more...
---
Endress+Hauser Switzerland turns 60
June 2020, Endress+Hauser South Africa , News
The Swiss sales centre of Endress+Hauser is celebrating its 60th anniversary. Active in Switzerland since 1960, today the global leader in measurement instrumentation, services and solutions for industrial 
...
Read more...
---
How investing in a niche market placed Yokogawa aboard the International Space Station
June 2020, Yokogawa South Africa , News
While the world was abuzz with excitement over the revival of U.S. manned spaceflight, another equally promising space endeavour flew under the radar. On 20 May, the H-II Transfer Vehicle (HTV-9), affectionately 
...
Read more...
---
Siemens and Bentley Systems build digital twin for Indonesian petrochemical complex
June 2020, Siemens Digital Industries , News
Siemens and Bentley Systems will develop the first petrochemical digital twin in Indonesia for Chandra Asri, the country's largest integrated petrochemical complex. With over 27 year footprint, the latter 
...
Read more...
---
Hitachi ABB Power Grids commences operations
June 2020, ABB South Africa , News
In accordance with the agreement signed on 17 December 2018, Hitachi and ABB have announced the completion of all required procedures as planned and the formation of Hitachi ABB Power Grids Ltd. on 1 
...
Read more...
---
Zest grows Africa base with local partners
June 2020, Zest WEG Group , News
"The key to sustainable growth in Africa is partnering with locally owned companies which have proven track records, are technically sound, have strong market knowledge and a business culture aligned 
...
Read more...
---
Gas control products for Covid-19
June 2020, Fluid Systems Africa , News
Fluid Systems Africa (FSA) is the authorised distributor for Gas Control Equipment (GCE) in Africa, and supplies a wide range of healthcare and high-purity products. The global spread of Covid-19 
...
Read more...
---