printer friendly version
Comtest trading for 15 years
8 June 2020 News
Comtest, one of South Africa's leading providers of test, measurement and communications equipment, is proud to mark its 15-year trading milestone in 2020.
CEO Barend Niemand says, "Comtest has representation throughout South Africa and with our bold, worldwide export sales-drive, our vision includes adding new products to the existing range, and the acquisition of new companies to complement our core business."
The company was founded by Peter Verwer and Barend Niemand in 2005 and has its HQ in Linbro Park, Gauteng. Aside from being Fluke's Master Distributor to South Africa, it also represents leading international companies in the test and measurement fields: Beha-Amprobe, BK Precision, Fluke Calibration, IET Labs, Industrial Scientific, Keytag, Meriam, Microsemi, Midtronics, Pico Technologies, Radian Research and Tektronix.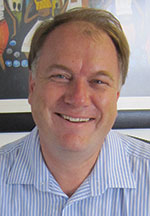 Barend Niemand.
Instrotech was acquired in 2010, to expand the business into the process and automation industries through its high-quality process control instrumentation and industrial electronics. Partnering with international leading brands Vishay, Optris, Keller, Siko, Kobold, Monitran, Elis, Scancon, and Sensortech, Instrotech supplies cost-effective, consistently reliable, high-quality industrial electronics, sensors, instrumentation and calibrators for the automated process and control industry, complementing primary sensors such as load cells, pressure and flow transmitters, sourced from European and North American companies.
"Business is not for the fainthearted in these recent, highly challenging trading-times, but Comtest has strong, knowledgeable and a loyal team driving our goals and aspirations, so I feel confident that we will inevitably reap the benefits as soon as the economic climate eases", concluded Niemand.
Credit(s)
Further reading:
HMA Geotechnical solution for greenfield ammonia plant in Indonesia
June 2020 , News
HMA Geotechnical has supplied its Wisenmeshnet wireless infrastructure monitoring system for one of the largest industrial projects in Indonesia. This is the first time that this system, intended mainly 
...
Read more...
---
Measure bearing vibration and temperature
June 2020, Comtest , Maintenance, Test & Measurement, Calibration
Vibration in rotating machinery is merely the back and forth movement, or oscillation, of a machine and components, such as drive motors, driven devices (pumps, compressors, etc.), and the bearings, shafts, 
...
Read more...
---
Africa Medical Supplies Platform launched
June 2020, Bearing Man Group t/a BMG , News
The Africa Medical Supplies Platform (AMSP), of which local company, Invicta Holdings, is a key supplier, is now officially live as part of a continent-wide effort to contain the Covid-19 pandemic. In 
...
Read more...
---
Africa Automation Technology Fair announces launch of virtual event series
June 2020, Reed Exhibitions , News
The Africa Automation Technology Fair (AATF) organiser, Reed Exhibitions, announced the launch of a series of virtual events to take place from July 2020 on the AATF digital platforms. The event series 
...
Read more...
---
Tektronix and Coherent Solutions partner for integrated optical communications
June 2020, Comtest , News
Comtest has announced that technology companies Tektronix and Coherent Solutions have an exclusive partnership agreement to provide fully integrated optical communications platforms to new and existing 
...
Read more...
---
Artificial Intelligence and Dawn of Disruption
June 2020 , News
Since the phrase Artificial Intelligence (AI) was coined in the 1950s, technology has advanced significantly and transformed our social and work worlds. Some industry luminaries are bullish about the 
...
Read more...
---
Limestone calciner takes command of operations with new control room
June 2020, Rockwell Automation , News
There are few qualities so desirable for a business to have than an ability to adapt to change. Industries evolve, circumstances shift, but what remains over time are those businesses with the foresight 
...
Read more...
---
Africa Automation Technology Fair 2021
May 2020, Reed Exhibitions , News
It's one year until the doors open to Africa's leading industrial automation technology event. Set to take place at the Ticketpro Dome from 18-20 May 2021, the event will be attended by South African, 
...
Read more...
---
Endress+Hauser sees itself as well positioned
May 2020, Endress+Hauser South Africa , News
Endress+Hauser performed well across all fields of activity, industries and regions in 2019. The Group created hundreds of new jobs, invested record amounts and improved in the area of sustainability. 
...
Read more...
---
Hytec Pretoria exhibits at Mining & Technical Expo
May 2020 , News
Hytec Pretoria exhibited at the Mining and Technical Exhibition (MTE) at the Cullinan Sports Ground in Tshwane, the first MTE for the year held in February. The company showcased a wide range of products 
...
Read more...
---