printer friendly version
Skid-mounted dry-type transformer does duty on a coal mine
May 2020
News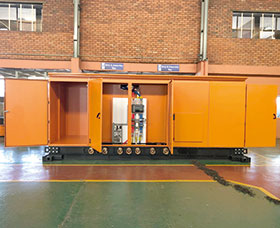 In a specialised application on a coal mine, Trafo Power Solutions recently supplied a dry-type transformer mounted on a mobile skid.
"The harsh environment of a coal mine required us to specially design a fit-for-purpose solution," explains David Claassen, managing director at Trafo Power Solutions.
The cast-resin dry-type transformer is ideal for the mobile arrangement as it is cooled without oil, which also makes it a safer option in terms of fire hazards, especially on a coal mine. It is also more environmentally friendly, as there is no chance of an oil spill, while the 1250 kVA dual-MV configuration supplied to this mine allows the unit to be linked up to either an 11 kV or 6,6 kV supply.
"The unit was designed for a compact enclosure, while still allowing for sufficient air movement for cooling," adds Claassen. "We provided a unique solution of a cast-resin transformer with Class H insulation rating for both the medium voltage and the low voltage windings."
This insulation standard ensures that the transformer can withstand temperatures of up to 180°C. He notes that the enclosure design had to accommodate these heat factors while also preventing the ingress of dust or water.
Special engineering was also applied to building a high level of mechanical rigidity into the transformer itself, as demanded by the regular relocation of the mobile skid. This movement means considering that vibration and other forces must be borne by the equipment without affecting its performance.
Claassen emphasises that Trafo Power Solutions is experienced in providing dry-type transformers in a range of enclosed formats to suit customers' needs. The inherent safety of these transformers also allows them to be installed in underground mining locations. "We can provide various dry-type transformer enclosed solutions with a mobile skid, which is a versatile format for a range of mining applications," he concludes.
Trafo Power Solution's solid track record in cast-resin transformers is based on its local expertise and design capacity, combined with the high-quality manufacture of the units by Italy-based TMC Transformers.
For more information contact David Claassen, Trafo Power Solutions, +27 11 325 4007, david@trafo.co.za, www.trafo.co.za
Further reading:
Pepperl+Fuchs to host a free, five-day online event
June 2020, Pepperl+Fuchs , News
Pepperl+Fuchs' 2020 Online Summit is a free digital platform that will allow customers and other interested parties to learn about the latest trends and solutions in factory and process automation – even 
...
Read more...
---
Aguru announces agreement with French industrial services company Ennovia
June 2020 , News
Aguru Business Solutions (Aguru), a company specialising in automation and digital transformation advisory and project management services, has announced that it has entered into a reseller agreement 
...
Read more...
---
Rope access used for inspection at pulp and paper plant
June 2020 , News
When a pulp and paper producer required inspection and maintenance of its fire-water reticulation system, it turned to rope access specialist Skyriders to provide a quick and cost-effective solution. 
...
Read more...
---
HMA Geotechnical solution for greenfield ammonia plant in Indonesia
June 2020 , News
HMA Geotechnical has supplied its Wisenmeshnet wireless infrastructure monitoring system for one of the largest industrial projects in Indonesia. This is the first time that this system, intended mainly 
...
Read more...
---
Africa Medical Supplies Platform launched
June 2020, Bearing Man Group t/a BMG , News
The Africa Medical Supplies Platform (AMSP), of which local company, Invicta Holdings, is a key supplier, is now officially live as part of a continent-wide effort to contain the Covid-19 pandemic. In 
...
Read more...
---
Africa Automation Technology Fair announces launch of virtual event series
June 2020, Reed Exhibitions , News
The Africa Automation Technology Fair (AATF) organiser, Reed Exhibitions, announced the launch of a series of virtual events to take place from July 2020 on the AATF digital platforms. The event series 
...
Read more...
---
Tektronix and Coherent Solutions partner for integrated optical communications
June 2020, Comtest , News
Comtest has announced that technology companies Tektronix and Coherent Solutions have an exclusive partnership agreement to provide fully integrated optical communications platforms to new and existing 
...
Read more...
---
Artificial Intelligence and Dawn of Disruption
June 2020 , News
Since the phrase Artificial Intelligence (AI) was coined in the 1950s, technology has advanced significantly and transformed our social and work worlds. Some industry luminaries are bullish about the 
...
Read more...
---
Limestone calciner takes command of operations with new control room
June 2020, Rockwell Automation , News
There are few qualities so desirable for a business to have than an ability to adapt to change. Industries evolve, circumstances shift, but what remains over time are those businesses with the foresight 
...
Read more...
---
Africa Automation Technology Fair 2021
May 2020, Reed Exhibitions , News
It's one year until the doors open to Africa's leading industrial automation technology event. Set to take place at the Ticketpro Dome from 18-20 May 2021, the event will be attended by South African, 
...
Read more...
---