printer friendly version
Five tips to manage energy use while staying at home
May 2020
Electrical Power & Protection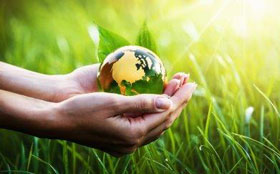 Covid-19 continues to impact many aspects of our lives. Many are now required to stay at home in an effort to curb the spread of the pandemic. One of the many implications of staying at home will be the changes in your home's energy usage.
Historically, a family on average incurs $200 of energy bills a month in the US, for example. As many families around the world are required to stay at home, their home energy bills are expected to temporarily rise.
Understanding your current home energy use
Most of the energy used in homes goes towards maintaining indoor temperatures, heating water, providing lighting and operating the refrigerator. Many residential households rely on electricity and natural gas as the energy sources to power these and other amenities.
In recent decades, electricity has been the rising star in bringing energy to our homes. It kept gaining ground to first surpass the use of petroleum and more recently to surpass the use of natural gas as the primary form of energy in households.
Staying and working from home likely changes your energy-use pattern
The amount and timing of energy we use throughout the day at home changes, called your daily energy-use pattern. Commonly, energy use in residential dwellings peaks in early evening as more of us return from work to home, get dinner ready, watch television and adjust the indoor temperate to a pleasant level. Energy use bottoms during night hours as heating or cooling tends to be the only energy user.
As many are required to stay at or work from home during the ongoing lockdown, this daily energy-use pattern will likely change. It is expected the energy usage during daytime hours will increase considerably. This will be a result of more family members being present at home when they are normally at work or school. This will create the need for additional heating or cooling, more frequent use of hot water and increased appliance usage. The energy usage will likely increase during evening hours, too, but this will be a much less significant increase in comparison to the increase during day hours.
Five practical tips to manage energy use while you and your family are at home:
1. Heating and cooling tend to be the largest consumer of energy. If you need heating, consider lowering your thermostat by a degree or two to reduce your energy bills. Where applicable, you can keep your curtains or blinds open to take advantage of sunlight for heating. For the rooms not frequently used, you can consider adjusting air vents to decrease hot air flow into these rooms and close the doors. If you need cooling, consider raising the temperature by a degree or two and using fans to help circulate the air.
2. Refrigerators consume large amounts of electricity. Consider challenging yourself and your family to not open the refrigerator door as frequently. As many are required to stay at home, this means more people making frequent trips to the refrigerator for food and snacks. Consider setting up a family challenge. Tape a piece of paper on the fridge door and put a mark every time someone opens the door. Award the family member who opens the door the least.
3. Lighting continues to consume a considerable quantity of energy in households, even after all the recent improvements in energy-efficient lighting. Consider taping the switches in the 'off' position for the rooms with minimal usage. This will help you and everyone in the home avoid leaving lights on during the day in selected rooms. If you are an early riser and like working in the morning while it is still dark outside, consider setting an alarm on your phone to turn off all lights after sunrise so you don't forget. If you have recently invested in smart home technology, consider setting schedules for your light fixtures to automatically turn off at pre-set times.
4. Heating water for showers, the dishwasher and washing machine is another area that consumes a sizable amount of energy. Consider lowering the water heater temperature towards the lowest setting and consolidating your washing loads to minimise the times the washing machine runs. Replicate this for your dishwasher.
5. Many home electronics continue to use electricity when turned off or in standby mode, hence the phrase 'phantom loads'. Consider unplugging these devices while they are not in use. These devices include televisions, stereos, game consoles, cellphones, computers, computer accessories and beyond.
This is a very difficult time for everybody. The world is joining together to keep people healthy first and foremost. As many are required to stay at or work from home, we can all put an effort to manage our individual energy footprint.
For more information contact Deepa Rungasamy, Cummins Africa Middle East, +27 11 589 8512, deepa.rungasamy@cummins.com, www.cummins.com
Further reading:
Electrical certificate of compliance (COC) for instrumentation: non-hazardous installations
June 2020, Everest Equipment & Control , Electrical Power & Protection
An instrument and control installation's scope of work often never makes a request for a certificate of compliance: it is assumed to be an electrical function and hence many installations are non-compliant. 
...
Read more...
---
Holistic approach to energy security
April 2020 , Electrical Power & Protection
As South Africans settle into the routine and inconvenience of load shedding and planning their activities around shifting electricity supply, it is businesses that are taking the biggest hit through 
...
Read more...
---
Save energy costs with highly-efficient Delta VFDs
April 2020, ElectroMechanica , Electrical Power & Protection
Customers can realise significant savings on their total energy costs by replacing older motor starters with energy-efficient Delta variable frequency drives (VFDs), distributed locally by ElectroMechanica 
...
Read more...
---
Utility made easy
April 2020, Schneider Electric South Africa , Electrical Power & Protection
In recognition of the growing demand for reliable power provision, Schneider Electric strives to assist network operators to deliver electricity safely and efficiently. The company's Advanced Distribution 
...
Read more...
---
Specialised transformers for renewable energy projects
April 2020, Zest WEG Group , Electrical Power & Protection
Zest WEG's local transformer manufacturing facility has supplied 36 specialised photovoltaic (PV) transformers to a solar energy generation plant in the Northern Cape. According to sales team leader, 
...
Read more...
---
Meeting the needs of the mining industry
April 2020, Varispeed (Div of Hudaco Trading) , Electrical Power & Protection
Both above and below ground, Varispeed keeps the interests of its customers top of mind, all the time. The company was recently approached by a platinum mine in South Africa to assist with a robust application. 
...
Read more...
---
Game-changing electrical accessories
April 2020, Schneider Electric South Africa , Electrical Power & Protection
In a world where products are moving from standardised to customised, today's consumers want high quality products that meet their specific requirements. Electrical accessories are no exception and Schneider 
...
Read more...
---
EnI Electrical delivers at the sharp end of African contracts
March 2020, Zest WEG Group , Electrical Power & Protection
Usually the last contractor on site, electrical instrumentation and control (EC&I) specialist EnI Electrical puts extra effort into helping clients around Africa meet their scheduled start-ups. With 
...
Read more...
---
In-house testing of transformers
March 2020, Zest WEG Group , Electrical Power & Protection
The recent installation of an impulse voltage generator at Zest WEG's transformer manufacturing facility in Heidelberg will allow in-house testing of transformers, saving time and money for customers. According 
...
Read more...
---
Sulphate and chloride monitoring
March 2020, Microsep , Electrical Power & Protection
Chlorides and sulphates cause pitting and stress corrosion in expensive power plant components, such as turbines and boilers, leading to extensive maintenance and unplanned shutdowns. Monitoring these 
...
Read more...
---