printer friendly version
SAIMC: Johannesburg branch
May 2020
SAIMC
IIoT/Industry4.0/4IR – they cover a large area and don't always mean the same thing. So how do we define any of these terms? Basically, they are about improving manufacturing efficiency, largely through the intelligent use of data. There is a lot of jargon that goes with this, and Lloyd Townsend of WIKA did a good job of unravelling much of it at the last branch technology evening.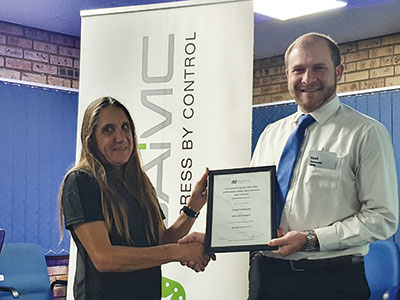 Cheryl Hird thanks Lloyd Townsend after the presentation.
Since it is there, it is tempting to use the cloud for everything, as no investment in hardware is required. However, the drawback is that it can take a relatively significant time to get feedback on the data and hence the emergence of edge computing, where time-critical information is processed right at the application.
Where does the data come from? First of all, a 4-20 mA signal can be used. However, it can only be used once it is in digital form by the control system. Microprocessor-based instruments usually contain much more information than just the process variable, and this can also be used. If the field devices are connected to a bus, whole groups of data can be aggregated, and sent to the cloud in a batch, using a variety of communication protocols. As this data is not usually time-critical, security and accuracy of data is more important than speed. There are a variety of LPWANs (low power WANs) which can do this, one of the more recent being MIOTY. The essence of this is that that the data is broken down into packets, and forward error correction applied. This minimises requests for repeat packets, and, because the data is scattered in small packets, it is difficult for potential hackers to trace.
What about digital twins? As Lloyd explained, system designers generally have a good idea of the desired operation of any system. A virtual – or digital – twin is created, which reacts in the same way the physical system is supposed to, somewhere in the cloud. This can be compared with its real-life counterpart in the cloud, to check whether the desired outcome has been achieved.
Lloyd covered a huge amount in a short period of time, all of it very well presented. The branch thanks WIKA for hosting the evening.
Credit(s)
Further reading:
In memoriam: Hendrick Frederik (Hennie) Prinsloo
June 2020, SAIMC , SAIMC
It is with great sadness that the SAIMC announces the death of branch general manager Hennie Prinsloo after a short but brave battle with cancer. A stalwart and passionate member of the SAIMC since 
...
Read more...
---
SAIMC: From the office of the CEO
June 2020, SAIMC , SAIMC
President Cyril Ramaphosa rightly stated in his letter of 11 May: "Imposing a nation-wide lockdown gave our country a strategic advantage. It bought us valuable time to prepare our health system and put 
...
Read more...
---
SAIMC: Johannesburg branch
June 2020, SAIMC , SAIMC
Here we are at the end of May, still in lockdown Level 4. While we at the Johannesburg branch are doing our best to bring technology to our loyal members, there is still nothing like the human touch.  
...
Read more...
---
SAIMC: Vaal branch
June 2020, SAIMC , SAIMC
On 5 March the first coronavirus case was recorded in South Africa. The government reacted swiftly and called for a nationwide lockdown which commenced on 27 March 2020. Since then there have been extensions 
...
Read more...
---
SAIMC: Vaal branch
May 2020, SAIMC , SAIMC
At the last technology evening, Albert Louw, mobile control systems specialist from ifm electronic, gave a presentation on control systems for mobile machines, applicable to all mobile vehicles from transport 
...
Read more...
---
SAIMC: Durban branch
May 2020, SAIMC , SAIMC
The last technology evening was held in March, and as we headed into lockdown we reluctantly cancelled future technology events pending the reopening of the country. There is much discussion about whether 
...
Read more...
---
SAIMC: Cape Town branch
May 2020, SAIMC , SAIMC
Technology evening: Introduction to Profibus
What an interesting time and age we are in. If anyone predicted what future would be knocking on our doors in 2020, they would be a millionaire. With 
...
Read more...
---
SAIMC: From the office of the CEO
May 2020, SAIMC , SAIMC
Amidst the turmoil of the latest coronavirus pandemic and the recent downgrade of South African government debt to junk, I've begun to wonder whatever happened to traditional values like responsibility 
...
Read more...
---
SAIMC: From the office of the CEO
April 2020, SAIMC , SAIMC
South Africa has experienced terrible crimes against humanity over the years and somehow survived them. The idea of this letter is not to discuss who murdered who first, or who took whose country – if 
...
Read more...
---
SAIMC: Vaal branch
April 2020, SAIMC , SAIMC
At the recent technology evening, Lloyd Townsend, product support specialist from Wika, presented on IIoT with a focus on digitalisation within our industries.    He said that there are many buzz words 
...
Read more...
---