printer friendly version
Ultrasonic transducer with mini horn array
May 2020
Flow Measurement & Control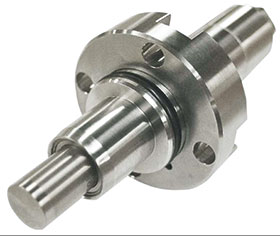 Emerson has released the Daniel T-200, a titanium-housed transducer, for its gas ultrasonic flowmeter product line, marking the first use of metal 3D printing to enhance the acoustic performance of ultrasonic flowmeters in custody transfer applications. The T-200's robust design provides increased reliability, uptime and safety while achieving the highest accuracy class attainable in gas measurement.
In an ultrasonic flowmeter, transducers generate acoustic signals that are sent back and forth across the fluid stream. The arrival times of these signals determine the fluid flow velocity. Signal quality and strength are critical to measurement accuracy, which is paramount in custody transfer applications. An error of only 0,1% can equate to hundreds of thousands of dollars annually in a large-diameter, high-pressure pipeline.
To boost signal strength through the titanium housing, the T-200 uses a metal 3D-printed mini-horn array, which consists of an intricate geometrical structure of titanium horns and a titanium diaphragm that acts as a harmonic oscillator and matching layer. This maximises the sound energy coupled into the gas, which improves the signal-to-noise ratio and accuracy of the measurement.
"The T200's mini-horn array could not be made without metal 3D printing technology, making it transformational to the sound quality and performance achievable through a titanium barrier," said Kerry Groeschel, director of ultrasonic technology, Emerson. "Emerson is committed to developing innovative solutions that help our customers achieve safer, more efficient operations."
The meter's all-metal housing provides a barrier from corrosive hydrocarbon fluids and wet gas, thereby extending the life of transducer components and ensuring stable performance. This unique design allows the meter to be hydrotested with transducers in place, steam cleaned while in the operating line and blown down with no limits on the rate at which the meter can be depressurised.
The T-200 can also be safely extracted while the meter is under pressure without special high-pressure extraction tools, which reduces the possibility of greenhouse gas emissions during extraction. The capsule which contains the piezoelectric crystal used to produce ultrasonic sound waves is retractable as a single piece for simplicity and ease of use. No other gas ultrasonic transducer can be extracted under pressure without special tools and with so few parts to remove or touch in the removal process.
Credit(s)
Further reading:
Thief hatch monitoring
June 2021, Emerson Automation Solutions , Operator Interfaces, Switches & Relays
As thief hatches on oil storage tanks are necessary for maintenance, it is essential to monitor the hatch is closed so that it does not contribute to overall emissions limits.
Read more...
---
Emerson introduces Digital Maturity Quick Index
April 2021, Emerson Automation Solutions , IT in Manufacturing
Resource helps companies self-assess operations and identify opportunities for the highest potential return on investment.
Read more...
---
Delivering modern SIS for wellhead applications
April 2021, Emerson Automation Solutions , IS & Ex
Keeping the safety and non-safety functions separate while achieving seamless integration.
Read more...
---
Emerson user conference to focus on smarter, safer, more sustainable operations
March 2021, Emerson Automation Solutions , News
Emerson Users Exchange Live 2021 EMEA online conference offers new insights and innovations that are driving performance improvements for manufacturers.
Read more...
---
Exact determination of fuel consumption
April 2021, Instrotech , Flow Measurement & Control
The Kobold DOE, an oval gear flowmeter, can be used with a wide range of media and chemicals
Read more...
---
Oval gear flowmeter
May 2021, Instrotech , Flow Measurement & Control
When liquid flows through the instrument, two oval geared rotors measure a constant volume per rotation.
Read more...
---
Inductive flowmeter with IO-Link
February 2021, Instrotech , Flow Measurement & Control
Instrotech is pleased to announce a new product development in Kobold's magnetic inductive flowmeter range, featuring IO-Link.
Read more...
---
Proline t-mass F/I 300/500 from Endress+Hauser
February 2021, Endress+Hauser South Africa , Flow Measurement & Control
The reliable and versatile all-rounder for pure gases and gas mixtures features alarm functions as well as bidirectional measurement and reverse flow detection.
Read more...
---
Emerson launches new education centre for measurement instrumentation
February 2021, Emerson Automation Solutions , News
The centre provides face-to-face and virtual training for customers in the Middle East and Africa to upskill process automation engineering and maintenance workforces.
Read more...
---
Industrial edge controller for pipeline operations
February 2021, Emerson Automation Solutions , PLCs, DCSs & Controllers
Denka Wangdi, of Emerson's machine automation solutions business, explains how the gathering, storage and analysis of detailed operational and diagnostic data by modern edge controllers provides significant benefits for pipeline operators.
Read more...
---