printer friendly version
Zest adds geared motors to product range
May 2020
Motion Control & Drives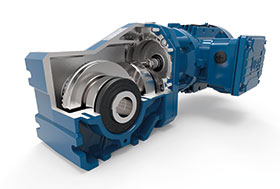 A range of WEG geared motors with benefits including efficiency and reliability will soon be available to customers in South Africa and the rest of the continent from Zest WEG. According to national sales executive Johan van Niekerk, the WEG WG20 range is a natural extension of the company's offering in electric motors, and will be available from the third quarter of 2020. The geared motors will be distributed and supported through Zest WEG's established footprint of strategically located branches and outlets across the continent.
"In keeping with our local production philosophy, and to reduce lead times to customers, the geared units will be assembled in South Africa," he adds. "Zest WEG has made a substantial investment in new assembly facilities, including hydraulic presses and assembly tooling. The geared motors will allow us to expand our services into new markets including the packaging, recycling, and food and beverage sectors."
"Local assembly allows reduced time-to-market," highlights Zest WEG geared motor specialist, Cas de Jager. "Underpinning our quick turnaround time will be our skilled employees and local stockholding of a full range of gears, flanges, housings, shafts, bearings, oil seals and other components."
The components for the geared motors are manufactured by Watt Drive in Austria, an established gear technology specialist and part of the global WEG group. Watt Drive offers a complete range of combinable drive systems for production machines and industrial manufacturing plants. In addition to providing high-quality components, the company is also training Zest WEG personnel at its Austrian facility, and will regularly send technical experts to continue building capacity in the South African operation.
"There are various benefits inherent to geared motors," explains de Jager. "A key improvement delivered by geared motors is their high level of efficiency. Only about 1,5% of mechanical efficiency is lost per gear stage, so a two-stage gear unit would be about 97% efficient. They are also reliable, robust and durable, making them economical to maintain."
Van Niekerk says Zest WEG's extensive footprint around South Africa positions the company well to introduce the WEG WG20 range to new and existing markets. "Our geared motors will be given by the high levels of service and after-market support for which we are well known," he concludes.
Credit(s)
Further reading:
BMG's new generation of IE5+ motors
June 2020, Bearing Man Group t/a BMG , Motion Control & Drives
In 1916, BMG and German precision engineers, Getriebebau Nord, entered into a partnership agreement to assemble, distribute and support Nord Drivesystems throughout southern Africa. BMG has made 
...
Read more...
---
Rockwell Automation upgrade for Ghana Water
June 2020, Rockwell Automation , Motion Control & Drives
Over the last five years, Rockwell Automation has been working with Intermerc Ghana in supplying medium-voltage motor control and automation technologies to some of its recent pump upgrade and rehabilitation 
...
Read more...
---
Zest grows Africa base with local partners
June 2020, Zest WEG Group , News
"The key to sustainable growth in Africa is partnering with locally owned companies which have proven track records, are technically sound, have strong market knowledge and a business culture aligned 
...
Read more...
---
Water and wastewater challenges addressed
June 2020, Danfoss , Motion Control & Drives
As the world population rises and people pursue higher standards of living, more water is needed in homes and for the production of food and other products. By 2050, the United Nations projects global 
...
Read more...
---
Incledon launches latest Tekflo couplings
June 2020 , Motion Control & Drives
Incledon, a leading provider of quality fluid conveyance products and solutions, recently launched a new range of universal couplings, adding to its current range of Tekflo-branded products based on quality, 
...
Read more...
---
BMG drive solutions for water applications
June 2020, Bearing Man Group t/a BMG , Motion Control & Drives
BMG's solutions for the water, wastewater and sewage sectors encompass the supply of quality branded drive systems, enhanced by the BMG team's technical expertise and installation, condition monitoring, 
...
Read more...
---
BI champions Berntel pneumatic and hydraulic solutions
June 2020 , Motion Control & Drives
Hudaco Group company Berntel is expanding its footprint by offering its extensive range of pneumatic products through the Bearings International (BI) branch network. This, in turn, expands BI's value 
...
Read more...
---
Zest WEG partners with Panaco Katanga
June 2020, Zest WEG Group , News
As part of strengthening its African footprint, Zest WEG has appointed established local firm Panaco as its value-added reseller (VAR) in the Katanga region of the Democratic Republic of Congo (DRC). 
...
Read more...
---
Remote commissioning helps African sugar mills
June 2020 , Motion Control & Drives
Three 1,2 MW ACS880 mill drives and one 355 kW regenerative batch centrifugal drive have been remotely hot commissioned at Illovo Sugar Africa's biggest southern African mills at Nakambala in Zambia and 
...
Read more...
---
Transmission solutions for sugar mills
June 2020, SEW-Eurodrive , Motion Control & Drives
SEW-Eurodrive offers a range of transmission solutions to assist sugar mills cut their costs. The main opportunity in this market segment is not only upgrading old and outdated systems, but the value 
...
Read more...
---