printer friendly version
Tube connector for Ex areas
May 2020
IS & Ex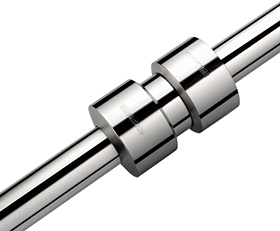 Parker Hannifin has extended its Phastite permanent instrumentation connection range, which is now available in a number of corrosion-resistant alloys (CRAs), including Alloy 825, 625 and Super Duplex, and in new larger sizes to suit even more applications for the oil and gas industry. Phastite is an innovative push-fit permanent instrumentation connection that eliminates the need for welding tubes up to 2,5 cm, providing permanent non-welded leak-free connections.
"We're extending our Phastite range with a number of new corrosion-resistant alloys up to 2,5 cm in size in response to market demand," says product manager, Franck Grignola. "Contractors and engineers in many industries recognise how Phastite offers quick and simple installation, with no need for 'hot work' permits and without a requirement for non-destructive testing. By extending the range with CRAs, we are opening up the connection for an even wider range of applications."
To make a joint, all that is required is to slide the fitting onto the tube end, and then push the collar along the fitting body until it reaches a dead stop. With the help of a hand tool, the connection can be installed in under one minute, whilst assuring users of right-first-time connections.
Phastite is renowned for enhancing safety as it eliminates the need for welding work that could be hazardous in certain applications. Fabrication times with Phastite are much reduced with connections typically completed within minutes, rather than the hours required for welding. The innovative connection has also proved extremely popular as it eliminates the need for post-welding inspection and the cost of non-destructive examinations (NDE).
As a versatile system, Phastite is well suited for hydraulic, water and water/glycol, lubrication and other media. It is able to withstand pressure up to 1380 bar and is designed to perform at subsea depths of 5000 metres. Phastite meets the requirements of ASME B31.1 and B31.3 and has been tested in accordance with ASTM F1387.
The connection is designed to provide optimum performance as it reduces inspection/cooling time as well as pipe repair downtime. It also eliminates weld-induced corrosion and mechanical stresses. Ultimately it offers a clean and safe assembly.
Phastite features an innovative design with built-in pipe tolerance control and metal-to-metal sealing. It is available in a broad range of configurations and provides a clean assembly process, requiring no lubrication.
Phastite meets all the relevant performance and functional requirements of industry standards, including pressure containment to a safety factor of a minimum of 4:1, proven by actual tubing burst tests. It has been proven in rigorous tests including thermal cycling, shock, vibration, helium leak, gas tight and hydrostatic testing and has been widely used in both onshore and offshore oil and gas, petrochemical and chemical applications for a number of years.
Phastite has been granted Type Approval by DNV. DNV Type Approval provides unbiased, third-party verification of a product's conformity to the producer's specification and relevant national and international standards, and is based on a design assessment and an agreed programme of performance testing, to demonstrate the product's suitability for use in general marine, offshore and industrial piping systems.
For more information contact Lisa de Beer, Parker Hannifin SA, +27 11 961 0700, lisa.debeer@parker.com, www.parker.com/za
Credit(s)
Further reading:
Driver assistance for collision avoidance
January 2021, SICK Automation Southern Africa , IS & Ex
SICK Automation's Visionary-B CV 3D driver assistance system delivers real-time imagery with optical and acoustic warning signals.
Read more...
---
Parker's SCFF couplings avoid loss of fluid and help protect the environment
January 2021, Parker Hannifin - Sales Company South Africa , Motion Control & Drives
These couplings offer users a number of benefits ranging from low-leakage decoupling to the avoidance of air entrapment during coupling.
Read more...
---
SMC's static removal solutions
November 2020, SMC Corporation South Africa , IS & Ex
Around the world, SMC Corporation has a long history in assisting customers in several industries with pneumatic solutions and components. Perhaps less well known in South Africa is the SMC ioniser range, 
...
Read more...
---
Retrofit your vehicles with collision protection
November 2020, ifm - South Africa , IS & Ex
The camera-based anti-collision system from ifm automatically detects persons and obstacles in the rear area of the vehicle, warns the driver, and stops the vehicle if necessary.
Read more...
---
Safe use of Ethernet in Ex areas
November 2020, Turck Banner , IS & Ex
Turck is paving the way for the evaluation of plant data using its excom high-availability I/O system.
Read more...
---
Delivering modern SIS for wellhead applications
January 2021, Emerson Automation Solutions , IS & Ex
Keeping the safety and non-safety functions separate while achieving seamless integration.
Read more...
---
Safety technology with ifm
January 2021, ifm - South Africa , IS & Ex
The ifm safety product range includes electro-sensitive protective equipment (ESPE), door switches, actuators and control systems.
Read more...
---
Parker launches the icount LaserCM30
November 2020, Parker Hannifin - Sales Company South Africa , Pneumatics & Hydraulics
Next generation particle contamination monitor with test procedure in less than 90 seconds.
Read more...
---
Safety controllers with diagnostics
October 2020, Turck Banner , IS & Ex
The combination of an intuitive user interface and diagnostics makes it easy to design and troubleshoot complex safety systems in just a few clicks.
Read more...
---
Rethinking pneumatic technology for the factories of the future
September 2020, Parker Hannifin - Sales Company South Africa , Pneumatics & Hydraulics
Does a technology such as pneumatics have a central role to play in the flexible, smart production lines of the factories of the future?
Read more...
---