printer friendly version
Rugged wireless gateway for Ex areas
2 May 2020 Industrial Wireless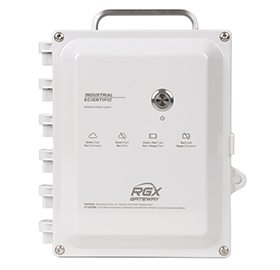 Comtest – local representative of Industrial Scientific, a global leader in gas detection – has introduced the RGX Gateway, which enables designated safety contacts to receive real-time alerts for gas hazards, panic, and man-down situations happening in-plant or in the field. A live map shows the location of workers and current conditions, improving response times and arming emergency personnel with critical information.
Designed for hazardous locations, the gateway is compatible with Ventis Pro series multi-gas monitors and Radius BZ1 area monitors. Through the Lens wireless instrument-to-instrument mesh communication system, the monitors share gas readings and alarms with one another and the RGX device. The gateway then transmits readings through cell, Wi-Fi, or Ethernet to iNet Now Live Monitoring software, which alerts key team members within seconds of an incident. The combination of Lens-enabled gas monitors and the gateway enhances the ability to get data to the cloud from complex locations such as confined spaces or plants where a typical wireless connection may be obstructed.
"The RGX is truly designed to go where the work is," said product manager, Ryan Thompson. "With a Class I Div II hazardous classification and an ingress protection rating of IP65, the gateway can be used in hazardous environments as well as most weather conditions."
The new gateway can be deployed for permit tasks that last hours, incidents that last days, or projects that last weeks, by using the rechargeable 7-day run-time battery. For longer, more permanent applications, the RGX is also compatible with a variety of external power supplies, allowing it to run indefinitely.
For more information contact Comtest, +27 10 595 1821, sales@comtest.co.za, www.comtest.co.za
Credit(s)
Further reading:
Monitoring critical assets for tailings and pipeline feed system
November 2020 , Industrial Wireless
Monitoring of tailings dams can be performed by various methods depending on actual mining operation procedures.
Read more...
---
Acoustic imager detects partial discharge
November 2020, Comtest , Maintenance, Test & Measurement, Calibration
Fluke's new ii910 Precision Acoustic Imager detects corona, partial discharge and gas, steam and compressed air leaks that can hurt both production uptime and the bottom line.
Read more...
---
Wireless at the edge
November 2020, RJ Connect , Industrial Wireless
The ultimate goal of most industrial automation applications is to obtain actionable insights from data sources for more precise decision-making. To achieve this, businesses need to make their field data 
...
Read more...
---
Keeping cryopreservation cool
January 2021, Omniflex Remote Monitoring Specialists , Industrial Wireless
When the Medical Research Council needed to upgrade 16 of its facilities to monitor temperature and humidity levels in its -80°C sample storage area, it engaged Omniflex to find a solution.
Read more...
---
RS Components introduces Linx Technologies
November 2020, RS Components SA , Industrial Wireless
RS Components now stocks a comprehensive range of antennas from wireless technology specialist Linx Technologies.
Read more...
---
Maintaining battery backup systems
November 2020, Comtest , Electrical Power & Protection
Standby battery backup systems play a critical role in keeping essential operations functional in the event of a utility outage.
Read more...
---
Electrical loggers for energy savings
October 2020, Comtest , Electrical Power & Protection
Fluke energy loggers deliver a complete picture to reduce energy costs and improve the bottom line.
Read more...
---
The Fluke T6 with FieldSense technology
October 2020, Comtest , Maintenance, Test & Measurement, Calibration
FieldSense technology works by providing a capacitive path from a contact point on the back of the tester and the operator's hand to earth ground.
Read more...
---
Do all wireless solutions solve real industry problems?
September 2020, Festo South Africa , Industrial Wireless
By using modern, standards-driven wireless technologies, designers and machine users have access to new tools that can help transform and simplify their working lives.
Read more...
---
Wireless vibration monitor
September 2020, Emerson Automation Solutions , Industrial Wireless
Emerson's AMS Wireless Vibration Monitor makes it possible to monitor motors, pumps, fans and other critical plant equipment to reduce downtime and achieve more reliable operations.
Read more...
---