printer friendly version
Smart lock integrates with home security ecosystem
30 April 2020 Smart Home Automation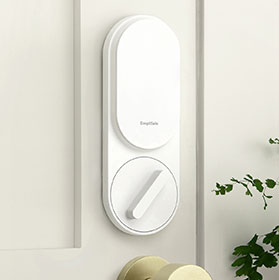 Nordic Semiconductor announced that SimpliSafe, maker of award-winning security systems, has selected Nordic's nRF52 Series multiprotocol System-on-Chip (SoC) to provide wireless connectivity for its 'Smart Lock' system.
The SimpliSafe Smart Lock is 23 mm thick and easily installs over existing deadbolts without the need for power tools, and enables the user to lock or unlock their doors without keys. The Smart Lock integrates with the wider 'SimpliSafe Home Security System' which includes the 'SimpliSafe Base Station and Keypad' as well as motion sensors, entry sensors, smoke detectors, and a range of other detection devices.
Once the smart lock is installed it can be paired wirelessly with the SimpliSafe security system, enabling the system to give commands to the lock when the user changes the system status. The system will also use sensor information to determine the behaviour of the lock. For example, if the user has an entry sensor on the same door as the lock, the system can prevent the door from locking while it's ajar – to prevent damage to the door frame – and send a push notification to the user's phone explaining why the door was not locked.
The lock can be controlled via an exterior PIN pad, a SimpliSafe portable key fob, or the interior keypad, as well as locked or unlocked from the SimpliSafe app for remote activation. The SimpliSafe app also allows the user to view 'events' the system has recorded, the current status of the lock, as well as get notifications detailing when and how the door was locked or unlocked.
The smart lock is powered by four AA batteries, providing a battery life of up to 12 months in standard operation, thanks in part to the ultra-low-power characteristics of the Nordic SoC. The nRF52 Series SoC has been engineered to minimise power consumption with features such as the 2,4 GHz radio's 5,5 mA peak Rx/Tx currents and a fully automatic power management system that reduces power consumption by up to 80 percent compared with Nordic's nRF51 Series SoCs.
Nordic's nRF52 Series SoC is deployed in the lock to enable secure over-the-air device firmware updates (OTA-DFU). The nRF52 Series SoC uses secure signatures to authenticate that only updates coming from a verified and trusted source can be made, while Advanced Encryption Standard (AES) offers strong protection, especially at the embedded level.
"Nordic's software development kit (SDK), and the documentation and examples provided were extremely helpful and helped us accelerate development," says Andrew Voris, an engineering manager at SimpliSafe. "SimpliSafe wrote its own application code using the Nordic SDK wherever we could, and in some cases it was possible to use examples from the SDK as boilerplate code, and then expand or modify the functionality as needed. Nordic's fast response allowed us to get comfortable with the device and development environment early on."
For more information contact www.simplisafe.com