printer friendly version
Early detection screening for learners
1 April 2020 Sensors & Transducers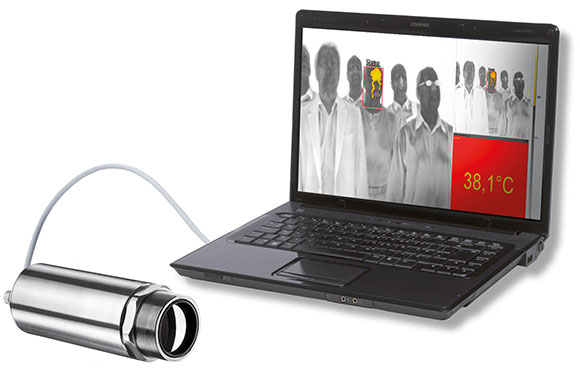 Instrotech would like to make it known that it has a specialised early detection system on offer, that allows for fast, non-contact screening and identification of school learners, tertiary students and staff who may be displaying the early signs and symptoms of Covid-19 viral infection, specifically the diagnostic high fever in individuals.
Learning institutions that wish to make use of thermal temperature scanning should ensure that the instruments to be used for fever screening are appropriate for the task, and perhaps more importantly, that operators be fully trained in their correct use, to minimise possible operational inaccuracies. It is also crucially important that the instrument used is recently calibrated and that it has an accuracy or repeatability function of within 1%. Once learners and staff have been scanned, those individuals flagged as 'feverish' should be sent for a secondary contact screening.
The Optris Xi400 infrared camera and its extensive software package are purpose designed for fever inspection. The software highlights individuals whose skin temperature exceeds the predefined value. A visual alarm alerts operators to identify and possibly isolate these individuals, so that further examinations can be carried out. If required, the software also offers an automatic IR image snapshot, when the alarm is tripped.
Installation of the Optris system – the Xi400 infrared camera and its extensive software package – is easy and password protected to prevent unauthorised access. A reference radiator, built into the infrared camera, allows automatic and constant IR calibration of the camera itself. The temperature resolution of 0,1°C detects the smallest of temperature variances.
For more information contact Instrotech, +27 10 595 1831, sales@instrotech.co.za, www.instrotech.co.za
Credit(s)
Further reading:
Robust oxygen analyser for challenging conditions
June 2020, Instrotech , Analytical Instrumentation & Environmental Monitoring
A major supplier of nitrogen generators has selected Michell's XTP601 oxygen analyser to ensure N2 quality as part of its engineered systems for the oil and gas industry in the Middle East. The containerised 
...
Read more...
---
Making a 'smart' move for projects and operations in distress
June 2020, Engenamic , Sensors & Transducers
"The world has certainly been turned on its collective head in these first few months of 2020 with the Covid-19 pandemic and the challenges it presents," says Ian McKechnie, CEO and principal advisor 
...
Read more...
---
Programmable LED strip light
June 2020, Turck Banner , Sensors & Transducers
The new WLS27 Pro comes in distinct IO-Link and discrete controlled Pro Editor compatible models. Banner's Pro Editor software allows users to program device status, colours and animations for control 
...
Read more...
---
A practical guide to the installation of loadcell weighing systems
June 2020, Abacus Automation , Sensors & Transducers
Loadcells are a key component when it comes to ensuring that the manufacture of consumer goods, food and pharmaceuticals, amongst others, remains accurate and delivers consistent product quality and packaging.  
...
Read more...
---
Inductive sensor with IO-Link
June 2020, Turck Banner , Sensors & Transducers
Inductive measurement sensors with IO-Link and a voltage output complete the range of Turck's sensor portfolio. The flexibility of the new analog sensors offers users a range of different application 
...
Read more...
---
Optimised encoder portfolio
June 2020, Turck Banner , Sensors & Transducers
With an optimised encoder portfolio, Turck serves a wide range of customer requirements from price sensitive encoders, right through to particularly robust and wear-free devices. From three product lines, 
...
Read more...
---
New entry-level Jumo transmitter
April 2020, ASSTech Process Electronics + Instrumentation , Sensors & Transducers
Randburg instrumentation specialist ASSTech now includes in its product range the new Jumo dTrans T06 Junior multifunction 4-wire transmitter that offers great performance for a wide range of applications. The 
...
Read more...
---
Bright illumination for paint tunnel inspection
May 2020, Turck Banner , Sensors & Transducers
The WLB72 Inspection is a high-efficacy task light used for industrial work areas. It is simple to install, can be cascaded, and comes fully assembled. The bright, uniform output of the WLB72 reduces 
...
Read more...
---
Torque sensors for every application
May 2020, ASSTech Process Electronics + Instrumentation , Sensors & Transducers
Torque has to be measured in both production and assembly, and again in quality control. Burster, a precision measurement technology specialist, offers a range of sensors for the smallest torques of a 
...
Read more...
---
Miniature photoelectric sensor
May 2020, Turck Banner , Sensors & Transducers
The DQ12 is a miniature, cost-effective solution for applications in space-constrained environments. The sensor features LED status indicators for power on, signal received, and marginal signal. In addition, 
...
Read more...
---