printer friendly version
Bored at home? Try a robotic 'wall-sudoku'
25 March 2020 Smart Home Automation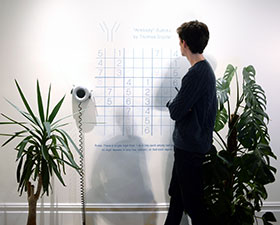 Scribit has launched a new series of puzzles developed together with the world's top players, to help people break the lockdown monotony.
As the Coronavirus pandemic is forcing millions to stay at home, the world's first 'write&erase' robot, Scribit, released a special series of 'robotic puzzles' that people can draw and play directly on their wall, to break the lockdown boredom. The first content of the series is a special sudoku puzzle made available by the multi-champion player Dr Thomas Snyder (aka Dr Sudoku). Scribit can draw the board on any vertical surface, transforming people's walls into a giant canvas to play a collective game.
Snyder crafts his sudoku like an artist, with visual themes and elegant logic to draw the puzzle solver's attention. With Scribit, he shared an 'antibody sudoku', namely, a sudoku board whose theme in the pattern of givens (that is, the boxes with given numbers that are displayed) has the shape of a Y – recalling the basic structure of an antibody molecule.
Using the robot Scribit, people will be able to reproduce the board by Snyder on their wall and solve it, using Scribit's erasable markers. The collaboration with Dr Sudoku follows up on the successful 'Scribit Originals' series, featuring drawings and exclusive pieces from world-renowned artists, public intellectuals, and scientists – from artist Olafur Eliasson's Little Sun to the Dalai Lama Centre for Ethics at MIT to the Ellen MacArthur Foundation.
For more information email info@scribit.design