printer friendly version
Get the most out of Control4 Smart Home with OS 3
25 March 2020 Smart Home Automation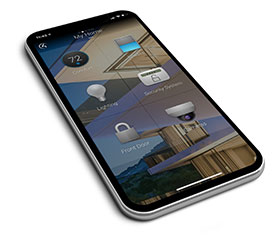 Control4 Smart Home OS 3 has new features, a fresh interface, and more than a thousand enhancements. Personalise and organise your Smart Home OS with favourite rooms, devices, and scenes and organise them to your liking. With swipes and taps, more quickly and easily navigate and control your smart home. Even add customised wallpaper backgrounds in each of the rooms to make them more distinct or to match your interior décor.
The most important rooms in your house, as well as your favourite devices and scenes, will be front and centre so that it takes fewer taps for you to find what you're looking for. When necessary, you can still find devices and scenes organised by category (for example, Watch, Listen, Comfort, and Security) by tapping the Control4 icon in the upper-left corner in the Control4 app or touchscreen.
Customising your experience with favourites
To favourite a room, simply tap the room name at the top of the screen. A list of all rooms appears. In the upper-right corner, click the pen button. To add a room to your favourites list, tap the heart next to each room. After it's selected, you'll be able to swipe between those rooms.
Favouriting scenes and devices is just as easy. Find devices and scenes by clicking the Control4 icon on the upper-left corner. When you've found the device or scene you are looking for, tap and hold the icon to favourite it to the room. Press and hold any favourited device or scene to arrange or remove them.
You can favourite devices and scenes to any room of the house, not just the rooms they are physically in. This means you could turn one room – like your master bedroom – into a control centre for your entire home. This would allow you to control and see the status of door locks, window shades, and smart lights around the house from your bedroom dashboard, so you don't have to swipe from room to room when making sure everything is secure and powered down for the night.
New music and video experience
With the new Active Media Bar, easily see and control your favourite music and video content in one room, or throughout the house. The Active Media Bar includes large album art, easy access to the Now Playing screen, fast volume adjustment with a new slider, and the ability to mute, pause, skip, and thumbs up or down with just a quick tap. The Sessions screen makes it simple to keep track of what is playing in each room and even control all rooms from a single location.
Filtering for faster, simpler navigation
If you have a lot of devices in your home, you'll enjoy the new Filter function. Sort door locks, sensors, window shades, and lights to make it easier to find the devices you're looking for without having to scroll through a long list. By tapping Room, you see only the devices that are in that particular room. Tap the filter icon to sort by active or inactive devices, and tap All to get a full view of all like-devices across your entire home.
For more information visit https://www.control4.com/os3/getting-the-most-out-of-os3/