printer friendly version
Weatherproof Bluetooth padlock
25 March 2020 Smart Home Automation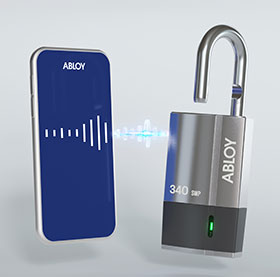 Finland-based security and locking solutions provider Abloy Oy has unveiled its newest innovation in digital keys, the ABLOY BEAT. The new keyless solution combines three main components: a digital key, a mobile application and a heavy-duty Bluetooth padlock – all managed from the mobile app's visual user interface.
Among businesses worldwide, there is a growing need for the convenience and accessibility of highly secure keyless access solutions – either as an addition to existing workflows or as a standalone solution. In remote areas or situations where carrying a physical key can encourage crime and even danger for the holder, a mobile solution is the answer.
"BEAT is part of the ongoing 'keyvolution', heralding a new era of effortless connectivity, without a physical key. Yet there are no keyless locks. The key has just taken on a new form. Leveraging our heritage and expertise in high-level security, we have built a new digital key. It is encrypted with the most advanced Seos credential technology, developed by HID Global. Used with your mobile device, the digital key provides best-in-class security and privacy protection," said Jorma Issakainen, vice president, ABLOY Critical Infrastructure.
Combining a digital key with a heavy-duty Bluetooth padlock
While securing property, it also offers customers improved operational efficiency, reducing both logistics and costs. The digital BEAT key connects to the physical heavy-duty Bluetooth padlock, designed to perform in harsh environments and remote areas. The padlock has an IP68 protection rating, a case-hardened steel body and LED indications for lock status. It complements the current ABLOY Super Weather Proof range of padlocks.
BEAT can be integrated with existing security workflow solutions in use, but it can also be implemented as a standalone locking solution with ABLOY OS. A mobile app, ABLOY OS, enables the more efficient management of keys, locks, and access rights on-the-go and remotely from a single, easy-to-use visual interface.
For more information contact Abloy South Africa, +27 11 761 5000, info.za@abloy.co.za, www.abloy.co.za