printer friendly version
Drones in the front line of the fight against coronavirus
1 April 2020 News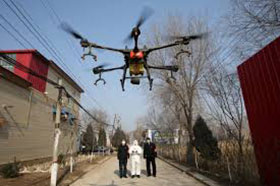 Since the World Health Organisation moved to declare COVID-19 a pandemic in early March, public health experts around the world have advocated for self-isolation as a way to reduce the spread of the disease and 'flatten the curve'. As more individuals stay home to reduce their risk of infection, drones are emerging as powerful tools, both helping prevent infections, and ensuring that life continues during the pandemic.
In countries hardest hit by the pandemic, drones have emerged as tools for authorities to communicate with citizens. In China, drones have been seen carrying signs with QR codes, allowing citizens to use mobile phones to register for support without requiring human contact and reducing the possibility of virus transmission. In Italy, drones with speakers attached have allowed police officers to communicate with citizens on the streets to remind them of self-isolation practice without the risk of transmission.
UAS (unmanned aircraft systems) tech is also proving to be useful for disinfecting public spaces and epidemic prevention vehicles, through the use of remotely operated spray drones. "Compared with hand spray, drone spray has many advantages in terms of efficiency and consistency," noted Justin Gong, co-founder of China-based drone company XAG. Chinese companies are also buying disinfection robots, to help fight infections within hospital environments.
Drones have proven so useful throughout the crisis that Shenzhen-based DJI has created a US$10 million RMB fund to fight the coronavirus by funding drone-enabled disinfection and protocols. Meanwhile, XAG set up a US$50 million RMB fund to use drones for disinfection in remote areas.
Medical sample delivery is yet another example of how #TechForGood is supporting the pandemic response. Drone delivery is often demonstrably faster than human delivery, and reduces the risk of drivers being exposed to possible infection. "At the moment of life and death, the air transport network can significantly confine the flow of people, avoid unnecessary physical contact and prevent secondary transmission," said Lv Yinxiang, Secretary of the Party Committee of the County People's Hospital. "Medical samples delivered through air can shrink the delivery time while saving precious field resources."
The past few weeks have seen coronavirus-induced drops in stock markets around the world. Much of this speculative panic relates to the potential impact of coronavirus on labour forces which could be devastated by the outbreak. In China, a country heavily dependent on labour to support its agricultural sector, sales of agricultural drones have reportedly skyrocketed. CNBC reports that XAG alone has delivered more than 4000 agricultural drones this year. The Chinese government is further distributing subsidies for automated agricultural tech, which could help sustain the industry in the face of further self-isolation and a weakened labour force.
While there is little clarity on the impact COVID-19 will have on the world, it seems a fair assumption that drones will remain increasingly valuable for supporting public health and resisting its effects.
For more information visit www.africandroneforum.org
Further reading:
Becker Mining South Africa supplies uninterruptible power supply systems
May 2020, Becker Mining South Africa , News
Becker Mining South Africa has supplied 12 uninterruptible power supply (UPS) systems to a local coal mine supplier, to enhance safety and prevent unnecessary downtime. These specially designed systems 
...
Read more...
---
Aguru announces agreement with French industrial services company Ennovia
May 2020 , News
Aguru Business Solutions (Aguru), a company specialising in automation and digital transformation advisory and project management services, has announced that it has entered into a reseller agreement 
...
Read more...
---
From the editor's desk: Loop signatures and digital postage during lockdown
May 2020, Technews Publishing (SA Instrumentation & Control) , News
In this month's issue, we publish the first updated version of Michael Brown's Loop Signature series of articles, the material that forms the basis for his popular control loop training courses.  
...
Read more...
---
Best of breed industrial software: announcement from Element8
May 2020 , News
Element8 is proud to announce its appointments as authorised Ignition distributor for Inductive Automation, distributor of Canary Historian for Canary Labs, and distributor of Flow Information Platform 
...
Read more...
---
BMG provides critical engineering support during lockdown
May 2020, Bearing Man Group t/a BMG , News
BMG, a leading South African engineering solutions specialist, has been authorised to provide engineering components and support services to businesses approved as essential service providers, during 
...
Read more...
---
Emerson acquires American Governor
May 2020, Emerson Automation Solutions , News
Emerson has announced that it has completed the purchase of American Governor Company, a leader in technologies and services for hydroelectric turbine controls. The addition of American Governor builds 
...
Read more...
---
EtherCAT Technology Group seminars postponed due to coronavirus pandemic
May 2020, Technews Publishing (SA Instrumentation & Control) , News
The series of EtherCAT Technology Group (ETG) seminars, scheduled to be held in South Africa from 22-29 October, has had to be postponed due to the uncertainty relating to travel and event hosting as 
...
Read more...
---
Endress+Hauser receives top rating for sustainability
May 2020 , News
Endress+Hauser has been placed in the top ranking of companies in the EcoVadis sustainability audit for the fourth time in a row. The group again improved its overall result. With 72 points, Endress+Hauser 
...
Read more...
---
Endress+Hauser partner programme gains importance through IIoT solutions
May 2020 , News
How can field instruments and components easily be integrated into automation systems? The answer is becoming increasingly important as industrial production digitalisation progresses. The Endress+Hauser 
...
Read more...
---
MESA International announces development of Model for Smart Manufacturing
May 2020, MESA Africa NPC , News
MESA International has announced the development of a new model called 'The Model for Smart Manufacturing'. The model will cover several intersecting dimensions including business intelligence, product 
...
Read more...
---