printer friendly version
Bring 'n burn
September 2008
News
Dissenting opinions exist in the minds of software developers. There are those who believe that open source software is superior to the commercially available proprietary products, and those who do not. Those in favour base their arguments on the facts that open source products are free, flexible and unencumbered by ownership of any particular vendor. Those against, say a flaw with open source is a lack of concrete incentive to motivate developers to contribute to open source projects: "Simply throwing an open source party does not guarantee that any of the guests will arrive." These are valid viewpoints and in economies where electronic equipment and bandwidth are both cheap, the benefits that access to free software and information can make in a less sophisticated environment are easily overlooked.
Developing countries desperately need to raise literacy levels but are hamstrung by a lack of ability to disseminate the needed information effectively. The problem is compounded by limited and often expensive access to bandwidth and the Internet, the primary method for distributing open source software in mature economies. Result – free open source software is not readily accessible to some of the communities that most stand to benefit from it.
I have no aspirations to join either debating team, what sparked my interest was an innovation from the Shuttleworth Foundation.
Designed initially to provide access to open source software at grass-roots levels, the Freedom Toaster is a computer kiosk that allows anyone to copy from its library of open source software and operating systems onto blank CDs – referred to as toasting in the Linux community. The concept proved so popular that the Foundation decided to make the operating design available for free in its quest to bridge the digital divide and provide ever present access to information. Locally the relatively high cost of computer equipment still proved a stumbling block and the organisation decided it needed to develop a sustainable business strategy to better meet the demand for toasters.
However, there was a constraint. The Freedom Toaster's software had to remain a free source of knowledge for the community – a fundamental open source principle. The plan was ultimately a simple one. The kiosks would be sold to organisations pre-loaded with content pertinent to their needs. The University of South Africa saw the potential to follow the global trend of providing students with digital courseware, and has installed over 30 kiosks at registration centres around the country. After completing the registration process students simply select the appropriate study guides and they have their material available immediately. This is helping to bridge the divide for learners who do not have access to the Internet, or the bandwidth to download online.
The word has spread quickly and extensions of the idea are already in place to dispense other digital products, like music (the copyrighters will not like it?), photography and literature – for free. This must surely act as a catalyst for freedom acquired through knowledge and an enabler of technological integration.
Will Freedom Toasters one day be as accessible as cash machines? Who knows? What is for certain is that I will be following the evolution of what is fast becoming an 'open source icon' with interest in the future.
Rockwell's Incuity
Andrew Ashton and I recently attended the press briefings on the opening day of Rockwell's Automation University at Emperor's Palace. Rockwell SA MD Sean Smith is clearly very excited about Incuity – Rockwell's most recent acquisition. Doug Lawson founded Professional Technology Management in South Africa in 1991; the company was bought by Wonderware in 1995. Lawson then established DataWorks Systems, subsequently renamed Incuity, in 1998. Andrew relates the story and discusses Incuity's enterpise manufacturing intelligence solution in his article in this issue.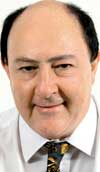 Steven Meyer
Editor: SA Instrumentation & Control
Credit(s)
Further reading:
From the editor's desk: IT-OT integration becoming a must, but there are challenges
October 2019, Technews Publishing (SA Instrumentation & Control) , News
We're seeing the insecurity around digital transformation start to fade as the history of case studies builds to show how enlightened manufacturing companies have applied the ideas to rationalise their 
...
Read more...
---
Rockwell Automation announced as Founding Member of ISA Global Cybersecurity Alliance
October 2019, Rockwell Automation , News
Production facilities can contain thousands of technologies from different vendors. Cybersecurity threats only need to exploit one of them to steal trade secrets, stop production or even harm workers. 
...
Read more...
---
Emerson helps complete first Caspian subsea project
October 2019, Emerson Automation Solutions , News
Emerson has completed its $48 million contract for automation systems and cloud engineering software-as-a-service for the Shah Deniz 2 project in Azerbaijan and is fulfilling an ongoing five-year services 
...
Read more...
---
Ham-Let smart valve nominated for IoT award
October 2019, Fluid Systems Africa , News
In another remarkable achievement for the Ham-Let Group, its state-of-the art IoTH800 was nominated for best product award at the First Industry Of Things World Award 2019. The Ham-Let Internet-of-Things 
...
Read more...
---
BMG emphasises Hallite hydraulic and pneumatic seals
October 2019, Bearing Man Group t/a BMG , News
BMG supplies an extensive range of hydraulic and pneumatic seals and sealing solutions for demanding environments, and is also the distributor for Hallite Seals International within central and southern 
...
Read more...
---
KZN Expo brings industrial technology solutions under one roof for diverse exhibitor base
October 2019 , News
Once again proving that it's the definitive platform for its 145+ exhibitors to showcase their industrial technology solutions, the KwaZulu-Natal Industrial Technology Exhibition (KITE) attracted a captive 
...
Read more...
---
Cummins stirs interest in pump-engine product line
October 2019 , News
Cummins recently hosted a highly successful seminar in both Dubai and at its Power Hub in Waterfall City, Johannesburg, to introduce end users and OEMs to its range of high-quality engines for the pumps 
...
Read more...
---
KZN a key growth area for Bearings International
October 2019 , News
The Bearings International (BI) Durban branch stocks a wide range of bearings, electric motors, gearboxes, lubricants, seals, tools, and power transmission products for a range of industries. These include 
...
Read more...
---
Trafo supplies transformers for data centre application
October 2019 , News
Trafo Power Solutions recently supplied two 2000 kVA 11,6 kV/415 V dry-type transformers to a large data centre in Cape Town. Manufactured under stringent quality control conditions at Italian transformer 
...
Read more...
---
BMG and AAC partner in Jeppestown clean up
October 2019, Bearing Man Group t/a BMG , News
The joy of teamwork is clearly evident in the partnership between engineering specialists, BMG and entrepreneurs, Agri Arts & Construction (AAC). "Through this match made in Jeppestown, home to both companies, 
...
Read more...
---