printer friendly version
Bring 'n burn
September 2008
News
Dissenting opinions exist in the minds of software developers. There are those who believe that open source software is superior to the commercially available proprietary products, and those who do not. Those in favour base their arguments on the facts that open source products are free, flexible and unencumbered by ownership of any particular vendor. Those against, say a flaw with open source is a lack of concrete incentive to motivate developers to contribute to open source projects: "Simply throwing an open source party does not guarantee that any of the guests will arrive." These are valid viewpoints and in economies where electronic equipment and bandwidth are both cheap, the benefits that access to free software and information can make in a less sophisticated environment are easily overlooked.
Developing countries desperately need to raise literacy levels but are hamstrung by a lack of ability to disseminate the needed information effectively. The problem is compounded by limited and often expensive access to bandwidth and the Internet, the primary method for distributing open source software in mature economies. Result – free open source software is not readily accessible to some of the communities that most stand to benefit from it.
I have no aspirations to join either debating team, what sparked my interest was an innovation from the Shuttleworth Foundation.
Designed initially to provide access to open source software at grass-roots levels, the Freedom Toaster is a computer kiosk that allows anyone to copy from its library of open source software and operating systems onto blank CDs – referred to as toasting in the Linux community. The concept proved so popular that the Foundation decided to make the operating design available for free in its quest to bridge the digital divide and provide ever present access to information. Locally the relatively high cost of computer equipment still proved a stumbling block and the organisation decided it needed to develop a sustainable business strategy to better meet the demand for toasters.
However, there was a constraint. The Freedom Toaster's software had to remain a free source of knowledge for the community – a fundamental open source principle. The plan was ultimately a simple one. The kiosks would be sold to organisations pre-loaded with content pertinent to their needs. The University of South Africa saw the potential to follow the global trend of providing students with digital courseware, and has installed over 30 kiosks at registration centres around the country. After completing the registration process students simply select the appropriate study guides and they have their material available immediately. This is helping to bridge the divide for learners who do not have access to the Internet, or the bandwidth to download online.
The word has spread quickly and extensions of the idea are already in place to dispense other digital products, like music (the copyrighters will not like it?), photography and literature – for free. This must surely act as a catalyst for freedom acquired through knowledge and an enabler of technological integration.
Will Freedom Toasters one day be as accessible as cash machines? Who knows? What is for certain is that I will be following the evolution of what is fast becoming an 'open source icon' with interest in the future.
Rockwell's Incuity
Andrew Ashton and I recently attended the press briefings on the opening day of Rockwell's Automation University at Emperor's Palace. Rockwell SA MD Sean Smith is clearly very excited about Incuity – Rockwell's most recent acquisition. Doug Lawson founded Professional Technology Management in South Africa in 1991; the company was bought by Wonderware in 1995. Lawson then established DataWorks Systems, subsequently renamed Incuity, in 1998. Andrew relates the story and discusses Incuity's enterpise manufacturing intelligence solution in his article in this issue.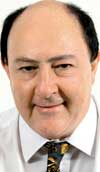 Steven Meyer
Editor: SA Instrumentation & Control
Credit(s)
Further reading:
Emerson named IIoT company of the year for third time
February 2020, Emerson Automation Solutions , News
Emerson has been named 'Industrial IoT Company of the Year' by IoT Breakthrough for a third consecutive year. The honour recognises Emerson's commitment to helping customers in industries such as chemical, 
...
Read more...
---
BMW to source industrial PCs and control panels from Beckhoff Automation
February 2020, Beckhoff Automation , News
Beckhoff Automation will supply the BMW Group with technology for use in car manufacturing through 2030. According to the terms of the recently signed agreement, Beckhoff will supply the production facilities 
...
Read more...
---
Rockwell Automation joins digital transformation alliance
February 2020, Rockwell Automation , News
Businesses that are digitally transforming their operations need an ecosystem of partners that can help them simplify technology deployments and quickly achieve goals like higher productivity. The new 
...
Read more...
---
What to expect from the electronics industry in 2020 and beyond
February 2020 , News
The last few years have been tough within the electronic industry, from Brexit to the China tariffs, to economic struggles. This year, an expected rise in electronic component sales is anticipated, along 
...
Read more...
---
Husky Injection Molding Systems honours Beckhoff Automation with supplier award
February 2020, Beckhoff Automation , News
A fruitful development partnership as well as a trusting and reliable relationship such as the one that has existed between Canadian machine manufacturer Husky Injection Molding Systems and control system 
...
Read more...
---
Aecom offers water resilience expertise
February 2020 , News
South Africa is classified as a water-scarce country, with some projections estimating that, at present, it exploits roughly 98% of its available water-supply resources. In many areas, the water challenge 
...
Read more...
---
Skyriders keeps the lights on at a major warehouse
February 2020 , News
Rope-access specialist Skyriders has helped keep the lights on for a major retailer at its 75 000 square metre warehouse in Midrand. "We were called on to provide a maintenance service for the lighting, 
...
Read more...
---
rain launches intelligent 5G transport network
February 2020 , News
Mobile data network operator, rain, has launched its intelligent 5G transport network in partnership with Huawei. CTO Gustav Schoeman elaborates: "With Huawei's E2E solutions and new products, our first 
...
Read more...
---
Cummins supplies power solution to Zain Jordan
February 2020 , News
Cummins authorised distributor, SETI Jordan, has provided a complete power solution, from project design to installation of the genset and switchgear, for Zain's headquarters in Amman. This included special 
...
Read more...
---
From the editor's desk: Technology trends for 2020
February 2020, Technews Publishing (SA Instrumentation & Control) , News
Since no objective rules exist for determining the next big thing, prophesy-style articles are simply the opinion of their authors, and contradictory views abound. The market for commodities is a good 
...
Read more...
---