printer friendly version
Warehouse presence detector
April 2012
Sensors & Transducers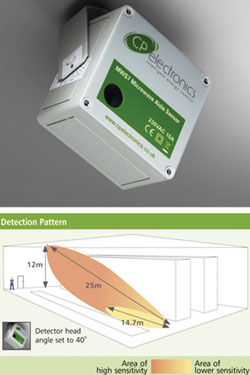 The MWS7 from CP Electronics is a microwave presence detector that provides automatic control of lighting loads, and is especially suited for warehouse applications. When a person or fork lift truck enters the aisle or corridor, the detector turns the lights on, or raises the level of light output. After a predetermined period, the lights are turned off or dimmed down. The detector uses advanced microwave technology that allows the range of detection to be accurately set, irrespective of whether the object is a person or a fork lift truck. A common problem with other types of detectors is that larger objects are picked up at longer distances, making accurate setup impossible. A further benefit of the MWS7 is that it has good immunity to vibration.
Three output channels are provided: a switching channel with a high power relay; a switching channel with a low voltage, low power isolated contact; and a dimming channel capable of controlling up to 20 DSI or DALI ballasts.
The detector has a built-in photocell that measures the overall light level in the detection area. This can be used to turn the lights on and off when natural light is sufficient. It can also be used on dimming systems to calculate the correct output for the luminaires to achieve a preset lux level (maintained illuminance). The dimming channel can set the luminaires to a standby dim level rather than switching off completely.
Input terminals are provided to give the following features: manual override of the dimming levels and switched outputs; slave detector input for use in dimming systems; and an external lux input which disables the output when there is sufficient natural light.
Manual adjustments can be made to the sensitivity, range, lux and time settings using the physical controls inside the sensor. Alternatively, an integral infrared sensor in the unit allows the unit to be programmed using the optional DD-LCDHS-LR programming handset. This works to a range of 15 metres giving complete flexibility over many of the operating parameters.
For more information contact Chris Huxham, Shorrock Automation, +27 (0)12 345 4449, sales@shorrock.co.za, www.shorrock.co.za
Credit(s)
Further reading:
Fork sensor in hygienic design
July 2020, ASSTech Process Electronics + Instrumentation , Sensors & Transducers
Production sequences in the pharmaceutical and food industries are subject to extremely demanding hygiene standards. With corrosion-free stainless steel, FDA conformity and Ecolab certification, Wenglor's 
...
Read more...
---
Accurate detection of tiny objects
July 2020, ifm - South Africa , Sensors & Transducers
The new photoelectric units from ifm electronic are designed for part monitoring of precision engineering, medical or other tiny components. Thanks to the precise laser, the photoelectric fork sensor 
...
Read more...
---
Everything in view
July 2020, Pepperl+Fuchs , Sensors & Transducers
Instrumentation from Pepperl+Fuchs enables a creative solution for the chemical industry.
Read more...
---
Multicolour indicator with IO-Link
July 2020, Turck Banner , Sensors & Transducers
The K50 Pro series multicolour indicator combines existing IO-Link features with Pick-IQ technology. It allows users to configure colour, flashing, dimming, and advanced animations like rotation, strobing, 
...
Read more...
---
Optical sensor for dissolved oxygen
June 2020, ASSTech Process Electronics + Instrumentation , Sensors & Transducers
With its state-of-the art optical fluorescence quenching technology and digital signal processing functionality, the Jumo digiLine 0-DO S10 ensures long-term stability when measuring oxygen and temperature. 
...
Read more...
---
Process instrumentation for hygienic applications
July 2020 , Sensors & Transducers
Innovations and fast development characterise the production processes in the beverage and food industries, as well as in biotechnology and pharmaceutical applications. Processes in these industries are 
...
Read more...
---
Keep distance easily
July 2020, SICK Automation Southern Africa , Sensors & Transducers
SICK Automation has reacted to slow the spread of the Covid-19 virus with its new PeopleCounter and DistanceGuard SensorApps. Combined with 2D and 3D LiDAR sensors, people can easily maintain the recommended 
...
Read more...
---
Making a 'smart' move for projects and operations in distress
June 2020, Engenamic , Sensors & Transducers
"The world has certainly been turned on its collective head in these first few months of 2020 with the Covid-19 pandemic and the challenges it presents," says Ian McKechnie, CEO and principal advisor 
...
Read more...
---
Programmable LED strip light
June 2020, Turck Banner , Sensors & Transducers
The new WLS27 Pro comes in distinct IO-Link and discrete controlled Pro Editor compatible models. Banner's Pro Editor software allows users to program device status, colours and animations for control 
...
Read more...
---
A practical guide to the installation of loadcell weighing systems
June 2020, Abacus Automation , Sensors & Transducers
Loadcells are a key component when it comes to ensuring that the manufacture of consumer goods, food and pharmaceuticals, amongst others, remains accurate and delivers consistent product quality and packaging.  
...
Read more...
---