printer friendly version
Are you in the clear?
June 2012
Electrical Power & Protection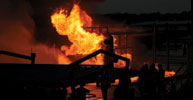 Corporate South Africa is moving more and more in the direction of good corporate governance. In the recent past, the King III Report provided a framework whereby company directors are obliged to ensure governance is maintained at a level whereby key stakeholders such as shareholders, bondholders, employees and various other interested parties are protected against poor company control measures that can result in a disastrous outcome.
Forming a key part of this report, and indeed in any corporate governance strategy, is the mitigation of risk through effective management. When outlining a risk management strategy, identification of key assets that require risk protection is an area that needs considerable attention. Such assets usually include electrical reticulation systems that include substations and transformers or information storage and communications systems. Should an event cause a significant power outage, this can lead to major business downtime or if sensitive data gets lost this can be catastrophic in terms of business privacy and records. Other key infrastructure that should be included in any risk mitigation strategy would be key processing equipment that directly influences the output of a business, such as production equipment that could include conveyors, manufacturing equipment and vehicles.
The effects of fire can be devastating not only to businesses but indeed to human life too. Should a fire occur it can render serious damage in terms of business profits as well as unnecessary recapitalisation and litigation in the event of injury or loss of life. Insurance companies recognise this and usually require the implementation of fire protection systems before they will provide risk cover.
When seeking out a best solution in terms of fire protection a proper risk analysis should be done. A Weighted Risk Assessment Criteria (WRAC) is an example of a risk management tool that evaluates the risk areas by analysing the likelihood of occurrence and the possible outcomes and consequences.
The table shows how to place sources of risk against probability and consequence. An example could be an electrical fire occurring in a building's Eskom Feed Substation Room. Such an event would be placed under occasional with the consequence being catastrophic. The primary cause of all substation fires lies in the high energy electrical switchgear. Typically a fire occurs in the cable termination compartment where the cable connection becomes increasingly hot to a point where it ignites. If this occurs a series of events could happen, for example the fire itself would destroy this room and possibly those surrounding. Typically an Eskom Feed Substation is placed in the underground parking basement with other potential fire sources – an oil filled transformer, diesel backup generators, cars that have rubber tyres and petrol in the fuel tanks etc. Should a fire occur on this piece of equipment, it would place this risk in the Unacceptable High Category that is designated as RED in the 1.4 box.

By implementing a fire detection and fire extinguishing system would reduce the risk profile to the GREEN 3.2 where the consequence would be marginal Moderate Low level. However, what is also crucial to factor in is the type of fire protection system used.
For example, should a building have a tenant that has a large paper archive room and a water sprinkler system was installed this would reduce the risk of fire damage but would introduce the factor of extensive water damage to the very documents that are intended for protection. Therefore the research into the selection of a fire protection system is crucial. In terms of a paper archive, an inert gaseous fire extinguishing system would be appropriate.
Other examples would be in a server room where gaseous extinguishing systems are typically used. The hazardous by-products of some gaseous extinguishing systems can have toxic and corrosive side effects on servers, networking devices and hard drives. The hydrofluorocarbon gases used in some types of extinguishing systems break-down into hydrogen fluoride, hydrofluoric acid is devastating on some materials. It is not surprising that the market trends have moved towards inert gas blend type extinguishing systems where there are no hazardous by-products associated because they typically constitute a blend of nitrogen and argon that are found in the air.
Fire detection devices should also be appropriate for the application. The most common fire detector is a point type optical smoke detector. However such detectors can only detect fires when the fire reaches a certain stage. Namely that there is prescribed level of smoke concentration before the detector activates. This is perfectly suitable for most applications and provides an excellent budget friendly option, but for specific applications this response time may be too late as sensitive equipment is already on fire and has begun affecting other equipment. Therefore other types of fire detectors should be considered in order to detect fire earlier and thereby reduce the risk level down to at least a moderate low level as shown on the WRAC table. An example could be in any room or area that has electrical cable runs, servers, building ducting etc.
Therefore users of risk analysis tools should go one step further in considering the effects of using certain fire protection systems and the possible side effects they could have on the very assets they are intending to protect. The type of fire protection system should be factored into the risk model itself. It is therefore very important that risk managers consult qualified engineering professionals who specialise in the field of fire protection engineering.
For more information contact Grant Wilkinson, Alien Systems & Technologies, +27 (0)11 949 1157, grant@astafrica.com, www.astafrica.com
Credit(s)
Further reading:
PyroStorm protection for control equipment
September 2020, Alien Systems & Technologies , IS & Ex
If you work at a large industrial plant or mine, you may have noticed those hydraulic lubricating oil packs, or perhaps the diesel generator sets, oil store rooms, pump rooms or flammable liquids stores, 
...
Read more...
---
Mines reduce fire hazards
August 2020 , Electrical Power & Protection
Underground mines in southern, central, and west Africa have been seeing the safety benefits of dry-type transformers from Johannesburg-based Trafo Power Solutions. According to managing director 
...
Read more...
---
RS Components stocks Eaton contactors
August 2020, RS Components SA , Electrical Power & Protection
RS Components now stocks Eaton's complete Moeller series of compact DILMT contactors. Easy to integrate in a variety of industrial machines and systems, the contactors enable space savings of up to 40%, 
...
Read more...
---
Power supplies for building automation
June 2020, Phoenix Contact , Electrical Power & Protection
The new Step Power power supplies from Phoenix Contact are specifically tailored to the needs of modern building automation. With their comprehensive approval package, which includes the standard 
...
Read more...
---
Skid-mounted dry-type transformer
June 2020 , Electrical Power & Protection
In a specialised application on a coal mine, Trafo Power Solutions recently supplied a dry-type transformer mounted on a mobile skid. "The harsh environment of a coal mine required us to specially 
...
Read more...
---
Customised transformers for renewables and beyond
June 2020 , Electrical Power & Protection
A focus on application engineering allows Trafo Power Solutions to supply customised dry-type transformers for a range of sectors including renewable energy. "We begin at the proposal stage by engaging 
...
Read more...
---
Electrical certificate of compliance (COC) for instrumentation: non-hazardous installations
June 2020, Everest Equipment & Control , Electrical Power & Protection
An instrument and control installation's scope of work often never makes a request for a certificate of compliance: it is assumed to be an electrical function and hence many installations are non-compliant. 
...
Read more...
---
Cable-type heat sensing systems
May 2020, Alien Systems & Technologies , Temperature Measurement
Sensing fire conditions using cable
Broadly speaking there are two methods to sense fire conditions using cable. Most commonly used in the South African market is the digital type method: essentially 
...
Read more...
---
Five tips to manage energy use while staying at home
May 2020 , Electrical Power & Protection
Covid-19 continues to impact many aspects of our lives. Many are now required to stay at home in an effort to curb the spread of the pandemic. One of the many implications of staying at home will be the 
...
Read more...
---
Holistic approach to energy security
April 2020 , Electrical Power & Protection
As South Africans settle into the routine and inconvenience of load shedding and planning their activities around shifting electricity supply, it is businesses that are taking the biggest hit through 
...
Read more...
---