printer friendly version
Are you in the clear?
June 2012
Electrical Power & Protection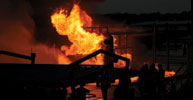 Corporate South Africa is moving more and more in the direction of good corporate governance. In the recent past, the King III Report provided a framework whereby company directors are obliged to ensure governance is maintained at a level whereby key stakeholders such as shareholders, bondholders, employees and various other interested parties are protected against poor company control measures that can result in a disastrous outcome.
Forming a key part of this report, and indeed in any corporate governance strategy, is the mitigation of risk through effective management. When outlining a risk management strategy, identification of key assets that require risk protection is an area that needs considerable attention. Such assets usually include electrical reticulation systems that include substations and transformers or information storage and communications systems. Should an event cause a significant power outage, this can lead to major business downtime or if sensitive data gets lost this can be catastrophic in terms of business privacy and records. Other key infrastructure that should be included in any risk mitigation strategy would be key processing equipment that directly influences the output of a business, such as production equipment that could include conveyors, manufacturing equipment and vehicles.
The effects of fire can be devastating not only to businesses but indeed to human life too. Should a fire occur it can render serious damage in terms of business profits as well as unnecessary recapitalisation and litigation in the event of injury or loss of life. Insurance companies recognise this and usually require the implementation of fire protection systems before they will provide risk cover.
When seeking out a best solution in terms of fire protection a proper risk analysis should be done. A Weighted Risk Assessment Criteria (WRAC) is an example of a risk management tool that evaluates the risk areas by analysing the likelihood of occurrence and the possible outcomes and consequences.
The table shows how to place sources of risk against probability and consequence. An example could be an electrical fire occurring in a building's Eskom Feed Substation Room. Such an event would be placed under occasional with the consequence being catastrophic. The primary cause of all substation fires lies in the high energy electrical switchgear. Typically a fire occurs in the cable termination compartment where the cable connection becomes increasingly hot to a point where it ignites. If this occurs a series of events could happen, for example the fire itself would destroy this room and possibly those surrounding. Typically an Eskom Feed Substation is placed in the underground parking basement with other potential fire sources – an oil filled transformer, diesel backup generators, cars that have rubber tyres and petrol in the fuel tanks etc. Should a fire occur on this piece of equipment, it would place this risk in the Unacceptable High Category that is designated as RED in the 1.4 box.

By implementing a fire detection and fire extinguishing system would reduce the risk profile to the GREEN 3.2 where the consequence would be marginal Moderate Low level. However, what is also crucial to factor in is the type of fire protection system used.
For example, should a building have a tenant that has a large paper archive room and a water sprinkler system was installed this would reduce the risk of fire damage but would introduce the factor of extensive water damage to the very documents that are intended for protection. Therefore the research into the selection of a fire protection system is crucial. In terms of a paper archive, an inert gaseous fire extinguishing system would be appropriate.
Other examples would be in a server room where gaseous extinguishing systems are typically used. The hazardous by-products of some gaseous extinguishing systems can have toxic and corrosive side effects on servers, networking devices and hard drives. The hydrofluorocarbon gases used in some types of extinguishing systems break-down into hydrogen fluoride, hydrofluoric acid is devastating on some materials. It is not surprising that the market trends have moved towards inert gas blend type extinguishing systems where there are no hazardous by-products associated because they typically constitute a blend of nitrogen and argon that are found in the air.
Fire detection devices should also be appropriate for the application. The most common fire detector is a point type optical smoke detector. However such detectors can only detect fires when the fire reaches a certain stage. Namely that there is prescribed level of smoke concentration before the detector activates. This is perfectly suitable for most applications and provides an excellent budget friendly option, but for specific applications this response time may be too late as sensitive equipment is already on fire and has begun affecting other equipment. Therefore other types of fire detectors should be considered in order to detect fire earlier and thereby reduce the risk level down to at least a moderate low level as shown on the WRAC table. An example could be in any room or area that has electrical cable runs, servers, building ducting etc.
Therefore users of risk analysis tools should go one step further in considering the effects of using certain fire protection systems and the possible side effects they could have on the very assets they are intending to protect. The type of fire protection system should be factored into the risk model itself. It is therefore very important that risk managers consult qualified engineering professionals who specialise in the field of fire protection engineering.
For more information contact Grant Wilkinson, Alien Systems & Technologies, +27 (0)11 949 1157, grant@astafrica.com, www.astafrica.com
Credit(s)
Further reading:
EnI Electrical delivers at the sharp end of African contracts
March 2020, Zest WEG Group , Electrical Power & Protection
Usually the last contractor on site, electrical instrumentation and control (EC&I) specialist EnI Electrical puts extra effort into helping clients around Africa meet their scheduled start-ups. With 
...
Read more...
---
In-house testing of transformers
March 2020, Zest WEG Group , Electrical Power & Protection
The recent installation of an impulse voltage generator at Zest WEG's transformer manufacturing facility in Heidelberg will allow in-house testing of transformers, saving time and money for customers. According 
...
Read more...
---
Sulphate and chloride monitoring
March 2020, Microsep , Electrical Power & Protection
Chlorides and sulphates cause pitting and stress corrosion in expensive power plant components, such as turbines and boilers, leading to extensive maintenance and unplanned shutdowns. Monitoring these 
...
Read more...
---
Legrand's high-performance UPS systems
March 2020, Legrand , Electrical Power & Protection
Legrand's advanced uninterruptible power supply (UPS) systems ensure maximum continuity of service of essential electrical equipment, by providing reliable performance in terms of power and backup time, 
...
Read more...
---
Bringing critical power distribution infrastructure out of the dark
March 2020, Schneider Electric South Africa , Electrical Power & Protection
As the trend towards digitisation becomes pervasive across many industries and operations, the benefits offered to power distribution systems should not be overlooked. However, due to the ageing infrastructure 
...
Read more...
---
DIN rail redundancy power modules
February 2020, RS Components SA , Electrical Power & Protection
RS Components has announced availability of a new series of DIN rail-mount redundancy power modules from TDK-Lambda, a group company of TDK corporation and a leading maker of highly reliable power supplies 
...
Read more...
---
The importance of surge protection in the lightning protection arena
February 2020, DEHN Protection South Africa , Electrical Power & Protection
In order to understand the need for surge protection, it is important to understand how lightning causes damage. The sources of lightning damage can be quite different, therefore different protection 
...
Read more...
---
Power measurement from sensor to cloud
February 2020, Beckhoff Automation , Electrical Power & Protection
With the new SCT current converters, Beckhoff completes the power measurement chain that now ranges from measuring the physical value to transmitting the captured data to the cloud. The portfolio of current 
...
Read more...
---
Solar plant monitoring and control
February 2020, RJ Connect , Electrical Power & Protection
The power industry is now ready for clean power such as solar energy. Utility-scale solar power stations with electric power capacity of more than 50 MW and the capability to feed excess power back to 
...
Read more...
---
Enabling IIoT connectivity for virtual power plants
December 2019, RJ Connect , Electrical Power & Protection
The power grid has seen many changes that have enabled the integration of power from distributed energy sources (DERs).
Read more...
---