printer friendly version
Remote cold chain monitoring
October 2011
Data Acquisition & Telemetry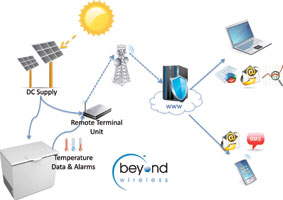 Beyond Wireless has been contracted to supply the cold chain monitoring technology for an innovative immunisation program in Senegal as part of project Optimize, a collaboration between the World Health Organization (WHO) and PATH, an international non-profit organisation that aims to enable communities worldwide to break longstanding cycles of poor health through developing sustainable, culturally relevant solutions.
Maintaining the cold chain in remote regions in Africa is extremely tricky. Power supply is often problematic, infrastructure is limited and access is difficult. While the Expanded Programme on Immunization in Senegal has been successful in increasing vaccine coverage, the strained supply chain has reached saturation point. WHO, PATH and the Senegal Ministry of Health are working together to identify vaccine supply system technologies and interventions that can be tested and piloted in the immediate future and prepare for the challenges predicted in the next 10 to 15 years.
Beyond Wireless offers a versatile, remote machine-to-machine (m2m) monitoring and control platform that forms part of the project Optimize pilot intervention. Using the local cellular networks, Beyond Wireless is able to provide a secure web-based system that will allow the Senegal's Ministry of Health to manage and monitor the cold chain from any location.
The Beyond Wireless Remote Terminal Units will be connected to the 14 solar-powered refrigeration units where the vaccines will be stored in a 'moving warehouse' in Saint Louis, Senegal. The Beyond Wireless m2m platform will be used to monitor the temperature of these units, along with the temperature of 15 vaccine refrigerators at various vaccination centres in the region.
Included in the Beyond Wireless service is the monitoring of incoming solar radiation on the photovoltaic solar panels that power the fridges, the energy consumption of the refrigerators, battery voltage, the refrigerator and ambient temperatures and the reliability of the mains power.
Ian Lester, CEO of Beyond Wireless, explains that a technician sitting anywhere will be able to log into the system and view real-time data from each refrigerator, as well as historical reports. Should the power fail or the temperature fluctuate outside of allowed parameters, an alarm is activated, notifying designated people via SMS and e-mail and escalating the alarm if it remains unresolved for a set time frame.
"This not only ensures proper management of product temperatures, but also provides a transparency across the supply chain," says Lester. "Because our system makes use of the local cellular networks, it is extremely well placed to service remote areas of Senegal, where traditional monitoring solutions are not viable."
He adds that Beyond Wireless is extremely proud to be part of this project Optimize pilot initiative. "We are excited to be part of something like this where our technology will be helping to develop health solutions for Africa and having a positive impact on people's lives."
Modibo Dicko, project Optimize coordinator at WHO, notes that Beyond Wireless was selected as the monitoring service provider because of the versatility of the company's technology offerings and its responsiveness to the unique requirements of the project.
"Beyond Wireless was the only company to have the right mix of technologies necessary to cover all the needs we expressed for the Regional Vaccine Store Saint Louis and for the 15 solar refrigerators spread in rural and very remote health posts across two different districts of Senegal," he says. "Having one single company supplying all the devices and running the system is very important for the reliability of the system. That aspect was crucial for us."
Benefits to the region include a single integrated health supply chain in Senegal with a modern management information system for all and a supply chain for vaccines, drugs, and other health products that is information driven, distribution based and streamlined from the centre to the periphery.
For more information contact Ian Lester, Beyond Wireless, +27 (0)11 243 2960, ian@beyondwireless.co.za, www.beyondwireless.co.za
Further reading:
Top data management on the DIN rail
October 2019, Endress+Hauser , Data Acquisition & Telemetry
The data manager family of Endress+Hauser is growing. To meet the strong demand from the market for a smart, compact DIN rail data manager for mounting in the control cabinet, development of the RSG45 
...
Read more...
---
IoT data logger
October 2019 , Data Acquisition & Telemetry
IMS is known across the globe as a leading industry expert and manufacturer of condition monitoring data loggers and telemetry. The company performs data logger engineering, manufacturing and servicing 
...
Read more...
---
Fieldlogger for data acquisition
June 2019, Mimic Components , Data Acquisition & Telemetry
The Fieldlogger is a great asset to the Novus automation range of products. It is one of the most comprehensive instruments for the acquisition of data recording, and is capable of analog and digital 
...
Read more...
---
New network function for digital ­indicator
October 2018, Yokogawa South Africa , Data Acquisition & Telemetry
Yokogawa has added a network function to the UM33A digital indicator with alarms. With this network function, a single UM33A digital indicator can receive, process and sequentially display data from up 
...
Read more...
---
Remote monitoring and telemetry at power station water plants
July 2018, Omniflex Remote Monitoring Specialists , Data Acquisition & Telemetry
The wireless ability to manage pumps remotely over long distances is now available using Omniflex's Teleterm M3 Radio RTUs. This full functionality IEC61131 PLC enables both control and wireless communications 
...
Read more...
---
Purely analog signal conditioning
June 2018, GHM Messtechnik SA , Data Acquisition & Telemetry
IMTRON, part of the GHM Group, has launched the Purely Analogue Signal Conditioning TSA modules that offer well-established methods for processing, filtering, amplifying and galvanically isolating sensor 
...
Read more...
---
KPMs rotary consistency transmitter boosts pulp mill performance
May 2018, UIC Instrumentation , Data Acquisition & Telemetry
In today's pulp and paper-making market place, consistency measurement is one of the most important ways to keep costs as low as possible without sacrificing quality or production throughput. KPM's KC/5 
...
Read more...
---
Cost-effective process monitoring and recording
January 2018 , Data Acquisition & Telemetry
KRN1000 series paperless process recorders.
Read more...
---
RS Pro range of USB keys delivers secure data storage
January 2018, RS Components SA , Data Acquisition & Telemetry
RS Components has introduced a new addition to its high-quality RS Pro range with the launch of the Evikey One NFC cybersecure contactless USB key. The innovative range of USB flash-drives delivers a 
...
Read more...
---
Low power, battery operated RTU/logger
Africa Automation Fair 2017 Preview , Data Acquisition & Telemetry
The new SSE ultra low power, battery operated RTU/logger is a reliable, high performance data logger. It is easy to deploy across a wide range of water and wastewater applications. Visit Stands F13-F15 
...
Read more...
---