printer friendly version
Case study: Mogale Gold
July 2010
System Integration & Control Systems Design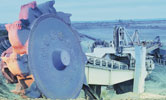 Background
Mine tailings are the crushed and milled rock residue that remains after mineral extraction. These tailings must be deposited for storage in a cost effective way that also meets environmental guidelines and mandates. Dams, dumps, and other types of surface piling are some of the more common tailings deposition methods used today. However, these all pose serious environmental concerns, as tailings often contain trace and sometimes substantial quantities of the metals found in the host ore, as well as certain amounts of chemicals and compounds used in the mining processes. As a result, establishing and maintaining tailings dumps represent a significant cost for mining companies.
A New Strategy: Tailing reprocessing
Historically, mineral separation processes have been somewhat inefficient because after the required crushing, grinding and metallurgical treatment, some amount of valuable metal is left behind in the residue. But recently, improved mining technologies and the ever-increasing price of gold in the marketplace have opened the opportunity for mining companies to purchase old mining dumps and treat the tailings in order to recover residual gold. South African miner Mintails is currently focused on exploring, evaluating, and processing hundreds of millions of tons of surface gold bearing tailings in the Witwatersrand area of South Africa. These types of gold reclamation efforts are never 100% efficient, and automation and control plays a significant role in improving the metallurgical processes. With the help of systems integrator Opto Controls, each month Mintails is collecting significant amounts of the valuable metal. In the process, the company is positively impacting the environment by clearing away mountainous, land consuming, and unsightly dumps.
Opto Controls
Opto Controls has been a supplier and integrator of hardware and software for industrial automation, remote monitoring, and data acquisition applications for more than 10 years. Specialising in solutions utilising Opto 22 components and systems, Opto Controls' broad project and industry expertise includes access control and security, print production monitoring, and factory automation. Company president Mike Harrison and process control and programming engineer Adam Carless, head a team contracted by Mintails to assemble and configure an automation system for Mintails' Mogale Sands Plant This system connects to, monitors, controls and acquires data from a large assortment of field devices, equipment, and instrumentation and also manages the many mechanical and chemical processes used to remove the gold from the tailings.
The Opto Controls system's key components are Opto 22 rack mount and standalone programmable automation controllers (PACs) and I/O housed in containers located at various areas of a processing plant situated between the gold mine and the dump. "Initially, these controllers were to be networked via fibre-optic cable, but Mintails management later decided to go with a wireless solution from MikroTik so as to avoid having to dig trenches and lay conduit for the cabling," explains Harrison. The MikroTik platform features a Linux-based operating system, omnidirectional antennas, and wireless communication capabilities utilising all four of the 802.11 standards (a/b/g/n), as well as frequency ranges within the industrial, scientific and medical (ISM) radio bands. The system also has meshing capabilities, data transfer speed of up to 350 Mbps, and a range that easily bridges the average distance (about 150 metres) between the Mogale site controllers.
Readers wanting to find out more about the Opto Controls solution architecture for the Tailings Processing System can visit: http://instrumentation.co.za/+C14002
For more information contact Mike Harrison, Opto Controls, +27 (0)11 792 5232, mike@opto.co.za, www.opto.co.za
Credit(s)
Further reading:
A good combination for the primaries and metals industry
November 2019, Endress+Hauser , System Integration & Control Systems Design
Endress+Hauser?s measurement devices for flow, level, pressure, temperature and liquid analysis.
Read more...
---
Four key factors to consider when choosing devices for the control cabinet
November 2019, RJ Connect , System Integration & Control Systems Design
Drawing from over 30 years of experience in providing reliable products for industrial control cabinets, Moxa has identified the following four key considerations for choosing the best control cabinet 
...
Read more...
---
Saryx helps Transnet achieve ROI through scada modernisation
November 2019, Saryx Engineering Group , System Integration & Control Systems Design
Saryx Engineering has set the bar high in terms of scada modernisation and standardisation. So much so that the company won 'Best Control & Information Implementation' in recognition of a project with 
...
Read more...
---
Standardisation of ABInBev automation on three Tanzanian breweries
November 2019, Process Dynamics , System Integration & Control Systems Design
Process Dynamics has a long history within the brewing industry. The company has completed a number of projects for SABMiller and when the company was bought by Anheuser-Busch InBev (ABInBev) in 2015, 
...
Read more...
---
VinFast deploys Siemens technology to deliver cars ahead of schedule
November 2019, Siemens Digital Industries , System Integration & Control Systems Design
VinFast, Vietnam's first volume car manufacturer, has successfully produced its first cars ahead of schedule using Siemens' portfolio of integrated software and hardware. By deploying its portfolio, Siemens 
...
Read more...
---
The complexity of water management in mines
October 2019, Endress+Hauser , System Integration & Control Systems Design
Industries across the globe are encouraged to reuse water as much as possible, and therefore a 'zero liquid discharge' policy has already been implemented by various companies in different sectors.
Read more...
---
PC-based control platform optimises water treatment product dosing
October 2019, Beckhoff Automation , System Integration & Control Systems Design
Clean water is vital in both consumer and commercial areas, including numerous industrial applications, such as mining, petroleum refining and groundwater remediation, in addition to residential applications
Read more...
---
Rockwell Automation walks the Connected Enterprise talk
October 2019, Rockwell Automation , System Integration & Control Systems Design
The Connected Enterprise is Rockwell Automation's vision for seamless integration across all divisions of the organisation to enable more efficient decision making through access to the power of information based on real-time data.
Read more...
---
Omniflex eases mine water compliance
October 2019, Omniflex Remote Monitoring Specialists , System Integration & Control Systems Design
Water licences carry a 'Burdon of Proof' that the licence holder will not harm the environment or the water system through its activities. This covers the use of water from the system and the responsible 
...
Read more...
---
Smart Press Kit from Bosch Rexroth
October 2019, Tectra Automation , System Integration & Control Systems Design
Bosch Rexroth is setting new standards for fast and efficient pressing and joining applications with its innovative new modular Smart Press Kit. Designed to meet future industrial requirements by providing 
...
Read more...
---