printer friendly version
Eliminating the maintenance backlog in record time
February 2019
Maintenance, Test & Measurement, Calibration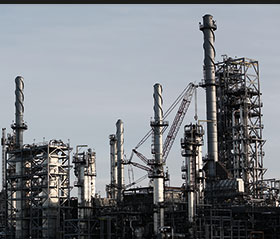 There is a backlog in North-Rhine Westphalia – a maintenance backlog. And not only there: ageing chemical plants all over Europe are in urgent need of modernisation. The installed 19" technology and many outdated process control systems must be exchanged. Planners, system integrators, and operators can obtain support from Phoenix Contact, a company that provides not only device and connection technology, but also components for control cabinet and field installation as well as consulting and engineering services. In combination with specially developed adaptors, this unique offering enables error-free modernisation in record time.
Spares are becoming hard to find
Spare parts supply cannot be guaranteed much longer. This unwelcome situation seems like a wake-up call. Discontinued and obsolete products in the field of automation technology force operators of process engineering plants to modernise their systems, which is often long overdue anyway. In the meantime, significantly more efficient products are available on the market and succeed discontinued variants that were used in old production facilities: modern controllers, highly available and failsafe CPUs, space-saving interface modules, and, of course, powerful process control systems. So this is not only about replacing old technology, but also about designing the rejuvenation in a forward-looking way. On the one hand, it is important to lay the foundation for increased reliability and availability of systems; on the other hand, it is necessary to make better use of the space within the control cabinet to form a basis for future enhancements. Many operators even think ahead: together with the modernisation they want to pave the way for meeting the requirements of digitalisation as well.
All those who want to meet these challenges and eliminate the maintenance backlog in their systems want to do this with as little effort as possible. The outdated systems often produce commodities, or they are part of a value added chain which manufactures basic products for other systems in a downstream process. That is why the system to be modernised should only stand idle for the shortest time possible. If it can be rejuvenated during a scheduled shutdown, or even during running operations, this will save time and money. Mistakes must be avoided during renovation as they would turn a scheduled shutdown into unexpected downtime.
Modification with existing field wiring
Operators not only strive for keeping the costs as low as possible, but also for minimising shutdowns as much as possible. Many operators also want to keep the existing field wiring when modernising control engineering. However, this means that when the new technology moves in, the connections do not fit any longer. Phoenix Contact offers system cabling concepts that transfer field signals to the new control system to ensure smooth and error-free adaptation.
As an example, this was implemented for a Trinseo Plastics production facility in Belgium. The control technology and the 30-year old control system were replaced. Within the framework of this retrofit, the responsible global process engineer, Wim van Drongelen, together with Phoenix Contact, developed a concept that ensures not only the fast conversion of this site, but also of all other Trinseo sites, which required modernisation as well. A zero error-strategy was to be implemented with as few I/O tests as possible.
Faster migration thanks to terminal adaptors
The I/O cards of the new ABB S800 control system were connected to field signals via single wires. For this purpose, Trinseo used the compact, passive termination boards of the Varioface Professional VIP range. The terminal strips on the field side were also to be equipped with a high-position connector. About 25 system-specific terminal adaptors were generated and directly assembled on the terminal strips. After setting up the new control cabinets, the old single wires were removed, the terminal adaptors were mounted and the previously laid system cables were connected. 2500 I/O signals were migrated this way. Due to the structured system design, it was sufficient to test about 15 to 20 percent of the I/Os. The design saved two weeks of work and accordingly, production started again earlier.
Just like Trinseo, many other companies are facing the challenge of modernising their old control systems. Most often, the 19" technology is replaced with a DIN rail system. Often also Ex i signal conditioners, safety relays, system cabling etc. are required, and sometimes surge protection or SIL-certified technology. The modernising companies benefit from the small size of modern technology. Stephan Sagebiel, head of industry management process engineering at Phoenix Contact, affirms: "Generally, modern technology needs at least 30 percent less space than that from 20 years ago. This way, space for future extension becomes available."
From inventory to individual implementation
Phoenix Contact offers more than the required standard technology. Needless to say, the company, after detailed inventory and consulting, also supports engineering, if desired. This is not only a benefit for end users. Planning and service companies in charge of the migration of brownfield systems can secure the special expertise of the automation provider, which can avoid errors during the retrofit.
The development group, which makes sure that there is an adaptor customised for the respective requirement, is unique. The solutions developed for Trinseo are by no means used for only one system. The conversion from the Dow control system to the ABB system had to be mastered in many other plants. "However, we can even support migration to current control systems from Siemens, Emerson, Yokowaga and other suppliers with suitable adaptation solutions," explains Sagebiel.
Phoenix Contact also supports the conversion from Siemens S5 control technology to current S7 technology. "Just pull out the S5 plug, remove the S5, install the correct PCB adaptor in the rack, insert the S5 plug and access the S7 via the adaptor," outlines Sagebiel. "This way, the existing field cabling can be kept during modernisation."
Migration openness for brownfield systems
The right overall concept is the crucial factor in terms of the migration of brownfield systems. Old control engineering can be replaced fast and without errors and compact switching concepts ensure high signal density and minimise the space needed for control. Sometimes, though, solutions based on standard components are not enough. Special adaptation concepts, as Phoenix Contact provides them for all common control systems, allow reacting to all local concerns of the prevailing system. Thus, even a modernisation in running operation is possible, as a retrofit in Wesseling shows.
For more information contact Sheree Britz, Phoenix Contact South Africa, +27 11 801 8200, sbritz@phoenixcontact.co.za, www.phoenixcontact.co.za
Credit(s)
Further reading:
Ore sampling like never before
July 2020 , Maintenance, Test & Measurement, Calibration
With the general decline in ore grades in mining, FLSmidth's market-leading expertise in mineral sampling and laboratory automation holds increasing value to mines. "The more you understand about 
...
Read more...
---
Surge protection for electro-mobility
July 2020, Phoenix Contact , IS & Ex
The market for electric cars is growing exponentially and automobile manufacturers are increasingly focusing on electro-mobility. However, surge protection also has a part to play in this technology. 
...
Read more...
---
Power supplies for building automation
June 2020, Phoenix Contact , Electrical Power & Protection
The new Step Power power supplies from Phoenix Contact are specifically tailored to the needs of modern building automation. With their comprehensive approval package, which includes the standard 
...
Read more...
---
Closed panel electrical inspection
July 2020, R&C Instrumentation , Maintenance, Test & Measurement, Calibration
When electrical distribution equipment fails, the results can be catastrophic to a company as workplace injuries and fatalities could occur. A company's profit margin can be negatively impacted by unscheduled 
...
Read more...
---
Speedy valve testing
June 2020, Comtest , Maintenance, Test & Measurement, Calibration
Control valve testing has often meant using complicated testers that require extensive training, the removal of the valve, and often one to two hours of test time on the bench. Comtest now offers Fluke's 
...
Read more...
---
Visual inspection made easy with SKF stroboscopes
June 2020, SKF South Africa , Maintenance, Test & Measurement, Calibration
A range of handheld, easy-to-use stroboscopes that enable the visual inspection of rotating equipment to be carried out in an economic and timely fashion has been unveiled by SKF. "All rotating equipment 
...
Read more...
---
Essential monitoring solutions
June 2020, Extech Safety Systems , Maintenance, Test & Measurement, Calibration
Meteor Communications' MCE-MRC-EX is powered by MeteorCloud, a one-stop end user application for complete data visualisation, outstation device control and reporting activities. The remote monitoring 
...
Read more...
---
Taking sampling to new heights
June 2020 , Maintenance, Test & Measurement, Calibration
With the general decline in ore grades in mining, FLSmidth's market-leading expertise in mineral sampling and laboratory automation holds increasing value to mines. "The more you understand about 
...
Read more...
---
Wireless detection of erosion corrosion
June 2020, Emerson Automation Solutions , Maintenance, Test & Measurement, Calibration
While many forms of corrosion can be anticipated depending on the presence of corrosion causing factors such as H
2
S, water injection and oxygen in dry pipelines, erosion caused as a result of sand or 
...
Read more...
---
Measure bearing vibration and temperature
June 2020, Comtest , Maintenance, Test & Measurement, Calibration
Vibration in rotating machinery is merely the back and forth movement, or oscillation, of a machine and components, such as drive motors, driven devices (pumps, compressors, etc.), and the bearings, shafts, 
...
Read more...
---