Food safety hazards and how to choose sensor solutions
November 2018
Sensors & Transducers

printer friendly version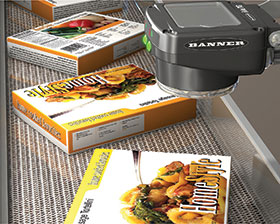 In the food industry, product recall is costly not only in terms of lost revenue, wasted materials and production time, but also in terms of brand reputation and brand loyalty. The sooner food safety issues can be addressed and mitigated, the lower the risk of a large-scale recall. This article outlines three of the most common food hazards that can result in recall and describes several sensor technologies that can help ensure food safety in each scenario.
Three common food safety hazards
Three concerns about food safety are undisclosed allergens, pathogens and physical hazards. Choosing the right sensor technology for the application can go a long way towards reducing risk in each of these areas, saving time and money in the long term.
Undisclosed allergens
Food allergies can be potentially lethal to the consumer, so it is essential that food packaging accurately discloses the allergens present in the food item. By law, eight major foods must be disclosed on packaging: milk, eggs, fish, shellfish, tree nuts, peanuts, wheat and soy.
However, one error that can occur during the processing of packaged foods is when a product is placed in the incorrect packaging, resulting in inaccurate labelling of the contents. For example, if a cheese-stuffed hot dog is accidentally packaged in a regular hot dog packaging, the package would not include the required milk allergen warning.
Solution: vision sensor for label verification
A label verification technology is critical to ensure that the proper labels are affixed to the right products. One very effective technology is a vision sensor, which can be used to verify the presence of the correct label on the packaged food item.
For example, bottle filling lines run many different types of products and require frequent changeovers. To prevent mislabelled bottles and ensure quality and food safety, a vision sensor can determine whether a label pattern matches a reference pattern taught to the device. Automating label inspections with a reliable vision solution improves quality control by reducing the risk of error common to manual inspections, which in turn helps reduce the incidence of product recall due to undisclosed allergens.
Pathogens (biological hazards)
Pathogens are another significant food safety concern. Also referred to as biological hazards, pathogens are any type of bacteria, virus or parasite (such as listeria or salmonella) that can cause illness to humans if consumed. Pathogens can be introduced to food products in several different ways before, during, or after food processing.
While there are many points at which biological hazards can be introduced, temperature change is one of the most critical conditions for pathogen growth. For example, when lunch meat products are not lowered to the proper temperature quickly enough, or are not maintained at the correct temperature after processing, harmful bacteria will be allowed to grow. Ensuring that temperature levels remain appropriately controlled at all points – from food processing to distribution – can help prevent many biological hazards from reaching harmful levels.
In addition, pathogens can be introduced if machine components come in frequent contact with food. Components without a hygienic design (e.g. deep grooves where food can become lodged) may not be easily cleaned even with rigorous wash-down practices and can become a food safety risk.
Solution: hygienic sensors with remote temperature monitoring capabilities
Monitoring and documenting temperatures throughout the food chain is imperative. However, manual documentation can be costly, requiring significant investments in time and resources.
An IIoT solution to this problem is wireless temperature sensors. Wirelessly connected temperature sensors can be used to automate the documentation process by transmitting data through a controller. Not only does a wireless solution allow for historical data to be stored and accessed in the future, but wireless sensors also allow for real-time condition monitoring.
This means that, if the temperature of a food storage area rises above a set threshold, instant alerts can be sent, warning a manager that temperature requires adjustment. These alerts can be made viewable in the HMI,
sent via text message, or set to initiate a warning signal on a tower light or other visual indicator. The ability to identify potentially dangerous temperature changes as they occur can help prevent product spoilage, saving costs.
In addition to remote temperature monitoring, another way to protect against the growth of pathogens during food production is to select sensors with hygienic design. Any sensors that regularly come in direct contact with food must be FDA rated. However, this rating is not required of the many sensors that do not typically come in direct contact with food. Still, in some cases, it is possible for food to splash, come into contact with the sensor, and then return back into the process. In these cases, a hygienic sensor – with minimal crevices so food cannot become lodged and difficult to clean – is a must.
Physical hazards
Physical hazards refer to potentially harmful, non-food particles that end up packaged with the food, often due to breakage of mechanical parts on the machine. While metal detectors can identify small pieces of metal before the product is distributed, other materials such as plastic and glass could slip by unnoticed, risking the health of the consumer.
Solution: rugged sensors with all plastic housing
Sensors are not the only machine components from which pieces can break off and fall into food, but they are still important to consider. In environments with frequent wash-down, it is important to ensure that the product is rugged enough to withstand high temperatures and pressure, and a high chemical resistance may also be necessary to withstand caustic cleaning solutions. In these applications, look for an IP69K-rated sensor that has been thoroughly tested to withstand harsh environments.
In addition, the material construction of the sensor makes a difference. While stainless steel might seem like the intuitive choice for food applications, a metal photoelectric sensor will always still have plastic components (e.g. window, light pipes, etc.) that can become dislodged and fall into the process.
Because sensors with metal housing still contain some plastic, this means they have plastic-to-metal joints that are attached either by adhesive or mechanical means. When subjected to temperature change – such as during cleaning – the different materials expand and contract at different rates, creating small air gaps which leave room for water ingress.
On the other hand, a photoelectric sensor made entirely of plastic has joints that are ultrasonically welded together, becoming a single piece. This reduces the risk of the sensor window becoming dislodged and the sensor is also better protected against the ingress of water.
For more information contact Brandon Topham, RET Automation Controls, +27 11 453 2468, brandon.topham@retautomation.com, www.retautomation.com
Credit(s)
Further reading:
Large German fertiliser manufacturer reduces costs thanks to SICK Automation
February 2019, SICK Automation Southern Africa , Sensors & Transducers
Available agricultural land in Europe is limited. As a result, large quantities of fertiliser are used in order to increase yields. Producing fertiliser, however, is an energy-intensive process which 
...
Read more...
---
Traceability for tobacco manufacturer
February 2019, SICK Automation Southern Africa , Sensors & Transducers
SICK Automation South Africa recently installed 120 image-based 2D barcode readers across multiple scanning stations in a South African tobacco manufacturing plant. The cigarette manufacturer was looking 
...
Read more...
---
Hygienic limit switches for processes
February 2019, Morton Controls , Sensors & Transducers
Process and storage vessels incorporate limit switches to prevent overfilling of a tank or vessel (full indicator) or dry running of a pump (empty indicator). Anderson-Negele's NCS series are ideally 
...
Read more...
---
A new standard for digital ­inclination measurement
February 2019 , Sensors & Transducers
A new standard for digital inclination measurement has been set with the latest digital protractors from Stabila. Both the Tech 500 DP and Tech 1000 DP are manufactured exclusively in Germany, the main 
...
Read more...
---
Bromide sensor for water disinfection
February 2019, ASSTech Process Electronics + Instrumentation , Sensors & Transducers
With the expansion of its product range of membrane-covered amperometric digital sensors for liquid analysis, ASSTech now has available the Jumo tec-Line Br bromide sensor for general water disinfection 
...
Read more...
---
Wenglor expands optical sensor range
February 2019, ASSTech Process Electronics + Instrumentation , Sensors & Transducers
Wenglor's PNG/smart generation of photoelectronic sensors is distinguished by a combination of performance and communication. An aligned optical axis and a balanced switching point, as well as large switching 
...
Read more...
---
Four questions to ask when ­choosing a vision solution
February 2019, Turck Banner , Sensors & Transducers
Many users find vision systems challenging and it can be difficult to know where to start, but there are some simple steps that can help to match the right vision solution to an application. This article 
...
Read more...
---
Intelligent valve sensor
February 2019, ifm Electronic RSA , Sensors & Transducers
The intelligent valve sensor for pneumatic quarter-turn actuators from ifm electronic features 360° position monitoring to allow precise and continuous scrutiny of the valve condition. Problems such as 
...
Read more...
---
Fast optical data transmission
February 2019, Countapulse Controls , Sensors & Transducers
The Leuze DDLS 500 optical data transceiver has a high optical transmission rate of 100 Mbit/s. This photoelectric sensor allows data transmission without cabling and without interference. Gerry Bryant, 
...
Read more...
---
Speed sensor with IO-Link
February 2019, ifm Electronic RSA , Sensors & Transducers
The new range of speed sensors from ifm electronic has the evaluation electronics integrated into the sensor housing. This allows for low cost and easy monitoring or rotating, as well as linear movements 
...
Read more...
---