printer friendly version
New platforms for HTML5 visualisation
Technews Industry Guide: Industrial Internet of Things & Industry 4.0
SCADA/HMI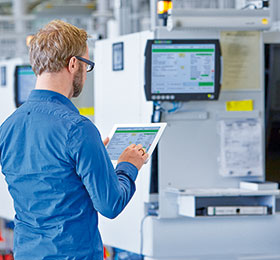 The changes resulting from future-oriented Industrie 4.0 projects demand new concepts for machine operation and monitoring. This also has an impact on the hardware, as the corresponding devices not only need to be adapted to the framework conditions, but must also fulfil the increased safety requirements.
Which hardware enables users to operate their machines easily and to monitor them according to circumstances? The decisive factor here is whether the application is for the automotive industry, a wind turbine generator, a water treatment plant or an oil platform. Each of these areas of application is subjected to special ambient conditions, thus having its own particular demands on the devices installed. These need to be considered when selecting the required visualisation hardware.
Combination of mounted and mobile devices
In the four typical applications listed above, the user would like to receive application data and information at any location. The values should not only be shown within the system, but also be viewable in the plant environment. To this end, a tablet PC can be used. In practice, however, it's all too often the case that the tablet PC is not available when it is most needed. In contrast, a permanently installed HMI device enables the user to operate and monitor the application at any time. In a larger system, it is advisable to use both the tablet PC and the HMI device.
There is a similar situation in a wind turbine generator system. A combined HMI hardware solution allows for the seamless monitoring and maintenance of the application. As is the case with the renewable energy production, extreme ambient conditions may also occur in a water treatment plant which can differ significantly from one location to the next. Temperatures, for example, may vary strongly. Humidity, seawater and aggressive gases will adversely affect devices used for operation and monitoring. Oil and gas, process industry and maritime applications are to be considered as a special case. In these fields of application, the hardware offered for visualisation purposes is restricted due to safety regulations and approvals. As a result, there are only a few manufacturers offering these devices. This is especially the case in the mobile sector.
Closed systems in addition to HTML5-based systems
It is easy to see why visualisation for the scenarios described above cannot be based on only one platform. Various cross compilers are available, but there are some restrictions with regard to platforms. Furthermore, there are often problems on platforms that need a tailored solution. In this case, the web technology and, in particular, the HTML5 language, allows for cross-platform visualisation. HTML5, however, should not be viewed as a universal solution because there are always incompatibilities between the different browsers used on the different platforms. In general, the problems – often less significant visual problems – are easily rectified.
Distinguishing features are needed to respond to the strongly growing competition. This may, for example, be an optimally designed user interface as the plant's calling card. The portfolio around the open HTML5-based devices is complemented by HMI hardware for closed systems. This includes the 'PC Worx Engineer' engineering environment developed by Phoenix Contact for its PLCnext Technology control platform. Using the HTML5-based visualisation editor integrated in PC Worx Engineer, it is possible to create a closed and safe production chain. Phoenix Contact offers both HMI hardware for PLCnext Technology and open HTML5-based systems.
User interface reduced to the functions and actions necessary
PC Worx Engineer has not only been designed as programming software, but can also be used for creating modern visualisations. This offers the user numerous benefits: the techniques already known from programming noticeably simplify the creation of visualisations. Additional software tools are no longer necessary. Programming and visualisation work together reliably since they are perfectly adapted to each other. Furthermore, PC Worx Engineer allows for a web-based display based on open standards, such as HTML5 and JavaScript. Thanks to the scalability and adaptability of visualisations, any device with a web browser can be used as an HMI client without any additional software. The performance of the controller is available for core tasks, thus saving resources of operation and monitoring devices. Reusability of visualisation templates, pre-configured objects, as well as self-created icons, lead to a shortened development time.
Portfolio for every application
With its comprehensive product portfolio, Phoenix Contact always offers the right hardware for the respective visualisation. Using a new processor generation, the devices are characterised by fast reaction and screen change times. Various touch technologies – such as analog resistive foil touch, projected capacitive glass touch (PCAP) and robust glass-film-glass-touch (GFG) – bring about advantages in all application areas.
The front plate made of brushed aluminium impresses not only with its slim design but also with robustness and durability. HMI devices designed for an operating temperature from -32 to 70°C can be operated with work gloves. The IP67 protection class enables the use without control cabinet, directly in the application. The display is resistant to UV and IR radiation and can be read easily even in direct sunlight.
HMIs which are used, for example, in production plants and the fields of process industry, machine building and building automation, perform important functions in indoor and outdoor applications. Further applications can be found in wastewater treatment and water treatment plants as well as in the fields of renewable energy production and automation of traffic tunnels and snowmaking systems. The HazLoc certification related to extreme conditions of use places virtually no limitations. Shock-proof, splash-proof and dimmable devices that are certified and approved according to GL, LR, BV, DNV, ABS, and EN 60945 are available especially to cope with the demands of shipping.
All HMI devices can be configured individually with regard to application software, operating system, memory and design. Display sizes from 110 mm to 470 mm permit flexible system planning.
For more information contact Kevin Preston, Phoenix Contact, +27 (0)11 801 8200, kevinp@phoenixcontact.co.za, www.phoenixcontact.co.za
Credit(s)
Further reading:
Circuit breaker system with IO-Link
Phoenix Contact Electrical Power & Protection
Suitable digital services support customers with their individual data, from the 3D model, through the marking, all the way to the data sheet and EPLAN.
Read more...
---
Why telemetry should form a critical part of your water management systems
Schneider Electric South Africa SCADA/HMI
A complete, integrated sensor-to-enterprise solution can help utilities and operations to manage and run secure and reliable water infrastructure.
Read more...
---
Powerful controller for high safety requirements
Phoenix Contact PLCs, DCSs & Controllers
Thanks to its 8-core processor, high-level language and open-source software such as Docker or even Matlab Simulink can run simultaneously with the control program.
Read more...
---
Small terminal blocks for maximum benefits
Phoenix Contact Enclosures, Cabling & Connectors
The range of terminal blocks in miniature format from Phoenix Contact can be conveniently wired and mounted in various ways, in even the narrowest of spaces.
Read more...
---
Heavy-duty connectors in various colours
Phoenix Contact Enclosures, Cabling & Connectors
The housings can be ordered in batches as small as 1, and individual interfaces can be easily configured and conveniently ordered online.
Read more...
---
Supplements for splice boxes with patented pigtail tray
Phoenix Contact Enclosures, Cabling & Connectors
Phoenix Contact is supplementing the compact splice/distributor boxes in the FDX 20 series for DIN-rail mounting with additional types of fibres and couplings.
Read more...
---
Failsafe networking of photovoltaic systems
Phoenix Contact Electrical Power & Protection
Zebotec's large free-standing systems come with their own challenges, but for its floating power stations on bodies of water, wireless Ethernet networking is the only sensible solution.
Read more...
---
Compact installation connectors for up to 20 A
Phoenix Contact Enclosures, Cabling & Connectors
Depending on the conditions and standards applicable on site, users decide whether to release the connector by hand or by using a bladed screwdriver.
Read more...
---
Narrow power supply with high power density
Phoenix Contact Electrical Power & Protection
The devices are particularly suitable for urban infrastructure and in machine building, where they find their way into small systems with basic requirements.
Read more...
---
Phoenix Contact launches Energy Solution Partner programme
Phoenix Contact Electrical Power & Protection
The concept is a win-win for end-customers, Energy Solution Partners and Phoenix Contact alike.
Read more...
---