printer friendly version
From the Editor's desk: Digital transformation is more than just technology
May 2019
News
While digitalisation offers new ways to increase operational efficiency, we see many companies battling to overcome the challenges. Particularly, they struggle to get past the 'pilot' stage, and are therefore never able to upscale into the game-changing benefits alluded to in the Industry 4.0 'marketing brochures'.
There are a number of things that make the process complicated. Firstly, there is the choice of a suitable IIoT platform, secondly, there are the worries around cybersecurity, and thirdly, there is the small matter of organisational culture. This is the elephant in the room, since successful digital transformation depends as much on new attitudes as it does on new technologies to connect plant devices to analytic packages in the cloud. In other words, no digital strategy is ever going to deliver meaningful ROI until company employees at all levels embrace its ideas.
Like any transformation, success depends on a culture that supports strategy. If leaders are serious in their objectives, the first step is to address the insecurity that comes with change. The message is that the new high-performance digital culture is designed to foster collaboration and empower people across divisions to deliver faster results through teamwork. Employees must be aware that far from making them redundant, these new information-based tools will enable them to make better informed judgement calls and on-the-spot decisions in an organisation that values common purpose over structure and managerial hierarchy.
Digitally mature organisations are those that deploy the technologies of Industry 4.0 to achieve a more outwardly focused approach. The emphasis is on breaking down old-style divisional silos to create a new level of customer experience through coordinated operations and enhanced supply chain management. They avoid the trap of 'technology for technologies' sake' by incorporating automation as a fundamental component of their business processes, rather than a hoped-for patch to conceal the shortcomings of outdated legacy practices.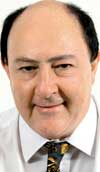 Most of all, they understand that transformation is an open-ended quest for improvement, rather than a project with a fixed completion date. In the manufacturing context, this often involves the ongoing convergence of OT and IT. Of course this will happen differently according to company objectives and the industries in which they operate, but all of them must prepare to manage the inevitable collision of cultures building on the horizon. The successful ones will realise early that people are as important an element of digital transformation strategy as the technologies of the fourth industrial revolution. These companies stand to unleash the full potential of Industry 4.0 within a culture of collaboration and teamwork on a scale not achievable before. They will likely invent new ways to work because the old methods simply aren't competitive any longer. See this month's feature on IT in manufacturing for more on this much overlooked aspect of digital transformation.
Steven Meyer
Editor: SA Instrumentation & Control
steven@technews.co.za
Credit(s)
Further reading:
FIRST Lego League goes from strength to strength
July 2020 , News
FIRST (for inspiration and recognition of science and technology) is an international organisation that aims to generate an interest in mathematics, science and technology through the use of robotics 
...
Read more...
---
Aguru announces successful Safe-Trace Contact Tracing trial at Adcock Ingram Critical Care
July 2020 , News
Aguru Business Solutions (Aguru), a company specialising in automation and digital transformation advisory and project management services, has successfully completed a Proof of Concept (PoC) trial of 
...
Read more...
---
From the editor's desk: Coronavirus pulls the trigger on digital transformation
July 2020, Technews Publishing (SA Instrumentation & Control) , News
The general consensus among economists is that the disruption to global markets caused by the coronavirus pandemic is going to result in economic upheaval of proportions not seen since the disastrous 
...
Read more...
---
Siemens South Africa joins forces with the National Ventilator project community in response to the COVID-19 pandemic
June 2020, Siemens Digital Industries , News
Siemens has been a long-standing partner of the Council for Scientific and Industrial Research (CSIR) in South Africa and have cooperated in various field of research, including manufacturing and mining. 
...
Read more...
---
Endress+Hauser Switzerland turns 60
June 2020, Endress+Hauser South Africa , News
The Swiss sales centre of Endress+Hauser is celebrating its 60th anniversary. Active in Switzerland since 1960, today the global leader in measurement instrumentation, services and solutions for industrial 
...
Read more...
---
How investing in a niche market placed Yokogawa aboard the International Space Station
June 2020, Yokogawa South Africa , News
While the world was abuzz with excitement over the revival of U.S. manned spaceflight, another equally promising space endeavour flew under the radar. On 20 May, the H-II Transfer Vehicle (HTV-9), affectionately 
...
Read more...
---
Siemens and Bentley Systems build digital twin for Indonesian petrochemical complex
June 2020, Siemens Digital Industries , News
Siemens and Bentley Systems will develop the first petrochemical digital twin in Indonesia for Chandra Asri, the country's largest integrated petrochemical complex. With over 27 year footprint, the latter 
...
Read more...
---
Hitachi ABB Power Grids commences operations
June 2020, ABB South Africa , News
In accordance with the agreement signed on 17 December 2018, Hitachi and ABB have announced the completion of all required procedures as planned and the formation of Hitachi ABB Power Grids Ltd. on 1 
...
Read more...
---
Zest grows Africa base with local partners
June 2020, Zest WEG Group , News
"The key to sustainable growth in Africa is partnering with locally owned companies which have proven track records, are technically sound, have strong market knowledge and a business culture aligned 
...
Read more...
---
Gas control products for Covid-19
June 2020, Fluid Systems Africa , News
Fluid Systems Africa (FSA) is the authorised distributor for Gas Control Equipment (GCE) in Africa, and supplies a wide range of healthcare and high-purity products. The global spread of Covid-19 
...
Read more...
---