printer friendly version
From the editor's desk: A real case for artificial intelligence
April 2019
News
For many manufacturers, the era of mass production is drawing to a close. Changes in consumer behaviour have forced them to rethink their 'economies of scale' approaches as they reorganise to answer the demand for more personalised goods and services. This customisation means items have to be produced on demand, rather than sold from stock, and the modern customer is fussy and impatient, so it has to be done fast and with no compromise in quality.
In the automotive industry, for instance, models are becoming available with an ever larger variety in the number of possible feature combinations. This presents a problem for automated robotic assembly lines because each change requires a time-consuming reconfiguration of the equipment. The current limitation of even the most sophisticated artificial intelligence (AI) algorithms is that they are designed to perform one task – and one task only. The software that drives an autonomous vehicle is incapable of playing a game of chess.
In response to this, researchers at Siemens are investigating how robots can teach themselves to perform new tasks. Based on a promising new AI technology called deep-learning, the method makes use of CAD files containing information about desired colour schemes, geometry, final assembly, choice of finish, and the like.
In simplistic terms, the AI algorithms embedded in the robot interpret the various CAD models to generate the appropriate programming instructions in response to a new production order. The robot itself decides the sequence in which tasks should be performed, and also corrects faults as and when they occur during the assembly process. Manufacturing's Nirvana – aka batch size one – seems almost within reach.
Once these deep-learning techniques are perfected for industrial use, AI has the potential to transform manufacturing much as electricity did some hundred years before it. Until then though, artificial intelligence's contribution to the industry will likely remain confined to data mining applications in areas like energy efficiency, quality control, condition monitoring and predictive maintenance. This does not mean these systems are not powerful in their own right, just that they are not ready to take over the world quite yet.
Industry guide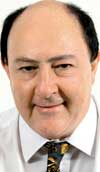 Speaking of predictive maintenance, posted with the magazine this month is the 2019 edition of the Technews Industry Guide: Maintenance, Reliability & Asset Optimisation. This one-stop resource for the modern maintenance professional covers everything from in-situ sensor-based solutions for condition monitoring, through handheld portable devices for periodic maintenance-related checks, through software solutions for analysis and reporting, and on to customised services like reliability management consulting and training. Our hope is that the ideas and insight we have gathered together will help you to solve a problem you may be faced with in your own particular plant.
Steven Meyer
Editor: SA Instrumentation & Control
Credit(s)
Further reading:
Emerson publishes 2019 Social Responsibility Report
July 2020, Emerson Automation Solutions , News
Emerson combines industry-leading technology and innovation to make a positive impact on employees, customers and communities around the world.
Read more...
---
FIRST Lego League goes from strength to strength
July 2020 , News
FIRST (for inspiration and recognition of science and technology) is an international organisation that aims to generate an interest in mathematics, science and technology through the use of robotics 
...
Read more...
---
Aguru announces successful Safe-Trace Contact Tracing trial at Adcock Ingram Critical Care
July 2020 , News
Aguru Business Solutions (Aguru), a company specialising in automation and digital transformation advisory and project management services, has successfully completed a Proof of Concept (PoC) trial of 
...
Read more...
---
From the editor's desk: Coronavirus pulls the trigger on digital transformation
July 2020, Technews Publishing (SA Instrumentation & Control) , News
The general consensus among economists is that the disruption to global markets caused by the coronavirus pandemic is going to result in economic upheaval of proportions not seen since the disastrous 
...
Read more...
---
Siemens South Africa joins forces with the National Ventilator project community in response to the COVID-19 pandemic
June 2020, Siemens Digital Industries , News
Siemens has been a long-standing partner of the Council for Scientific and Industrial Research (CSIR) in South Africa and have cooperated in various field of research, including manufacturing and mining. 
...
Read more...
---
Endress+Hauser Switzerland turns 60
June 2020, Endress+Hauser South Africa , News
The Swiss sales centre of Endress+Hauser is celebrating its 60th anniversary. Active in Switzerland since 1960, today the global leader in measurement instrumentation, services and solutions for industrial 
...
Read more...
---
How investing in a niche market placed Yokogawa aboard the International Space Station
June 2020, Yokogawa South Africa , News
While the world was abuzz with excitement over the revival of U.S. manned spaceflight, another equally promising space endeavour flew under the radar. On 20 May, the H-II Transfer Vehicle (HTV-9), affectionately 
...
Read more...
---
Siemens and Bentley Systems build digital twin for Indonesian petrochemical complex
June 2020, Siemens Digital Industries , News
Siemens and Bentley Systems will develop the first petrochemical digital twin in Indonesia for Chandra Asri, the country's largest integrated petrochemical complex. With over 27 year footprint, the latter 
...
Read more...
---
Hitachi ABB Power Grids commences operations
June 2020, ABB South Africa , News
In accordance with the agreement signed on 17 December 2018, Hitachi and ABB have announced the completion of all required procedures as planned and the formation of Hitachi ABB Power Grids Ltd. on 1 
...
Read more...
---
Zest grows Africa base with local partners
June 2020, Zest WEG Group , News
"The key to sustainable growth in Africa is partnering with locally owned companies which have proven track records, are technically sound, have strong market knowledge and a business culture aligned 
...
Read more...
---