printer friendly version
From the Editor's desk: Data centre power consumption set to triple
September 2018
News
The Internet has become an indispensable part of modern society but we have created a monster, and it's getting bigger every day. The world's data centres – those global stores for the estimated 1200 petabytes (1,2 million terabytes) of data currently held online – consumed just over 416 terawatts of power last year. Put into perspective, this is close to 40% more than it took to power the entire United Kingdom, or about 3% of global energy supply. By extrapolation, it means data centres are also currently responsible for about 3% of global greenhouse gas emissions.
If those figures made your head spin, the future will quite simply horrify you. According to British data centre expert, Professor Ian Bitterlin of the University of Leeds, trends show that the demand for energy by data centres is set to double every four years. In other words, by the end of the next decade data centres will consume triple the amount of power they do today. The carbon footprint associated with the industry will of course also rise by a proportional amount.
In fact, Bitterlin goes as far as to suggest that this level of data centre growth will not be sustainable beyond the next 15 years, unless we find better ways of doing things. By 2030, Japan's data centres, for instance, will consume its entire electricity supply based on today's growth rates. The issue gets even thornier when one considers that with the Internet of Things, artificial intelligence and blockchain all in their infancy, these projections for data storage and computing requirements might be on the conservative side.
Orthodox technology advances probably not enough
While we can certainly expect to see rapid advances in clean energy generation and computer efficiency over the next 10 years, experts are not sure these will be sufficient. On the energy side, DC power distribution systems are becoming technically viable as a more efficient alternative to their AC counterparts. When one considers that the electricity produced by solar panels is DC to start with, the creation of HV or MV DC distribution infrastructure makes economic sense. Among others, both ABB and GE are investing in these areas. Another plus for DC is that advances in battery efficiency are sure to accelerate as the demand for electric vehicles increases, much as what happened in the cellular phone market.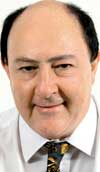 If only it were that simple. What complicates the situation though is that a large portion of the power consumed by data centres is used to keep the electronics cool. Since this is mostly achieved through cooling fans driven by large AC motors, much of the benefit of DC grid efficiency will be lost in the conversion back to AC. Given the speed at which this problem is unfolding, together with the longish timescales associated with power distribution projects, it seems likely that a green energy solution is not practical without significantly more investment in renewable infrastructure.
This leaves two obvious alternatives: regulation (maybe some kind of a tax on data usage?) or a disruptive innovation that will change computer technology as we know it. Personally I'm hoping for the latter because the prospect of 'yet another tax' is far too annoying to contemplate.
When and where a game-changing breakthrough in the way we build our computers will come from is anybody's guess. One possible candidate is quantum computing. Even though these devices need to be cooled to within a fraction of absolute zero, a power hungry business itself, the computer engine then only requires an extra fraction of a watt for operation. The benefit, as demonstrated experimentally in Google's AI laboratory, is that the power drawn by the refrigeration/computer combination hardly changes when computing capability is scaled up. This means that after the initial power budget is met, total consumption remains constant for the generations of more powerful computers to follow. So, if the scientists can develop a viable prototype in the next few years, and if one of the large computer manufacturers can find a way to commercialise it in time, we may yet navigate our way through this mess. Nick Denbow writes more about DC power distribution and the Internet power conundrum in his report from Europe in 'Nick Denbow's European report: DC power distribution is efficient but the Internet is greedy.'
Steven Meyer
Editor: SA Instrumentation & Control
Credit(s)
Further reading:
Emerson publishes 2019 Social Responsibility Report
July 2020, Emerson Automation Solutions , News
Emerson combines industry-leading technology and innovation to make a positive impact on employees, customers and communities around the world.
Read more...
---
FIRST Lego League goes from strength to strength
July 2020 , News
FIRST (for inspiration and recognition of science and technology) is an international organisation that aims to generate an interest in mathematics, science and technology through the use of robotics 
...
Read more...
---
Aguru announces successful Safe-Trace Contact Tracing trial at Adcock Ingram Critical Care
July 2020 , News
Aguru Business Solutions (Aguru), a company specialising in automation and digital transformation advisory and project management services, has successfully completed a Proof of Concept (PoC) trial of 
...
Read more...
---
From the editor's desk: Coronavirus pulls the trigger on digital transformation
July 2020, Technews Publishing (SA Instrumentation & Control) , News
The general consensus among economists is that the disruption to global markets caused by the coronavirus pandemic is going to result in economic upheaval of proportions not seen since the disastrous 
...
Read more...
---
Siemens South Africa joins forces with the National Ventilator project community in response to the COVID-19 pandemic
June 2020, Siemens Digital Industries , News
Siemens has been a long-standing partner of the Council for Scientific and Industrial Research (CSIR) in South Africa and have cooperated in various field of research, including manufacturing and mining. 
...
Read more...
---
Endress+Hauser Switzerland turns 60
June 2020, Endress+Hauser South Africa , News
The Swiss sales centre of Endress+Hauser is celebrating its 60th anniversary. Active in Switzerland since 1960, today the global leader in measurement instrumentation, services and solutions for industrial 
...
Read more...
---
How investing in a niche market placed Yokogawa aboard the International Space Station
June 2020, Yokogawa South Africa , News
While the world was abuzz with excitement over the revival of U.S. manned spaceflight, another equally promising space endeavour flew under the radar. On 20 May, the H-II Transfer Vehicle (HTV-9), affectionately 
...
Read more...
---
Siemens and Bentley Systems build digital twin for Indonesian petrochemical complex
June 2020, Siemens Digital Industries , News
Siemens and Bentley Systems will develop the first petrochemical digital twin in Indonesia for Chandra Asri, the country's largest integrated petrochemical complex. With over 27 year footprint, the latter 
...
Read more...
---
Hitachi ABB Power Grids commences operations
June 2020, ABB South Africa , News
In accordance with the agreement signed on 17 December 2018, Hitachi and ABB have announced the completion of all required procedures as planned and the formation of Hitachi ABB Power Grids Ltd. on 1 
...
Read more...
---
Zest grows Africa base with local partners
June 2020, Zest WEG Group , News
"The key to sustainable growth in Africa is partnering with locally owned companies which have proven track records, are technically sound, have strong market knowledge and a business culture aligned 
...
Read more...
---