printer friendly version
Environmentally friendly fire suppression solutions
May 2014
News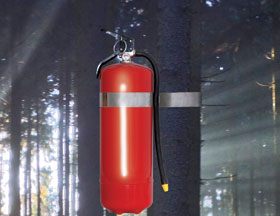 A recent news report by Sky News commented that the impact of climate change is likely irreversible. The comments came following a report commissioned by governments of 195 countries. The report forms part of the second chapter of the 5th assessment by the IPC, set up in 1988, to provide neutral and scientifically based guidance to governments. The last overview was published in 2007 and strived, but failed, to forge a worldwide treaty on climate change in Copenhagen in 2009.
It seems governments have a different outlook this time around
The problem is engineers and designers need to provide fire protection for hazards such as computer rooms, sub-floors, tape storage, telecommunications/switchgear, vaults, process equipment and all normally occupied or unoccupied electronic areas where equipment is either very sensitive or irreplaceable. The fire protection needs to increase reliability while reducing the overall environmental impact. While many might consider water the logical choice this particular solution presents a number of issues when used with electrically powered equipment.
Gaseous fire protection systems and the like tend to be the best possible route to protect these types of applications. However, many of the gases used in these systems on the market as well as fire protection fluids are halon replacements and, while currently allowed, are starting to come under scrutiny. With the release of this latest report chances are their future viability will be questioned and no doubt, regulations will likely become tighter.
So where does that leave users? The likelihood is suppliers will begin to offer all sorts of deals and promises in an attempt to move as much product as possible before they are banned.
How to avoid the trap
There is an easy solution to this conundrum, one that promises lifetime protection against regulatory bans. The solution is a mixture of two inert (oxygen diluting) gases: 50% nitrogen and 50% argon known as Pyroshield. As the Pyroshield agent is derived from gases present in the earth's atmosphere, it exhibits no ozone depleting potential, does not contribute to global warming, nor does it contribute unique chemical species with extended atmospheric lifetimes. The Pyroshield agent is composed of atmospheric gases; it does not pose the problems of toxicity associated with the chemically derived halon alternative agents. It is the number one choice in protecting high value assets. Pyroshield's production meets all the criteria set out in the Montreal and Kyoto protocols, thus it will never be phased out, unlike the halogenic gases.
Pyroshield gas extinguishes fire by lowering the oxygen content below the level that supports combustion. When the Pyroshield agent is discharged into a room, it introduces the proper mixture of gases that still allow a person to breathe in a reduced oxygen atmosphere. The normal atmosphere in a room contains 21% oxygen. If the oxygen content is reduced below 15%, most ordinary combustibles will cease to burn. Pyroshield will reduce the oxygen content to approximately 12,5%.
Alien Systems & Technologies manufactures the Pyroshield fire suppression system
This is an engineered system utilising a fixed nozzle agent distribution network. The Pyroshield system is SABS approved and was also the winner of the 2003 SABS Design Institute Award for Engineering. The system is designed and installed in accordance with the National Fire Protection Association (NFPA) Standard 2001, 'Clean Agent Fire Extinguishing Systems'.
When properly designed, the Pyroshield system will extinguish surface burning fire in Class A, B and C hazards. The system can be actuated by detection and control equipment for automatic system operation along with providing local and remote manual operation as needed. Accessories are used to provide alarms, ventilation control, door closures, or other auxiliary shutdown or functions.
The system is particularly useful for suppressing fires in hazards where an electrically non-conductive medium is essential or desirable; where clean-up of other agents present a problem; or where the hazard is normally occupied and requires a non-toxic agent.
For more information contact Samantha Wright, Alien Systems & Technologies, +27 (0)11 949 1157, sam@astafrica.com, www.astafrica.com
Credit(s)
Further reading:
From the editor's desk: Is additive manufacturing poised to go mainstream?
March 2021, Technews Publishing (SA Instrumentation & Control) , News
As digital manufacturing technology pushes its way further towards the production floor, additive manufacturing (3D printing) is emerging as a viable option to complement the more traditional methods 
...
Read more...
---
Africa Automation Technology Fair 2023 moves to Johannesburg Expo Centre
October 2021, Reed Exhibitions , News
The well-established infrastructure, versatility and the extensive experience of the Johannesburg Expo Centre staff make the venue the perfect new home for AATF.
Read more...
---
Parker Hannifin announces new two-day online oil and gas event
October 2021, Parker Hannifin - Sales Company South Africa , News
Parker Hannifin has announced that it will hold an online trade show dedicated to the oil and gas industry, on 6 and 7 October.
Read more...
---
Pepperl+Fuchs acquires Aava Mobile Oy
October 2021, Pepperl+Fuchs , News
On 2 September, Pepperl+Fuchs strengthened its Mobile Computing and Communication business unit through the acquisition of Aava Mobile Oy.
Read more...
---
Demystify plant modernisation
October 2021, Nidec Control Techniques , News
It is now well understood that technology can offer businesses the cutting edge, putting them ahead of their competitors thanks to increased efficiency.
Read more...
---
ABB and Stäubli to develop solutions for electric mines
October 2021, ABB South Africa , News
Global industrial electrical connectors providers Stäubli and ABB to explore technologies to support the decarbonisation of mining operations.
Read more...
---
Exacting industrial gearbox requirements met for DRC mine
October 2021 , News
When a project for a copper mine in the DRC required 55 conveyor drive packages and 25 spare industrial gear units, the mine turned to SEW-EURODRIVE to meet its highly demanding needs.
Read more...
---
Rockwell Automation launches TechEd Tuesdays
October 2021, Rockwell Automation , News
Connected training using a ground-breaking interactive platform will enable IT professionals to prepare for the future of smart manufacturing.
Read more...
---
ABB opens Digital Solutions Centre in Johannesburg
October 2021, ABB South Africa , News
ABB recently unveiled its new South African Digital Solutions Centre, which aims to help companies overcome their most pressing technology and digitalisation challenges.
Read more...
---
Structural reforms required to encourage investment
October 2021, SEW-Eurodrive , News
South Africa requires creative and innovative solutions to put the economy back on a sustainable financial path.
Read more...
---