printer friendly version
Metso controlling the cooling for DESY
August 2013
Valves, Actuators & Pump Control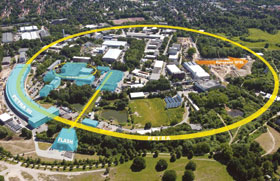 The research centre DESY is one of the world's leading accelerator centres and is renowned for researching, developing, building and operating particle accelerators. For a long time the HERA ring accelerator was the institute's flagship project. Its successors are the European XFEL and FLASH. For these two accelerators, DESY had to refurbish and modernise the entire cooling system. Metso was commissioned as the general contractor for the complete rebuild of the valve controllers and the air pressure supply of the cooling system.
Now intelligent Neles ND9000 valve controllers regulate all field devices and the Metso FieldCare software optimises online monitoring of all functions. With this state-of-the-art technology DESY achieves the extremely high levels of plant safety and availability that are essential for operating accelerators of this type.
The focus at DESY has shifted from particle physics towards research with photons. It is working on a new project: the European X-Ray Free-Electron Laser XFEL is a 3,5 kilometre long accelerator for experiments with X-ray laser light. "In order to run this plant, we need a refrigeration system that works with liquid helium," says engineer Torsten Böckmann. He is a member of the machine, cryogenics and superconductivity group and is in charge of instrumentation and sensor technology.
Thousands of experiments necessitate extremely high availability
In future the refrigeration plant will serve the superconducting linear accelerator FLASH (Free-Electron Laser Hamburg), whose numerous tasks include serving as a test system for the future European XFEL (X-Ray Free Electron Laser) one of the most powerful sources of X-radiation worldwide. While DESY operates those plants, institutes from all over the world use them for their experiments. Böckmann knows the problems arising from the strong demand only too well. "Thousands of scientists register their experiments and book time slots for measurements. These slots are planned so strictly and tightly that measurements could not be completed in cases of system faults or, worse, failure. Therefore we rely on extremely high levels of availability."
The refrigeration plant consists of low and high-pressure compressors, cleaner, line drier, oil removal system and cold box. "The modernised plant is designed to cool helium down to 2 Kelvin, so that we attain super-fluid helium 2, whose excellent thermal conductivity is required for the experiments," explains Böckmann. "We have chosen Metso as our partner for carrying out the necessary modifications. Metso was responsible for refurbishing the entire air supply system and replacing the valve controllers."
Metso as general contractor for modernising the plant
As general contractor, Metso in turn commissioned a sub-contractor to construct the new air supply system and installed approximately 150 intelligent valve controllers from the Neles ND9000 series on the valves of the refrigeration plant. Even though the linear and rotary valves have been in operation since the construction of the plant around 20 years ago, they are subjected to very little wear and tear since they are used with a gaseous element, there is little vibration and the site is very clean. "These are ideal operating conditions for valves, but with the system having been in operation for such a long time already, we need a monitoring facility to ensure high plant availability," says Böckmann. "With the valve controllers we can monitor the valves and identify and resolve potential problems at an early stage."
This is made possible by the ND9000's adaptive control algorithm, which adapts automatically to changing operating conditions and therefore guarantees optimal control performance, independent of external influences. In addition, all changes regarding device performance and device status are displayed and recorded online. Furthermore, fast response times, excellent dynamic control performance because of very high air capacity as well as high-precision static control performance reduce process variability significantly.
Metso FieldCare software monitors field devices
A further logical step by DESY was the decision to use the device and asset management software Metso FieldCare to monitor all data from the approximately 150 Neles ND9000 in use at the plant. Böckmann calls this combination of intelligent valve controllers and automatic online monitoring system, "A reliable, future-proof investment, especially since we no longer have redundancy built into the system. The system is well designed and we can perform a lot of tasks intuitively. We use this software as a bridge for importing the data from the valve controllers into our own control system. We use this basic system in combination with our own Java-based graphic interface, which enables us to visualise all aspects of the control process.''
All measurements are stored as trends, so that the respective diagnostic parameters can later be traced back across the entire operational period and the data can be used for very precise forecasts. Thus Metso FieldCare supports condition oriented maintenance: based on the data collection, DESY can devise a precise maintenance schedule, which also allows for sufficient time to source spare parts.
"The biggest advantage is that we can operate the refrigeration plant 24/7 throughout the year without failures," says Böckmann. "We are also able to identify and resolve potential problems in advance, so that we will not suffer any system downtime. For the future we envisage an operatorless plant and the use of Metso FieldCare not only for the refrigeration, but also for the European XFEL accelerator directly."
Credit(s)
Further reading:
Schubert & Salzer controls paper grammage precisely
October 2019, Macsteel Fluid Control , Valves, Actuators & Pump Control
The Grünewald paper company, headquartered in Austria, recently modernised its process control to improve profitability. Thanks to a new control system and a grammage-weight control valve, the company's 
...
Read more...
---
Valve technology for tyre presses
September 2019, Macsteel Fluid Control , Valves, Actuators & Pump Control
Production plants for tyres place extremely high demands on valves. Tyre curing presses work at high pressures of steam, water, and nitrogen, as well as at high temperatures. In addition, the very short 
...
Read more...
---
Stafsjö valves protect installations
September 2019, Valve & Automation , Valves, Actuators & Pump Control
When it comes to industrial fire protection systems, reliability is essential. The system, which is often on constant standby for long periods, should be able to respond immediately and extinguish possible 
...
Read more...
---
Innovation embedded in Metso's DNA
August 2019, Metso South Africa , Valves, Actuators & Pump Control
Apart from the role in technology development, digitalisation is one of Metso's key enablers to serve its customers better.
Read more...
---
Valves for molten sulphur or sulphur tail gas applications
August 2019, Valve & Automation , Valves, Actuators & Pump Control
Design engineers at Zwick have solved the ongoing problems experienced with valves on sulphur units. Typical valve problems on large bore line sizes range from seizing of the packing to severe seat damage 
...
Read more...
---
ARCA anti-surge control valves in operation
August 2019, Valve & Automation , Valves, Actuators & Pump Control
Arca supplies its extensive range of valves to nearly all types of industries, but an important part of the product range are valves for turbines and turbo compressors, especially anti-surge control valves. 
...
Read more...
---
Biffi Italia electric actuator launched
August 2019, Emerson Automation Solutions , Valves, Actuators & Pump Control
Biffi Italia, a leading manufacturer of high-performance and reliable valve actuation systems, has introduced the new Icon3000 electric actuator: a smart, powerful multi-turn actuator that offers improved 
...
Read more...
---
New manifold valve design for pressure transmitters
July 2019, Emerson Automation Solutions , Valves, Actuators & Pump Control
Emerson has introduced a new manifold product family for its Rosemount pressure transmitters. Manifolds shut off or equalise pressure at the transmitter and also provide the critical mounting mechanisms 
...
Read more...
---
Double-acting pneumatic cylinder
July 2019, Valve & Automation , Valves, Actuators & Pump Control
Stafsjö's standard double-acting type SC pneumatic cylinder is manufactured by Ebro Armaturen. It has a solid construction and is designed for tough knife gate applications from 100 up to 320 mm bore 
...
Read more...
---
Schubert & Salzer in control at PVS
May 2019, Macsteel Fluid Control , Valves, Actuators & Pump Control
Belgium-based PVS Chemicals produces extremely pure chemicals for use in the semiconductor industry. One of the company's outstanding innovations is the production of ultra-pure sulphuric acid. As the 
...
Read more...
---