printer friendly version
Abacus monitors remote sites
July 2016
System Integration & Control Systems Design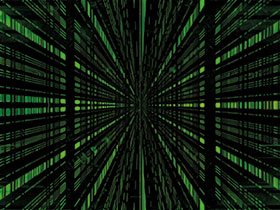 Abacus Automation was approached by a natural gas supplier to provide a solution that would allow remote monitoring of end customer sites. Prior to the implementation of this solution, the customer relied on telephonic information to decide how to coordinate gas delivery. Issues ranged from no feedback after working hours, to incorrect feedback due to human error. Abacus' solution therefore needed to accommodate three critical requirements.
Firstly, multiple users situated at different points in the country simultaneously querying the system for information; secondly, strict end-user segregation, preventing other end-users viewing data that does not concern them; and finally, reliable transfer of data from end-user sites to the supplier.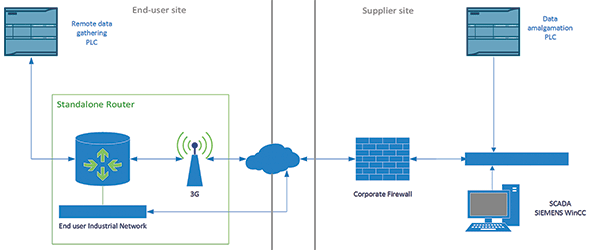 The Siemens Simatic automation components were chosen as the framework of the solution. "While certain Siemens PLCs can present process data using a built-in web server, the development of multiple web pages for a complex process can sometimes be cumbersome and is limited in certain aspects. Siemens scada products become the more robust solution to this by providing a web-based interface in parallel to a regular scada interface. This aids in development, cutting down on time required as well as duplicate configuration. The solution also leverages the tried and trusted Internet Information Services built in to Windows to provide a reliable software framework for the web interface," says Abacus' Dhiren Naidoo.
Being HTML5-based, the generated web pages also scale well between smartphones and PCs. Siemens scada also provides easy segregation of information and security management by authenticating users when presenting the web page equivalents. This solved most of the data presentation requirements for the customer. Ultimately, this means that the end user does not require specialised hardware or software, embracing the 'Bring Your Own Device' paradigm with minimum development effort on Abacus' part as the system integrators.
The remaining challenge was to gather data at more than one end-user site and display this information on the Siemens scada. Siemens communication protocols proved robust enough to work over routed networks and were therefore chosen to maintain regular data transmission from end-user sites to the customer's main facility.
The initial proposal for the solution placed the responsibility for the physical data links on the customer's IT provider. While this was the ideal arrangement, complications later arose that allowed Abacus to provide a connectivity solution as well.
After the proper security precautions were taken, data links were set up between the customer's premises and the end-user sites using popular, lightweight routing hardware via ADSL with 3G failover. It also provided access to the web server at the customer premises, for those with the appropriate credentials. For security reasons, in this implementation, no control is allowed via the web interface despite the solution being perfectly capable of providing this functionality.
"Although Abacus rose perfectly to the challenge of providing a connectivity solution for the customer, it is recommended that the data link is handled by a company that provides connectivity as a service. This is beneficial to both the systems integrator and customer in that their data link is guaranteed to a measured metric, be it up-time or bandwidth," concludes Naidoo.
For more information contact Nico Erasmus, Abacus Automation, +27 (0)31 702 5767, nico@abacus-automation.co.za, www.abacus-automation.co.za
Credit(s)
Further reading:
SCiBOTRON's quality culture the key to success
May 2020 , System Integration & Control Systems Design
The company was founded on lean principles and quickly grew into a QSE (Qualifying Small Enterprise). Ricardo Paddy, managing director and founding member, attributes one of the reasons for the company's 
...
Read more...
---
Smart traffic management for Syntell
April 2021 , System Integration & Control Systems Design
Syntell is a leading South African technology company. One of its key projects is the running and management of one third of Johannesburg's traffic lights. Syntell's system is a full traffic management 
...
Read more...
---
Managing thermal functions with heat exchangers
February 2021, Danfoss , System Integration & Control Systems Design
The various heat exchanger options typically have different operating requirements, as well as preferable refrigerants per application.
Read more...
---
Compressed air savings in egg carton production
February 2021, Beckhoff Automation , System Integration & Control Systems Design
Using open PC and EtherCAT-based automation technology, iZ Systems developed a compact standard controller that enables remote monitoring and optimisation of compressed air systems.
Read more...
---
Update for uniVision software
February 2021, ASSTech Process Electronics + Instrumentation , System Integration & Control Systems Design
Wengor has added another version update for the uniVision configurable standard software for two- and three-dimensional image processing.
Read more...
---
Sustainability in practice at Omron
January 2021, Omron Electronics , System Integration & Control Systems Design
Today, sustainability is no longer a niche topic, but something that companies are integrating into their business strategies on a daily basis. Not only are sustainability practices necessary to answer 
...
Read more...
---
Portion cutter for fish and poultry
November 2020, Beckhoff Automation , System Integration & Control Systems Design
Extremely fast and highly precise meat portion cutter leverages PC control.
Read more...
---
Five factors influencing the choice of industrial control hardware
January 2021, RJ Connect , System Integration & Control Systems Design
Since industrial control systems are a major investment, system integrators are well advised to consider the following five factors during the equipment selection phase of a project.
Read more...
---
Pepperl+Fuchs: entering the digital age
January 2021, Pepperl+Fuchs , System Integration & Control Systems Design
In today's digital world, data should be as readily available as electricity from the socket.
Read more...
---
Safe and reliable steel production
January 2021, Endress+Hauser South Africa , System Integration & Control Systems Design
Improve the safety of your steel production with Endress+Hauser's dependable measurement and software solutions.
Read more...
---