Abacus monitors remote sites
July 2016
System Integration & Control Systems Design

printer friendly version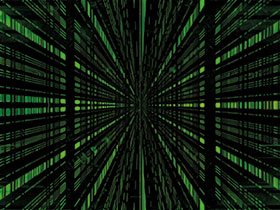 Abacus Automation was approached by a natural gas supplier to provide a solution that would allow remote monitoring of end customer sites. Prior to the implementation of this solution, the customer relied on telephonic information to decide how to coordinate gas delivery. Issues ranged from no feedback after working hours, to incorrect feedback due to human error. Abacus' solution therefore needed to accommodate three critical requirements.
Firstly, multiple users situated at different points in the country simultaneously querying the system for information; secondly, strict end-user segregation, preventing other end-users viewing data that does not concern them; and finally, reliable transfer of data from end-user sites to the supplier.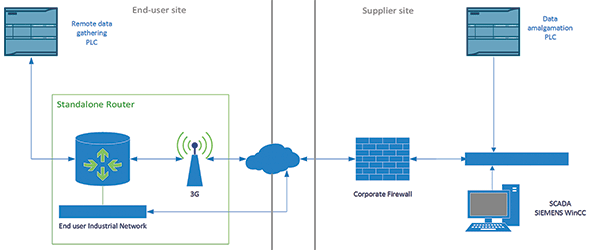 The Siemens Simatic automation components were chosen as the framework of the solution. "While certain Siemens PLCs can present process data using a built-in web server, the development of multiple web pages for a complex process can sometimes be cumbersome and is limited in certain aspects. Siemens scada products become the more robust solution to this by providing a web-based interface in parallel to a regular scada interface. This aids in development, cutting down on time required as well as duplicate configuration. The solution also leverages the tried and trusted Internet Information Services built in to Windows to provide a reliable software framework for the web interface," says Abacus' Dhiren Naidoo.
Being HTML5-based, the generated web pages also scale well between smartphones and PCs. Siemens scada also provides easy segregation of information and security management by authenticating users when presenting the web page equivalents. This solved most of the data presentation requirements for the customer. Ultimately, this means that the end user does not require specialised hardware or software, embracing the 'Bring Your Own Device' paradigm with minimum development effort on Abacus' part as the system integrators.
The remaining challenge was to gather data at more than one end-user site and display this information on the Siemens scada. Siemens communication protocols proved robust enough to work over routed networks and were therefore chosen to maintain regular data transmission from end-user sites to the customer's main facility.
The initial proposal for the solution placed the responsibility for the physical data links on the customer's IT provider. While this was the ideal arrangement, complications later arose that allowed Abacus to provide a connectivity solution as well.
After the proper security precautions were taken, data links were set up between the customer's premises and the end-user sites using popular, lightweight routing hardware via ADSL with 3G failover. It also provided access to the web server at the customer premises, for those with the appropriate credentials. For security reasons, in this implementation, no control is allowed via the web interface despite the solution being perfectly capable of providing this functionality.
"Although Abacus rose perfectly to the challenge of providing a connectivity solution for the customer, it is recommended that the data link is handled by a company that provides connectivity as a service. This is beneficial to both the systems integrator and customer in that their data link is guaranteed to a measured metric, be it up-time or bandwidth," concludes Naidoo.
For more information contact Nico Erasmus, Abacus Automation, +27 (0)31 702 5767, nico@abacus-automation.co.za, www.abacus-automation.co.za
Credit(s)
Further reading:
Rockwell Automation upgrades control at Mozal Aluminium
February 2019, Rockwell Automation , System Integration & Control Systems Design
Rockwell Automation has migrated the control systems at Mozal Aluminium's furnace assembly and ladle cleaning shop to its modern DCS based on the PlantPAx design standard.
Read more...
---
EtherCAT measurement modules extended
February 2019, Beckhoff Automation , System Integration & Control Systems Design
System-integrated precision measurement technology for efficient machines and test benches.
Read more...
---
KVM Tech focuses on product excellence and superior support
January 2019 , System Integration & Control Systems Design
The intellectual property of KVM Tech was acquired by Alwyn Rautenbach in 2010 and a short while later current MD, Reghardt Rautenbach, joined the company. The intervening years have seen the company 
...
Read more...
---
Integrated control solution for car heater manufacturing
January 2019, Beckhoff Automation , System Integration & Control Systems Design
TwinCAT CNC automates dispensing system used in the automotive industry.
Read more...
---
Black Rock Mine Operations
January 2019, IS³ - Industry Software, Solutions & Support , System Integration & Control Systems Design
Performance excellence through enhanced decision making and real-time management in a ­centralised control environment.
Read more...
---
Ultrasonic sensors for the OEM business
January 2019, Turck Banner , System Integration & Control Systems Design
Turck has expanded its ultrasonic sensor family with the introduction of the RU50 Eco series for price-sensitive OEM projects. The company was able to develop an ultrasonic sensor based on the latest 
...
Read more...
---
Pre-assembled panel systems for pumping applications
January 2019, ElectroMechanica , System Integration & Control Systems Design
A complete range of robust pre-assembled irrigation and solar pump panel systems are available from ElectroMechanica (EM) for a wide range of pumping applications. "These solutions are designed not only 
...
Read more...
---
PSY extends its offerings
December 2018, PSY International , System Integration & Control Systems Design
PSY International, a recognised systems integrator for a number of well-known international brands, was recently appointed as an integrator for AC/DC. Paul Young, a director of PSY International, explains 
...
Read more...
---
Craft breweries benefit from digitalisation with modular Siemens automation
December 2018, Siemens Digital Factory & Process Indust. & Drives , System Integration & Control Systems Design
Deutsche Beverage Technology (Deutsche Beverage) supplies turnkey engineering solutions for breweries, with its main customer base in the high-growth craft beer sector.
Read more...
---
PC-based control simplifies building revitalisation
December 2018, Beckhoff Automation , System Integration & Control Systems Design
PC-based building automation from Beckhoff is characterised by its openness, reliability, ease of use and long-term product availability. In the revitalisation of the Eurotheum high-rise building in Frankfurt, 
...
Read more...
---