printer friendly version
Eichbaum Brewery optimises steam production
August 2012
Valves, Actuators & Pump Control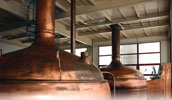 When traditional valves with a metal seat are used to shut off and restrict steam, they are highly susceptible to scoring. Inevitably this leads to costly and even dangerous leakages of steam.
This was one of the reasons why the Eichbaum Brewery, one of the largest and most productive breweries in Baden-Wüürttemberg, has placed its faith in sliding gate valves in modernisation measures undertaken since 2007. This has involved progressively replacing its defective globe-type valves, used up to that time, with sliding gate valves, since the latter valves provide a seal without a metal seat and therefore offer significant advantages – not just in steam systems.
Even less wear with a short stroke
In the sliding gate valve principle, with surface seal between the plates in the throttling element, the pressure of the medium against the movable valve plate boosts the sealing function of the valve. This operating principle also provides for a self-lapping action by the movable valve plate. The result of this is that the surface sealing system is significantly less susceptible than a conventional ring seal in a globe-type valve. As a result, leakage rates of less than 0.0001% of the Kvs value are achieved.
In addition to a highly effective permanent seal, the sliding gate valve offers a further benefit inherent in its system which affects its effective working life. The control stroke of the sliding gate valve is a mere 8 mm at most. This short stroke results not only in short operating paths and times, but also significantly reduces the stresses on both the packing as well as on any actuator operating it. In a sliding gate valve, both are subject to much lower loads which is reflected in substantially longer working lives for both.

No problems at all in exchanges
A sliding gate valve is extremely narrow in construction and fits easily between two flanges. A DN 150 sliding gate valve (including actuator) weighs only 14,2 kg, so that it can be fitted and removed by a single person, and, therefore, can also be maintained. The compact construction and therefore the significantly smaller amount of space required for the sliding gate valve were key decision criteria for Eichbaum in placing their reliance on these valves for the mash house and the filter cellar. Thus, this ease of handling the sliding gate valve was a decisive and cost-reducing benefit not only for installation but also for maintenance.
When any conventional valve requires maintenance, the complete valve body has to be dismantled to gain access to the seating elements. This is not the case with the sliding gate valve. In the standard version, after removing the valve, a single screw is unscrewed to access the operating unit, which can then be pressed out and exchanged.
In contrast to the traditional globe-type valve, since its throttling elements are designed to be perpendicular to the flow, the sliding gate valve needs barely a tenth of the force for positioning and closing. The comparatively low force requirement not only means significantly lower energy consumption, but also provides for smaller valves and smaller valve actuators – which is therefore clearly evident in volume and weight.
The Eichbaum Brewery is now using type 8021 sliding gate valves in sizes DN 80 to DN 200 in its main steam supply circuit. The DN 200 versions are used, for example, to control the amount of pressure up to 16 bar differential pressure at the boiler, serving as fast acting shut-off valves as a safety measure in power failures, or, in traditional fashion, to control the amount of steam pressure.
Variable Kvs values for a secure future
It is a simple matter in a sliding gate valve to manipulate both the characteristic curve of the valve as well as the flow factors (Kvs value) in almost any manner. As a result, the sliding gate valve can be adapted easily to widely differing flow volumes.
All that is needed is an appropriate form of the slit profile in the sliding plates adapted to almost any conceivable shape. In this way, it is possible, for instance, to produce equal-percentage characteristics (exponential). The basic characteristic curve, where the slits in the valve plates are straight (long holes), shows that the valve characteristics are similar to the valve characteristics of rotary plug valves, which can be designated as 'modified linear'.
Kvs value reductions within a nominal size are also simple to achieve by reducing the open slit areas. As a consequence, just by exchanging the operating element, the Kvs value can be modified at any time retroactively (Kvs values from 0.04 to 910 can be attained in all nominal sizes). This means that the Eichbaum Brewery can react flexibly and without incurring high investment costs to changes in the quantities of steam required.
Sliding gate valves are produced in sizes DN 15 to DN 250 for pressures up to PN 100 and median temperatures from -200 to 530°C. The wide range of materials and different positioners offer applications in the chemical, textile and pharmaceutical industries, steel works and many other sectors.
For more information contact Rowan Blomquist, Macsteel Fluid Control, +27 (0)31 581 7803, rowan.blomquist@macfluid.co.za, www.macsteel.co.za
Credit(s)
Further reading:
Process to instrument valves
November 2019, Parker Hannifin Sales Company South , Valves, Actuators & Pump Control
Parker highlights the leak elimination benefits of close-coupled instrumentation.
Read more...
---
Schubert & Salzer controls paper grammage precisely
October 2019, Macsteel Fluid Control , Valves, Actuators & Pump Control
The Grünewald paper company, headquartered in Austria, recently modernised its process control to improve profitability. Thanks to a new control system and a grammage-weight control valve, the company's 
...
Read more...
---
Valve technology for tyre presses
September 2019, Macsteel Fluid Control , Valves, Actuators & Pump Control
Production plants for tyres place extremely high demands on valves. Tyre curing presses work at high pressures of steam, water, and nitrogen, as well as at high temperatures. In addition, the very short 
...
Read more...
---
Stafsjö valves protect installations
September 2019, Valve & Automation , Valves, Actuators & Pump Control
When it comes to industrial fire protection systems, reliability is essential. The system, which is often on constant standby for long periods, should be able to respond immediately and extinguish possible 
...
Read more...
---
Innovation embedded in Metso's DNA
August 2019, Metso South Africa , Valves, Actuators & Pump Control
Apart from the role in technology development, digitalisation is one of Metso's key enablers to serve its customers better.
Read more...
---
Valves for molten sulphur or sulphur tail gas applications
August 2019, Valve & Automation , Valves, Actuators & Pump Control
Design engineers at Zwick have solved the ongoing problems experienced with valves on sulphur units. Typical valve problems on large bore line sizes range from seizing of the packing to severe seat damage 
...
Read more...
---
ARCA anti-surge control valves in operation
August 2019, Valve & Automation , Valves, Actuators & Pump Control
Arca supplies its extensive range of valves to nearly all types of industries, but an important part of the product range are valves for turbines and turbo compressors, especially anti-surge control valves. 
...
Read more...
---
Biffi Italia electric actuator launched
August 2019, Emerson Automation Solutions , Valves, Actuators & Pump Control
Biffi Italia, a leading manufacturer of high-performance and reliable valve actuation systems, has introduced the new Icon3000 electric actuator: a smart, powerful multi-turn actuator that offers improved 
...
Read more...
---
New manifold valve design for pressure transmitters
July 2019, Emerson Automation Solutions , Valves, Actuators & Pump Control
Emerson has introduced a new manifold product family for its Rosemount pressure transmitters. Manifolds shut off or equalise pressure at the transmitter and also provide the critical mounting mechanisms 
...
Read more...
---
Double-acting pneumatic cylinder
July 2019, Valve & Automation , Valves, Actuators & Pump Control
Stafsjö's standard double-acting type SC pneumatic cylinder is manufactured by Ebro Armaturen. It has a solid construction and is designed for tough knife gate applications from 100 up to 320 mm bore 
...
Read more...
---