printer friendly version
An holistic approach to energy management
July 2012
Electrical Power & Protection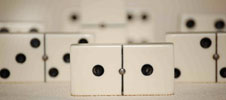 Manufacturers face the long-term prospect of rising energy costs combined with volatile energy pricing. One approach to meeting this challenge is to 'desensitise' production operations from both the volatility in energy pricing and incurred surcharges. Manufacturers often attempt to address this by selecting higher efficiency electrical systems. However, in itself, electrical energy consumption is an insufficient metric. Manufacturers must also factor productivity improvements into the overall energy cost analysis to make the optimal choices in production equipment.
The goal is to identify the capital equipment expenditures that will minimise overall facility energy costs. Manufacturers need to determine whether equipment retrofits or new capital equipment expenditures are the optimal choice when trying to insulate the business from the volatility in energy pricing. This decision requires an holistic view of energy costs that also looks at the upstream and downstream processes that can be incorporated in new capital equipment. Equally important, are the productivity improvements that would enable manufacturers to determine the ROI of the investment.
A session at ARC Advisory Group's World Industry Forum in Orlando, Florida last February, featured speakers from leading machine builders and manufacturers that are deploying holistic strategies aimed at reducing energy consumption in their operations.
Some of these initiatives target specific objectives. For example, some organisations are responding to government mandates for minimum energy efficiency performance such as use of IE3/IE4 class energy-efficient motors, which largely apply to applications dominated by induction motors such as used on conveyors, pumps, and mixers. These case analyses demonstrate that some industrial organisations have looked beyond the isolated piece of machinery and now apply a holistic approach, which evaluates the potential energy savings in the upstream and downstream processes affected by investments in capital equipment.
Justifying permanent magnet motors using ROI analysis
Larry Trunek, manager of Manufacturing Systems at Millers/Coors, presented his justification for investing in permanent magnet motor (PMM) technology as a substitute to the standard induction motor. The higher cost of PMMs has inhibited adoption of these motors in the majority of the manufacturing and machinery applications. This is because most organisations tend to look only at the initial cost of the capital equipment.
Miller/Coors uses an alternative approach in which it subjects the capital equipment expenditure to an ROI analysis prior to making the investment. Using ROI, the company could justify using energy-efficient PMM solutions in applications such as packaging lines, bottling lines and material handling conveyance. Rather than limiting this analysis to new equipment purchases, the company is also evaluating its installed base of induction motors for possible retrofits. The company can often justify replacing induction motors with PMM motors for equipment that already use variable frequency drives (VFDs). Manufacturers seeking to benefit from migrating to PMMs should look beyond energy efficiency alone, since their dynamic performance, compact size, and lower maintenance costs, provide additional benefits. However, to reap these additional benefits, companies must apply a mechatronic system approach to eliminate inefficient gearboxes and belts that prevent the system from performing optimally.
New printer systems improve productivity and reduce energy consumption
Brian Jones, electrical engineering manager with Mark Andy, offered the OEM machine builder perspective on how productivity improvements can help drive energy efficiency in manufacturing operations. According to Jones, the latest flexographic printer systems help push productivity and capacity utilisation to the limits. The latest designs incorporate enabling technologies such as automation controllers, servo drives and synchronous permanent magnet motors. While the latest flexographic printer systems can cost more than twice as much to purchase as earlier models, they can displace multiple machines, reduce waste, and increase overall throughput of the printer operations in a consumer packaged goods operation.
According to Jones, using an holistic energy analysis, the benefits of this technology reduces HVAC and lighting in the plant, reduces operating time, and eliminates material waste. Higher productivity helps reduce the running time of energy consuming auxiliary equipment such as curing systems and hot air dryers. Over 80% of the energy consumed by the flexographic printing press can be attributed to these two auxiliary systems. The company estimates that the energy consumed to produce printed material can be reduced by 45% when the ROI analysis incorporates downstream, upstream, and operational improvements.
Direct drive motor technology eliminates mechanical inefficiencies
Dr Allabaksh Naikodi, integrated engineering solutions manager for Mahindra Satyam, discussed the energy-savings potential of using direct drive motors. Direct drive motors incorporate the power electronics along with the motor housing, which also reduces cabinet requirements.
Naikodi presented the example of using direct drive motors in an industrial washing machine. This required a custom-engineered solution that allowed the machine builder to eliminate the gears, belts, and pulleys widely used in earlier designs. While an off-the-shelf solution would have resulted in lower initial design costs, he argued that the ancillary benefits far outweighed the increased cost. According to Dr Naikodi, these benefits included higher energy efficiency, superior performance and lower operational and maintenance costs.
Integrated direct drive technology has potential in a wide range of industry applications where 'green' values and energy optimisation have emerged as dominant issues. New emerging technologies can help machine builders and users realise the benefits of direct drive solutions across a select number of qualified machinery applications.
Direct drive technology brings compactness, improved reliability, energy savings and a reduced carbon footprint, by eliminating complexity in machine design. The applications for direct drive technology are limited only by the form factor of the motor, which tends to be larger in size and have a limited amount of control at lower speeds. The direct drive approach is generally advantageous for machine builders embarking on new machine designs using a mechatronic approach to leverage emerging motor technology that reduces mechanical complexity. Overall, users benefit from machinery that is highly productive, requires less maintenance and consumes fewer resources in the facility.
Optimising capital
Optimising the use of capital is increasingly complex for manufacturers and other industrial organisations as the volatility in energy pricing must be factored into capital expenditures. Determining the value proposition of either retrofitting equipment or investing in new capital equipment requires an holistic view of an operation's energy costs. Technology improvements alone cannot solve the problem, but incorporating upstream and downstream processes can optimise the benefits.
For more information contact Paul Miller, ARC Advisory Group, +1 781 471 1126, pmiller@arcweb.com, www.arcweb.com
Further reading:
Latest power monitoring device
November 2019, ElectroMechanica , Electrical Power & Protection
A new panel-mounted power monitoring device (PMD) from Socomec has been launched locally by ElectroMechanica (EM). The Socomec DIRIS A-40 has been designed for measuring, monitoring, and reporting electrical 
...
Read more...
---
WEG IE3 compliant motor control and protection
October 2019, Zest WEG Group , Electrical Power & Protection
The increased move towards the use of IE3 electric motors has made it increasingly important that the most appropriate starting method be selected to ensure optimum performance. With this move it is essential 
...
Read more...
---
Electronic monitoring devices from EM
October 2019, ElectroMechanica , Electrical Power & Protection
A comprehensive range of electronic monitoring and timing devices in different formats for ease of use and retrofit purposes is available from ElectroMechanica (EM). The ElectroDev units are suited to 
...
Read more...
---
Integrated earth leakage protection
October 2019, Schneider Electric South Africa , Electrical Power & Protection
Schneider Electric has announced the introduction of integrated earth leakage protection for its Compact NSX and NSXm moulded circuit breaker ranges. "The award-winning Compact NSX moulded case circuit 
...
Read more...
---
Batteries in motive power applications
October 2019, Comtest , Electrical Power & Protection
When discussing motive power applications, the initial thought is that their batteries must be similar to transportation batteries. After all, this equipment is 'motive' just like a car or truck. However, 
...
Read more...
---
Better transformer design improves safety
October 2019 , Electrical Power & Protection
As electricity utilities and users worldwide look to become more safety conscious and efficient in their use of electrical energy, it is important to leverage the improvements that have been made in the 
...
Read more...
---
Stakeless ground loop tester
October 2019, Comtest , Electrical Power & Protection
Testing the grounding components of equipment in hard to reach spaces, including areas that are indoors or fully paved and do not permit driving auxiliary test stakes, is always challenging. Comtest is 
...
Read more...
---
Cut the complexity of panel design
September 2019, ElectroMechanica , Electrical Power & Protection
A low-voltage electrical distribution system design to reduce the complexities often associated with panel design is available from leading local supplier ElectroMechanica (EM). Quadro+ from Hager combines 
...
Read more...
---
Ultra slim DIN rail power supplies
September 2019, Vepac Electronics , Electrical Power & Protection
XP Power has announced the DSR range of AC-DC DIN rail power supplies approved for industrial control systems and information technology equipment applications. These versatile supplies provide reliable 
...
Read more...
---
Oil dielectric RF termination loads
September 2019, Comtest , Electrical Power & Protection
For maximum process repeatability and consistency, modern plasma applications require precise RF power regulation and control. A key component in ensuring accurate and repeatable RF power delivery to 
...
Read more...
---