printer friendly version
From the editor's desk: A world of possibility waits
Technews Industry Guide - Wireless 2015
News
In some ways, the hype that surrounded industrial wireless about five years ago actually hampered its adoption in process industry applications. There was confusion about standards, there was confusion about reliability, and there was confusion about security. However, while the billions of hours of operational testing built up since then have answered these concerns, the potential of the technology is still somewhat veiled in mystery.
The status quo is simply that industrial wireless has emerged as a viable communications technology in its own right, alongside 4-20 mA loops, fieldbus networks and data links. The fact that there are different standards out there is partly due to suppliers wanting to differentiate their platform offerings, and partly due to the constant demand for greater bandwidth at ever lower power consumption. This is not going to change in the near future and is compounded by the fact that unifying talks between the different standards groups keep breaking down. In fact, the word is that even more standards are being considered.
We designed this industry guide to help make sense of it all.
Broadly speaking, supplier offerings can be split into two groups:
1. The wireless for process automation devices based on either the WirelessHART or the ISA 100.11a standards. (Both WirelessHART and ISA 100 are derivatives of the IEEE 802.15 communication specification operating in the 2,4 GHz band.) Included in this are the wireless field transmitters from suppliers such as Emerson, Siemens, Endress+Hauser, Honeywell and Yokogawa. Essentially it is process measurement without the wires and all the relevant equipment can be provided by your vendor of choice. The chosen vendor should also be able to undertake a site survey in order to recommend the optimum network configuration, including the use of repeaters if necessary. Networks are of the self-configuring mesh type, which includes the identification of multiple redundant paths i.e. the loss of one node does not bring down the entire network.
2. The wireless backhaul (WiFi) offerings based on one of the plethora of IEEE 802.11 standards. Essentially these are the same as the wireless LANs most of us experience every day in our office environment. The difference is that they have been hardened to withstand the extreme conditions typically encountered outdoors in a manufacturing environment, at a petrochemical refinery for instance. These devices operate in either the 2,4 or the 5 GHz bands, and in some cases both. Examples of suppliers of such equipment include Moxa, Westermo, Hirschmann and Prosoft Technology.
Contributing editor, Nick Denbow, puts things nicely into perspective in his article 'Where to industrial wireless?'. He also addresses the critical areas of power supply and battery technology, and speculates whether advances in consumer technology will spill over into the industrial sector and act as a catalyst for future demand. An important conclusion of this article is that a major limitation to the adoption of industrial wireless is the lack of expertise among potential end-users.
To help to address this we have included more pertinent white papers and application stories in this year's guide. The Moxa paper on 'Enabling wireless communication for factory automation' provides an in-depth analysis of the type of problems that can be encountered when setting up an industrial WLAN, while the paper by Extronics on 'Making safe waves in hazardous areas' finds solutions to the problems of extending a wireless network into hazardous area environments.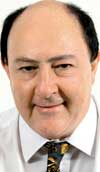 Among the application examples we have shown solutions to applications in mining, water treatment, video surveillance and remote water metering. There are also articles to explain the set-up and benefits of the WirelessHART and ISA 100 networks in typical process environments.
To round it all off we have compiled a comprehensive directory listing of the local vendors of industrial wireless equipment. These are complemented by the buyers' guide tables, also located at the back, designed to give users a visual cross reference and so speed up the search for relevant equipment suppliers.
I hope you find it all useful and remember to drop us a line about your wireless projects, we are already on the lookout for articles to feature in next year's issue.
Steven Meyer
Credit(s)
Further reading:
The IIoT edge is evolving
January 2020, Technews Publishing (SA Instrumentation & Control) , News
In its IIoT context, the edge is traditionally understood to be a kind of half-way point between the plant and the cloud. Physically hard to define, the edge acts as a repository for data collected from 
...
Read more...
---
University of London opens electronics laboratory based on Tektronix solutions
January 2020 , News
Royal Holloway, University of London, has officially opened its new Beatrice Shilling Building which includes state-of-the-art teaching laboratories in partnership with Tektronix, a leading worldwide 
...
Read more...
---
Rockwell Automation named a leader in Manufacturing Execution Systems
January 2020 , News
Rockwell Automation has announced its recognition as a leader in the Gartner Magic Quadrant for Manufacturing Execution Systems for the second consecutive year. Since the 2018 report, Rockwell Automation 
...
Read more...
---
SKF acquires industrial AI company
January 2020 , News
SKF has signed an agreement to acquire Presenso, a company that develops and deploys artificial intelligence (AI)-based predictive maintenance software. Presenso's capability enables production plants 
...
Read more...
---
Bosch Ulwazi hosts 2019 Engineer in Training function
January 2020 , News
Bosch Ulwazi's 2019 Engineer-in-Training (EIT) Conference was recently held in Mt Edgecombe. At this annual event, graduates are given an interactive platform to showcase the knowledge and skills they 
...
Read more...
---
Smart cities embrace 4IR
January 2020, Schneider Electric South Africa , News
Smart cities rely on smart grid technology that includes traditional and renewable energy sources in its mix of power supply. Driven by the advanced technology of the fourth industrial revolution (4IR), 
...
Read more...
---
North American EtherCAT Plug Fest offers opportunities
January 2020 , News
The 2019 North American EtherCAT Plug Fest recently took place in Denver, USA. Numerous well-known manufacturers of EtherCAT devices came together over two days to test the interoperability of their products 
...
Read more...
---
EM Bloemfontein offers accredited training courses
January 2020, ElectroMechanica , News
The Bloemfontein branch of supplier ElectroMechanica (EM) plans to make significant inroads in the Free State region thanks to its fully-equipped training facility, focusing mainly on automation products 
...
Read more...
---
Cummins boosts production at two glass manufacturers
January 2020 , News
Standby power systems from Cummins are providing extra protection at two glass-manufacturing facilities in Lahore, Pakistan, allowing production lines to always be on, and operations to continue seamlessly 
...
Read more...
---
Schneider Electric announces local manufacturing and reduced lead times
January 2020, Schneider Electric South Africa , News
Schneider Electric South Africa has announced that its PIX Easy Air Insulated Switchgear, previously 100% internationally manufactured, will now have a 68% local finishing process, reducing the customer 
...
Read more...
---