printer friendly version
Thermal profiling can prevent business disasters
November 2019
Temperature Measurement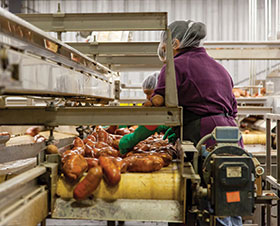 Thermal profiling is the term used to describe the process of recording and interpreting the temperatures of products and air as they move through a heat treatment process.
In the food, beverage and pharmaceutical industries, it is essential to know the temperature at which a process is being run. This is critical to ensure that product quality is maintained to the standards required by consumers.
Not all processes are equal. Each process has its own challenges in terms of space, duration and environment (steam and submersion in water or oil).
The risk to public health places the processing industry firmly under the public spotlight.
Therefore, the effects of getting cooking or freezing processes wrong can be disastrous for a business, as well as its customers.
The Datapaq range of Thermal Profiling units and Thermal Barriers allow temperature logging equipment to pass through the treatment ovens connected directly to the process. This type of system is unique as it maintains the operability of sophisticated recording and storage electronics at temperatures in excess of 1000°C.
The units also come with a sophisticated software package that allows users to set parameters like actual ramp and soak times required to meet the desired specifications, and on completion, print out actual versus desired values to showing any deviations from the required profile, along with the durations.
There are many different packages available for different applications, but as an example the Food Tracker System, comprises of Insight software, a data logger and a selection of protective thermal barriers and thermocouples. It offers an accurate and reliable means of measuring product and environmental temperatures, an essential requirement for HACCP data analysis and process validation.
All systems offer enhancements such as humidity measurement, food tray and thermocouple jig, as well as the TM21 Radio Telemetry System for real-time temperature monitoring.
Another use of the Datapaq system is to use the information to optimise process temperatures. The most frequent food processing applications in the profiling systems include: food processing, baking, pasteurisation and sterilisation.
Credit(s)
Further reading:
Vibration pen for hazardous areas
R&C Instrumentation IS & Ex
Vibration and temperature are the most common parameters measured on process plants to predict equipment failure or process problems. As part of the extensive range of vibration measurement products and IS rated instruments from R&C Instrumentation, the TV712 series from Time now comes in IS versions for EX Hazardous areas such as coal mines and chemical plants.
Read more...
---
Tubeskin thermocouple assembly
WIKA Instruments Temperature Measurement
The proprietary thermal shield design of the Tefracto-Pad is a patent-pending WIKA innovation in several countries.
Read more...
---
Pyrometer for hazardous areas
R&C Instrumentation Temperature Measurement
The intrinsically safe version of Fluke's versatile Thermalert 4.0 is fully Ex certified for use in Zones 1 and 2 (gas) and Zones 21 and 22 (dust).
Read more...
---
High-temperature infrared thermometer
Comtest Temperature Measurement
The instrument ships with a USB 2.0 computer interface cable, FlukeView Forms documenting software and the standard Fluke 2-year warranty.
Read more...
---
Infrared camera for glass manufacturing
Instrotech Temperature Measurement
The Optris PI 450 G7 allows for the capturing of real-time thermal images of everything from glass beads right up to large panes.
Read more...
---
The evolution of infrared line scanning technology
R&C Instrumentation Temperature Measurement
Instrumentation manufacturers are responding to industry demands by designing IR scanners that not only provide better online performance, but also greater simplicity and ease of use.
Read more...
---
Professional quick-response thermometer
GHM Messtechnik SA Temperature Measurement
The newly designed G 1200 thermocouple quick-response thermometer from Greisinger offers excellent performance at a low price while delivering high-quality temperature measurements via a wide range of 
...
Read more...
---
Ultra-cool field metrology well
Comtest Temperature Measurement
The 9190A is ideal for pharmaceutical, biomedical and food processing applications that demand strict quality control and regulatory process compliance.
Read more...
---
Non-contact temperature measurement in the cement industry
R&C Instrumentation Temperature Measurement
Industrial IR sensors and systems for non-contact temperature measurement are vital to the cement industry and can be employed throughout the plant for process monitoring and predictive maintenance.
Read more...
---
Compact IR camera
Instrotech Temperature Measurement
Instrotech now offers the Optris PI 05M compact IR thermal imaging camera for high temperature applications.
Read more...
---