printer friendly version
Better transformer design improves safety
October 2019
Electrical Power & Protection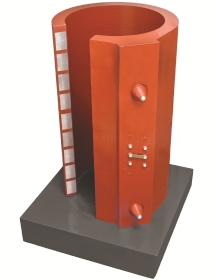 As electricity utilities and users worldwide look to become more safety conscious and efficient in their use of electrical energy, it is important to leverage the improvements that have been made in the design of transformers.
According to Trafo Power Solutions managing director, David Claassen, there have been considerable strides in technology, surpassing both the efficiency and the reliability of the traditional oil-filled transformers that are predominantly used in power grid systems.
These high efficiency solutions include open-wound transformers (OWTs), vacuum-pressured impregnated transformers (VPIs) and cast resin transformers (CRTs). Traditional oil-filled transformers use paper saturated in oil wrapped around the winding material as an insulation medium. If not maintained correctly, insulation degradation will occur, with the oil posing both a safety and environmental risk.
"OWTs are constructed by dipping preheated windings into a high temperature varnish bath and then baking them," says Claassen. "This replaces the need for oil and paper, so only a small amount of material is flammable."
In VPI construction, layers of polyester resin are applied to the windings, which are subjected to interchanging cycles of pressure and vacuum that ensures deeper penetration and reduces the chances of air voids.
"With CRTs, windings are placed in a mould which is filled under vacuum with resin epoxy," says Claasen. "Fibreglass mesh is used to strengthen the windings, which are cured in a heat-controlled oven. This process also prevents air voids, and the resin in CRTs is non-flammable."
These designs have also made advances in reduced electrical losses, thereby improving efficiency. The use of OWTs, VPIs and CRTs offer considerable savings in energy costs over their life-spans, which for CRTs averages about 20 years. Despite the slightly higher capital cost (around 20%), these technologies can repay the price differential in just four years.
Claassen concludes that low loss cast resin transformers are being used in many parts of the world including Europe and North America because, although there is an initial premium, the payback period is between two and four years. These are now available for the African market from Trafo Power Solutions.
For more information contact David Claassen, Trafo Power Solutions, +27 11 325 4007, david@trafo.co.za, www.trafo.co.za
Further reading:
Motor system efficiency for reduced carbon emissions
January 2020 , Electrical Power & Protection
With electric motors consuming almost 70% of industry's energy, companies are always looking for better motor efficiencies. For many years, motor efficiency has been well defined; however, when driven 
...
Read more...
---
Enabling IIoT connectivity for virtual power plants
December 2019, RJ Connect , Electrical Power & Protection
The power grid has seen many changes that have enabled the integration of power from distributed energy sources (DERs).
Read more...
---
DIN rail power supply for demanding applications
December 2019, ElectroMechanica , Electrical Power & Protection
Automated production systems require power supplies with high stability and safety protection. DIN rail power supply series for such demanding applications are available from Delta Electronics, distributed 
...
Read more...
---
Dry-type transformers go mainstream
December 2019 , Electrical Power & Protection
The uptake of dry-type transformers in South Africa is now well beyond 'niche' applications, with local specialist Trafo Power Solutions installing a range of sizes across various sectors. "In recent 
...
Read more...
---
Robust embedded power supply series
December 2019, RS Components SA , Electrical Power & Protection
RS Components (RS) has announced the availability of a new series of AC-DC embedded switch-mode power supplies (SMPS) from TDK-Lambda. The cost-effective RWS-B series of AC-DC industrial power supplies 
...
Read more...
---
Ultra-compact soft starter with protection
December 2019, Vepac Electronics , Electrical Power & Protection
The Tele Christian P4.0/RL/TP/IC electronic soft starter is, with all of its integrated functionality, designed for ultra-compact installation. It helps to reduce wiring material, installation time and 
...
Read more...
---
Latest power monitoring device
November 2019, ElectroMechanica , Electrical Power & Protection
A new panel-mounted power monitoring device (PMD) from Socomec has been launched locally by ElectroMechanica (EM). The Socomec DIRIS A-40 has been designed for measuring, monitoring, and reporting electrical 
...
Read more...
---
WEG IE3 compliant motor control and protection
October 2019, Zest WEG Group , Electrical Power & Protection
The increased move towards the use of IE3 electric motors has made it increasingly important that the most appropriate starting method be selected to ensure optimum performance. With this move it is essential 
...
Read more...
---
Electronic monitoring devices from EM
October 2019, ElectroMechanica , Electrical Power & Protection
A comprehensive range of electronic monitoring and timing devices in different formats for ease of use and retrofit purposes is available from ElectroMechanica (EM). The ElectroDev units are suited to 
...
Read more...
---
Integrated earth leakage protection
October 2019, Schneider Electric South Africa , Electrical Power & Protection
Schneider Electric has announced the introduction of integrated earth leakage protection for its Compact NSX and NSXm moulded circuit breaker ranges. "The award-winning Compact NSX moulded case circuit 
...
Read more...
---