printer friendly version
Batteries in motive power applications
October 2019
Electrical Power & Protection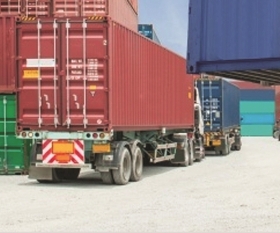 When discussing motive power applications, the initial thought is that their batteries must be similar to transportation batteries. After all, this equipment is 'motive' just like a car or truck. However, this is not the case. Motive power applications, such has forklifts, electric golf carts and electric lawnmowers, use batteries more closely related to stationary than transportation batteries.
How these batteries are stationary
How are these batteries different than those in motor vehicles? Transportation batteries function as start/stop batteries. The primary discharge occurs when the vehicle is started. After that, it spends the rest of the drive time recharging.
Motive power batteries, on the other hand, do not operate in this fashion. Instead of only being used to start the machinery, there is a continual discharge. These batteries are used constantly while in operation. This is similar to other stationary batteries in that they are used until depleted, or until the job is done, and then recharged after use.
Why stationary batteries are used
Stationary batteries are used in these applications because of their nature. They tend to be 'dirtier' with a higher output threshold. It is imperative that they have low downtime and increased, continual productivity. Transportation batteries simply cannot keep up with these needs.
Industrial machinery is used for a variety of day-to-day plant operations and batteries are among the reasons for underperformance. This is why testing and maintenance is vitally important. If neglected, it can contribute to higher repair and replacement costs, a significant decrease in the machine's lifespan, and even safety risks.
Midtronics' electrical system testing technology is used by six major automotive manufacturing facilities in South Africa in on-vehicle equipment, recording events that may lead to battery or electrical system failure. In addition to this, two leading South African battery manufacturers and distributors have committed to using the technology in their facilities and distribution outlets.
Midtronics is entirely focused on the development and marketing of technology products for manufacturers, distributors and users of lead-acid batteries and continues its aggressive research and development of products for alternative chemistry batteries.
For more information contact Comtest, +27 10 595 1821, sales@comtest.co.za, www.comtest.co.za
Credit(s)
Further reading:
Motor system efficiency for reduced carbon emissions
January 2020 , Electrical Power & Protection
With electric motors consuming almost 70% of industry's energy, companies are always looking for better motor efficiencies. For many years, motor efficiency has been well defined; however, when driven 
...
Read more...
---
Small dry wells for big field applications
January 2020, Comtest , Maintenance, Test & Measurement, Calibration
Fluke's 914X Series Field Metrology Wells (Fluke 9142, Fluke 9143, Fluke 9144) extend high performance to the industrial process environment by maximising portability, speed, and functionality with little 
...
Read more...
---
Gas detector for multiple applications
January 2020, Comtest , IS & Ex
Comtest, the local representative of Industrial Scientific, global leader in gas detection, has announced a new version of the Ventis Slide-on Pump. The new pump is compatible with both Ventis MX4 and 
...
Read more...
---
Accurate results with rugged Fluke thermal camera
January 2020, Comtest , Maintenance, Test & Measurement, Calibration
Leading an industrial maintenance team requires a unique combination of communication skills, industry knowledge and technical expertise. Implementing standard work and a preventive maintenance programme 
...
Read more...
---
Enabling IIoT connectivity for virtual power plants
December 2019, RJ Connect , Electrical Power & Protection
The power grid has seen many changes that have enabled the integration of power from distributed energy sources (DERs).
Read more...
---
DIN rail power supply for demanding applications
December 2019, ElectroMechanica , Electrical Power & Protection
Automated production systems require power supplies with high stability and safety protection. DIN rail power supply series for such demanding applications are available from Delta Electronics, distributed 
...
Read more...
---
Dry-type transformers go mainstream
December 2019 , Electrical Power & Protection
The uptake of dry-type transformers in South Africa is now well beyond 'niche' applications, with local specialist Trafo Power Solutions installing a range of sizes across various sectors. "In recent 
...
Read more...
---
Robust embedded power supply series
December 2019, RS Components SA , Electrical Power & Protection
RS Components (RS) has announced the availability of a new series of AC-DC embedded switch-mode power supplies (SMPS) from TDK-Lambda. The cost-effective RWS-B series of AC-DC industrial power supplies 
...
Read more...
---
Ultra-compact soft starter with protection
December 2019, Vepac Electronics , Electrical Power & Protection
The Tele Christian P4.0/RL/TP/IC electronic soft starter is, with all of its integrated functionality, designed for ultra-compact installation. It helps to reduce wiring material, installation time and 
...
Read more...
---
Latest power monitoring device
November 2019, ElectroMechanica , Electrical Power & Protection
A new panel-mounted power monitoring device (PMD) from Socomec has been launched locally by ElectroMechanica (EM). The Socomec DIRIS A-40 has been designed for measuring, monitoring, and reporting electrical 
...
Read more...
---