printer friendly version
Hotspot detection in pressboard manufacturing applications
October 2019
Temperature Measurement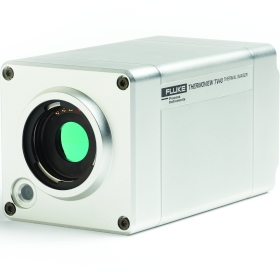 In the building industry, there is a product used that is commonly referred to as pressboard, also known as chipboard. Sheets of pressboard are typically 1,2 m x 2,4 m in size and are used in the construction of walls, sub-floors and rooftops, as well as underneath real wood veneers for low cost furniture manufacturing. To make this board, the mill chips up logs and all the scraps that are left from making lumber and other wood products. The chips are literally glued together and formed into sheets, which can have different thicknesses, depending on use. To bond the material together, the board is pressed between two heated rollers. The boards are then heated to between 100°C and 200°C.
One problem that can develop with this process is that some of the chips can protrude up through the surface of the board and get so hot that they begin to burn. The hotspot can be as small as 7,5 mm in diameter on boards that are moving about 120 m/min. Spots can be on both the top and bottom of the board. If this is not detected, the board with the burning spot can be placed on a stack with others and moved into storage. This can lead to a fire and even total destruction of the warehouse – all from one single board with a burning spot that was undetected prior to storage.
To detect these burning chips, two ThermoView TV40 thermal cameras can be installed, one to monitor the top surface and a second camera for monitoring the bottom of the board. An area of interest (AOI) is set up to monitor the entire width of the board. When a camera sees a hotspot of 120ºC or greater, an alarm is triggered so the board can be moved off to the side for cooling. After cooling, the board is returned to the stack for storage.
Credit(s)
Further reading:
Vibration pen for hazardous areas
R&C Instrumentation IS & Ex
Vibration and temperature are the most common parameters measured on process plants to predict equipment failure or process problems. As part of the extensive range of vibration measurement products and IS rated instruments from R&C Instrumentation, the TV712 series from Time now comes in IS versions for EX Hazardous areas such as coal mines and chemical plants.
Read more...
---
Tubeskin thermocouple assembly
WIKA Instruments Temperature Measurement
The proprietary thermal shield design of the Tefracto-Pad is a patent-pending WIKA innovation in several countries.
Read more...
---
Pyrometer for hazardous areas
R&C Instrumentation Temperature Measurement
The intrinsically safe version of Fluke's versatile Thermalert 4.0 is fully Ex certified for use in Zones 1 and 2 (gas) and Zones 21 and 22 (dust).
Read more...
---
High-temperature infrared thermometer
Comtest Temperature Measurement
The instrument ships with a USB 2.0 computer interface cable, FlukeView Forms documenting software and the standard Fluke 2-year warranty.
Read more...
---
Infrared camera for glass manufacturing
Instrotech Temperature Measurement
The Optris PI 450 G7 allows for the capturing of real-time thermal images of everything from glass beads right up to large panes.
Read more...
---
The evolution of infrared line scanning technology
R&C Instrumentation Temperature Measurement
Instrumentation manufacturers are responding to industry demands by designing IR scanners that not only provide better online performance, but also greater simplicity and ease of use.
Read more...
---
Professional quick-response thermometer
GHM Messtechnik SA Temperature Measurement
The newly designed G 1200 thermocouple quick-response thermometer from Greisinger offers excellent performance at a low price while delivering high-quality temperature measurements via a wide range of 
...
Read more...
---
Ultra-cool field metrology well
Comtest Temperature Measurement
The 9190A is ideal for pharmaceutical, biomedical and food processing applications that demand strict quality control and regulatory process compliance.
Read more...
---
Non-contact temperature measurement in the cement industry
R&C Instrumentation Temperature Measurement
Industrial IR sensors and systems for non-contact temperature measurement are vital to the cement industry and can be employed throughout the plant for process monitoring and predictive maintenance.
Read more...
---
Compact IR camera
Instrotech Temperature Measurement
Instrotech now offers the Optris PI 05M compact IR thermal imaging camera for high temperature applications.
Read more...
---