printer friendly version
Cut the complexity of panel design
September 2019
Electrical Power & Protection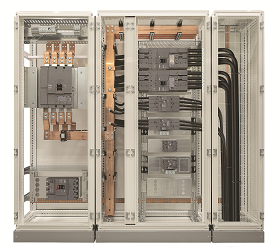 A low-voltage electrical distribution system design to reduce the complexities often associated with panel design is available from leading local supplier ElectroMechanica (EM). Quadro+ from Hager combines modularity with familiar low-voltage (LV) components to simplify the design of a professional distribution solution.
The Quadro+ modules include assemblies, equipment and accessories required to build a complete enclosure, with IP30 or IP55 protection levels up to 4000 A. According to EM product manager, Christo van Rensburg: "This is a tried and tested international solution, the Quadro+ system is designed around a rigid frame that offers adaptability, ease of assembly, and quick build times, along with quality components."
A feature of EM's value offering is that it can provide customers with complete solutions: when a customer partners with EM, it is able to design and build a complete LV electrical distribution system suited to its requirements.
The Quadro+ system offers support of essential third-party products like Socomec change over-switches, Lovato motor control and metering, Delta variable speed drives and automation products, with little or no additional effort. "This significantly simplifies the complexity associated with completing projects on-time, and gives customers a single point of contact for all of their needs," highlights van Rensburg.
EM offers a comprehensive range of enclosures, from a two-way surface enclosure to a 168-way flush or surface distribution boards. IP65-rated enclosures are also available. While this range is suitable for residential and small commercial buildings, the Quadro+ system is tailored specifically for the larger commercial and even industrial markets.
"When you select Quadro+, you opt for a fully-tested LV electrical distribution solution that has continually proven its worth in different industries. It is manufactured in Italy to IEC and EN-62439-1&2 standards. This means it meets the latest international standards of safety, performance and reliability," stresses van Rensburg.
All enclosures are designed with an extremely rigid structure (IK10 and IP55) for extra durability. Cabinets are shipped flat-packed to save on transportation and storage cost. Only eight screws are required to assemble the frame, and all the screws are pre-mounted for quick turnaround time.
"Thanks to the supporting HagerCad software, planning and designing your system is intuitive, simple and fast," concludes van Rensburg. "You'll also benefit from local technical support and expertise. Whether designing, building, or installing a distribution system, the Quadro+ solution impresses with its convenience and overall quality. EM and Hager see this as a further opportunity to build on their reputation of being a trusted, reliable, and on-time partner for more than 30 years."
For more information contact Karen Zotter, ElectroMechanica, +27 11 249 5000, karenz@em.co.za, www.em.co.za
Credit(s)
Further reading:
Inverters for PV generation plants
October 2021, Zest WEG , Electrical Power & Protection
As solar energy contributes increasingly to cleaner, renewable energy for a more sustainable world, WEG has introduced its complete ESW line of central inverter stations for photovoltaic power generation plants.
Read more...
---
Electronic transformers for special requirements
October 2021, ASSTech Process Electronics + Instrumentation , Electrical Power & Protection
The Jumo IPC 300 electronic transformer was developed for the control of heating loads that previously required an additional transformer for power control.
Read more...
---
Multifunction timer sets parameters remotely
October 2021, ElectroMechanica , Sensors & Transducers
Machine builders now have the option to set timing and counting parameters on their application timers from a smartphone or tablet – without having to power the timer.
Read more...
---
Dairy expansion uses dry-type transformers
October 2021 , Electrical Power & Protection
Trafo Power Solutions has assisted a large dairy producer in a recent expansion, supplying five dry-type distribution transformers to its facilities in a coastal region of South Africa.
Read more...
---
Controlling power generation with TwinCAT software
October 2021, Beckhoff Automation , Electrical Power & Protection
Researchers are implementing innovative new control methods on Beckhoff embedded PCs running TwinCAT to validate their grid-forming control methods.
Read more...
---
Type 2 push-in surge protection
October 2021, Phoenix Contact , Electrical Power & Protection
The VAL-MS PT surge protective device from Phoenix Contact is its first type 2 protective device with push-in connection technology.
Read more...
---
Energy data acquisition made easy
August 2021, Phoenix Contact , Electrical Power & Protection
By developing the new components of the EMpro product family, Phoenix Contact has found a solution that satisfies most energy data gathering applications.
Read more...
---
Power supply for machine applications
August 2021, Vepac Electronics , Electrical Power & Protection
With vacuum encapsulated technology, MTM Power's focus is on encapsulated, robust, long-life, temperature-resistant and maintenance-free power supply modules.
Read more...
---
Supermarkets heat stores with surplus energy from refrigeration units
Technews Industry Guide: Sustainable Manufacturing 2021, Danfoss , Electrical Power & Protection
With climate change and the pressure for lower environmental impact, supermarkets are rapidly investing in green energy transition.
Read more...
---
Citrus farming with sustainability in mind
Technews Industry Guide: Sustainable Manufacturing 2021 , Electrical Power & Protection
Sunny climate and vitamin C prove to be a winning combination for one of South Africa's largest citrus farmers.
Read more...
---