printer friendly version
Power analysis and energy saving evolved
June 2019
Electrical Power & Protection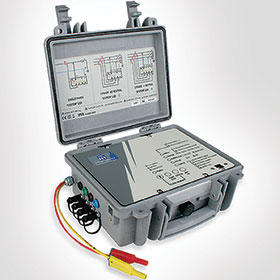 Advanced power and energy consumption analysis is now available using a smartphone or tablet. The TPQA820 is a true RMS, self-powered 3-phase power quality analyser used to analyse and record the most significant parameters of electrical systems. All parameters required are recorded simultaneously, which ensures potential failures are avoided with the built-in 8 MB memory allowing the instrument to log up to 383 parameters, with recordings lasting more than one month with an integration period of 10 minutes.
Through the free-to-download analysis app it is possible to interface wirelessly with the TPQA820 to display recordings of voltage, current, power, harmonics, THD%, cosphi and frequency. The electrical parameters are displayed instantly in both numerical and graphical mode, by way of waveforms, histograms and phasors. The vector diagram shows the phase angle between any voltage and the related current, revealing the inductive or capacitive nature of the loads connected.
The analyser enables users to store all recordings into the cloud database and share them through mail as well. The instrument is powered by an internal rechargeable lithium-ion battery and has a built-in user selectable L-N or L-L power supply. It can interface to smartphones, tablets and PCs via the WiFi or USB connections. The IP65 waterproof hard carry case allows work outdoors under extreme environmental conditions. In addition there are CATIV 300 V (ground) and CATIII 415 V (between inputs) safety ratings. Additional feature include:
• DC and AC active, reactive, apparent power.
• Voltage anomalies (sag, swell) with 10 ms resolution.
• Voltage unbalance.
• LED indication of phase sequence.
• Frequency.
• Parameter data table, graphs, harmonic histograms, voltage and current phasors with PC or mobile device connection.
For more information contact Ryan Burger, HellermannTyton, +27 11 879 6600, jhb.sales@hellermann.co.za, www.hellermanntyton.co.za
Credit(s)
Further reading:
Beware the fire starter
Schneider Electric South Africa Electrical Power & Protection
Smart sensing has come a long way, and now allows organisations to proactively focus on and mitigate potential electrical fires, providing a substantial improvement in resilience.
Read more...
---
Narrow power supply with high power density
Phoenix Contact Electrical Power & Protection
The devices are particularly suitable for urban infrastructure and in machine building, where they find their way into small systems with basic requirements.
Read more...
---
Stakeholder engagement mitigates renewable energy project delays
Electrical Power & Protection
The challenge lies in seeing that a low-carbon transition is not about replacing one dirty fuel with another, cleaner type, but about adjusting our entire way of life around that fuel.
Read more...
---
Phoenix Contact launches Energy Solution Partner programme
Phoenix Contact Electrical Power & Protection
The concept is a win-win for end-customers, Energy Solution Partners and Phoenix Contact alike.
Read more...
---
Hitachi and Petrofac join forces on offshore wind power
News Electrical Power & Protection
The collaboration builds on the complementary core technologies and expertise of both companies, and covers high-voltage DC and AC solutions.
Read more...
---
Trafo to highlight its flexibility at Electra Mining 2022
News Electrical Power & Protection
Given the varying nature of operating conditions from one mine to another, the company will use the event to demonstrate its ability to tailor solutions to specific site and customer needs.
Read more...
---
Why electrical contractors should include backup power in projects
Schneider Electric South Africa Electrical Power & Protection
For larger facilities, Schneider Electric works hand in hand with its channel partners to ensure your UPS installation is done properly and to the highest standard.
Read more...
---
Power supplies with EtherCAT interface
Beckhoff Automation Electrical Power & Protection
In the case of system monitoring, important operating parameters such as output current and voltage are transmitted in real time and updated continuously
Read more...
---
Fuel for the future
Omron Electronics Editor's Choice Electrical Power & Protection
In the coming years, hydrogen propulsion systems will be found in many different application scenarios, such as transport, heating and power generation.
Read more...
---
Reinforced polymer IR windows
R&C Instrumentation Electrical Power & Protection
By facilitating closed-panel inspections, the use of IR windows eliminates 99,9% of arc flash triggers and completely eliminates injuries caused by accidental human contact with energised equipment during infrared inspection. However, polymer reinforced IR windows are superior to CaF2 crystal windows.
Read more...
---