printer friendly version
Powder coating cure performance
June 2019
Temperature Measurement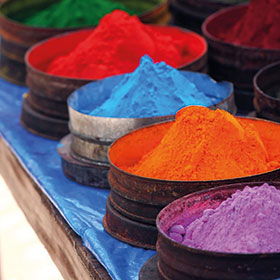 In any industrial paint or powder coating operation, getting the paint cure correct is critical to both the physical and cosmetic performance of the product. To get the best out of the coating, it is essential that the cure schedule achieved in the oven matches that recommended by the coating supplier. Getting the bake wrong can be catastrophic, leading to the risk of rejects or costly rework. Not getting the cure schedule correct can increase costs significantly, affecting the entire operation including labour, energy consumption and the risk of lost business.
It is quite common for companies to over cure their products to avoid premature coating failure. However, this may create discolouration, adhesion and chip resistance problems. Another issue that is often overlooked is that the oven is adding to operating costs. In the worst case, many coaters still have no means of accurately determining what their product temperature is in-process, relying on oven set-point monitoring using the ovens thermocouples for process control. As many have learnt to their cost, one oven program (bake time and temperature) does not satisfy all. To be able to control the oven, an oven profiling system is essential for maximising process efficiency and getting the most out of the cure oven.
The DataPaq EasyTrack3 is an excellent example of one of the many DataPaq oven temperature profiling systems that can be used for such purposes. Designed for ease of use, rugged, reliable and affordable the system is ideal for even the smallest of coating operations.
The DataPaq EasyTrack3 system is the third generation of the EasyTrack brand, first introduced in 2000. The system provides the coater with more choice and improved operating capability. A variety of systems have been developed around the new core ET3 logger, working with EasyTrack software to match the exact operational needs of the user.
The system is offered with a range of thermal barriers designed to match different application coating requirements. Proven to keep the logger safe through the process and maintain temperatures at guaranteed accuracy levels, a low height barrier is available designed to allow profiling of typical mesh belt cure lines where oven clearance is significantly restricted.
Collecting temperature profile data is one thing, using it to make intelligent process decisions is quite another. For this reason, the EasyTrack software allows users to make informed decisions to either validate the performance and product quality or show what actions are required to rectify problems.
Credit(s)
Further reading:
Vibration pen for hazardous areas
R&C Instrumentation IS & Ex
Vibration and temperature are the most common parameters measured on process plants to predict equipment failure or process problems. As part of the extensive range of vibration measurement products and IS rated instruments from R&C Instrumentation, the TV712 series from Time now comes in IS versions for EX Hazardous areas such as coal mines and chemical plants.
Read more...
---
Tubeskin thermocouple assembly
WIKA Instruments Temperature Measurement
The proprietary thermal shield design of the Tefracto-Pad is a patent-pending WIKA innovation in several countries.
Read more...
---
Pyrometer for hazardous areas
R&C Instrumentation Temperature Measurement
The intrinsically safe version of Fluke's versatile Thermalert 4.0 is fully Ex certified for use in Zones 1 and 2 (gas) and Zones 21 and 22 (dust).
Read more...
---
High-temperature infrared thermometer
Comtest Temperature Measurement
The instrument ships with a USB 2.0 computer interface cable, FlukeView Forms documenting software and the standard Fluke 2-year warranty.
Read more...
---
Infrared camera for glass manufacturing
Instrotech Temperature Measurement
The Optris PI 450 G7 allows for the capturing of real-time thermal images of everything from glass beads right up to large panes.
Read more...
---
The evolution of infrared line scanning technology
R&C Instrumentation Temperature Measurement
Instrumentation manufacturers are responding to industry demands by designing IR scanners that not only provide better online performance, but also greater simplicity and ease of use.
Read more...
---
Professional quick-response thermometer
GHM Messtechnik SA Temperature Measurement
The newly designed G 1200 thermocouple quick-response thermometer from Greisinger offers excellent performance at a low price while delivering high-quality temperature measurements via a wide range of 
...
Read more...
---
Ultra-cool field metrology well
Comtest Temperature Measurement
The 9190A is ideal for pharmaceutical, biomedical and food processing applications that demand strict quality control and regulatory process compliance.
Read more...
---
Non-contact temperature measurement in the cement industry
R&C Instrumentation Temperature Measurement
Industrial IR sensors and systems for non-contact temperature measurement are vital to the cement industry and can be employed throughout the plant for process monitoring and predictive maintenance.
Read more...
---
Compact IR camera
Instrotech Temperature Measurement
Instrotech now offers the Optris PI 05M compact IR thermal imaging camera for high temperature applications.
Read more...
---