Run five essential lighting tests in 30 seconds
October 2018
Electrical Power & Protection

printer friendly version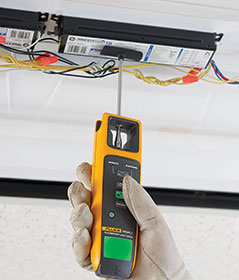 Building maintenance technicians for commercial, retail or institutional facilities with fluorescent lighting have hundreds, if not thousands of fluorescent tubes that have to be routinely checked and maintained. Even though those tubes last for tens of thousands of hours, they do ultimately fail, some prematurely, and some stop working because of other problems with the installation ballast.
In the past, this type of maintenance has usually meant lots of trial and error. If a light was found to be out, the technician would have had to climb a ladder, open up the cover, remove the bad tube and replace it. If the new tube did not light, the technician either tried again or had to call an electrician or bring out a voltage tester.
Fluke has now developed a tool that takes the trial and error – and a significant amount of time – out of maintaining fluorescent lighting. The Fluke 1000FLT Fluorescent Light Tester, specifically designed for building maintenance professionals, is an all-in-one fluorescent lamp tester, ballast tester, non-contact voltage tester, pin continuity tester and ballast-type discriminator.
Some fluorescent lighting testers on the market may have one or two testing features. Fluke developed a device that takes care of all the essential lighting tests, saving time, tool bag space and trips up and down ladders. Instead of having to carry two or three testing tools, the 1000FLT is able to make all of the following measurements:
• Lamp test: Allows testing without removing the tube from the ballast. The tester sends a pulse of energy that lights up the tube if there is gas in it. The 1000FLT is compatible with T5, T8 and T12 fluorescent tubes.
• Ballast test: Determines whether the ballast is working.
• Non-contact voltage test: Checks for the presence of voltage without touching the source.
• Pin continuity test: Tests whether filaments in the tube have continuity.
• Ballast-type discriminator: The 1000FLT is the first multi-function tester to include this feature, allowing technicians to easily identify whether the ballast is electronic or magnetic without taking the fixture apart or even climbing a ladder. The tester is aimed at the ballast from the ground and it immediately identifies if the tube is the old-style, power hungry magnetic ballast, for maintenance or replacement.
The 1000FLT's user interface was designed to be as simple as possible, with all tests delivering instant results. The ballast, voltage and pin continuity tests indicate results with either a Go or No Go indicator light. The ballast-type discriminator lights up either the magnetic or electronic LED on the face of the tester, while the lamp test result is determined by the user if the tube lights up or not.
Users can run all five tests on the 1000FLT in about 30 seconds, so if one has hundreds of fluorescent lights to maintain, it can save hours of testing time every week. One customer has reported a saving 40 to 60 minutes by testing roughly 50 light fixtures per day using the 1000FLT.
For more information contact Comtest, +27 10 595 1821, sales@comtest.co.za, www.comtest.co.za
Credit(s)
Further reading:
Infrared technology in the food and beverage industry
February 2019, Comtest , Temperature Measurement
Keeping production strictly on schedule in any facet of the food and beverage industry, whether it be pumps, conveyors or electrical connections, means downtime is not an option. Comtest advocates including 
...
Read more...
---
Compact soft starters for control of three-phase motors
February 2019, ElectroMechanica , Electrical Power & Protection
Soft starters limit the inrush current, improving overall stability of the power supply and reducing transient voltage drops, which may affect other loads in a network. They are ideal for applications 
...
Read more...
---
Forward-thinking municipality uses pumps to generate electricity
February 2019 , Electrical Power & Protection
A technical team serving the requirements of the Drakenstein municipality in the Western Cape has designed one of the country's largest pump and turbine stations to be used for water reticulation to the 
...
Read more...
---
How to optimise power quality in critical applications
February 2019, Schneider Electric South Africa , Electrical Power & Protection
As global energy consumption continues to rise, energy is becoming more decentralised and decarbonised. While demand is estimated to increase by 70% through 2040, 50% of new energy generation capacity 
...
Read more...
---
Compact DIN rail power supply
February 2019, Accutronics , Electrical Power & Protection
TDK Corporation has announced the introduction of the TDK-Lambda brand DRF960-24-1 DIN rail mount AC-DC power supply, rated at 24 V 40 A (960 W) with a 60 A (1440 W) peak for 4 seconds. The product has 
...
Read more...
---
Power supply protects against hour-long power failures
February 2019, Siemens Digital Factory & Process Indust. & Drives , Electrical Power & Protection
Siemens has upgraded its Sitop PSU8600 power supply system with the addition of new supplementary modules to transform it into an uninterruptible DC power supply. To achieve this, the new DC UPS module 
...
Read more...
---
Rockwell Automation expands power range
February 2019, Rockwell Automation , Electrical Power & Protection
Rockwell Automation has expanded the power ranges and capabilities of TotalForce technology for its Allen-Bradley PowerFlex 755T AC drives. The drives now offer an expanded power range, helping engineers 
...
Read more...
---
Steam system inspection technology
February 2019, Comtest , Maintenance, Test & Measurement, Calibration
Steam is used to heat raw materials and treat semi-finished products. It is also a power source for equipment, as well as for heat and electricity generation. But steam is not free. Annually, it costs 
...
Read more...
---
The Fluke 810 vibration tester for condition monitoring
February 2019, Comtest , Maintenance, Test & Measurement, Calibration
Vibration, on a basic level, is just an oscillation of machines and components in motorised equipment. Sometimes it is a symptom or even a cause of trouble; other times, it is part of normal machine operation. 
...
Read more...
---
2-in-1 combo test instrument
January 2019, Comtest , Maintenance, Test & Measurement, Calibration
Thermal imagers are invaluable to troubleshoot electrical equipment, panels and transformers, but electricians and maintenance technicians do not often have access to one when they need it. Comtest now 
...
Read more...
---